The French expression, "raconter des salades," might translate roughly as "to spin a yarn," but we promise we're not making anything up when we tell you about this installation by French landscape architects Atelier Altern.
Commissioned by the Maison de la Culture d'Amiens, the installation featuring floating islands of covered and raised garden beds is part architectural feat–and part political commentary on agricultural biodiversity.
Above: The beds are planted with heirloom varieties of open-pollinated lettuces that have largely fallen out of favor in modern agricultural practice and been replaced by F1-hybrid seeds.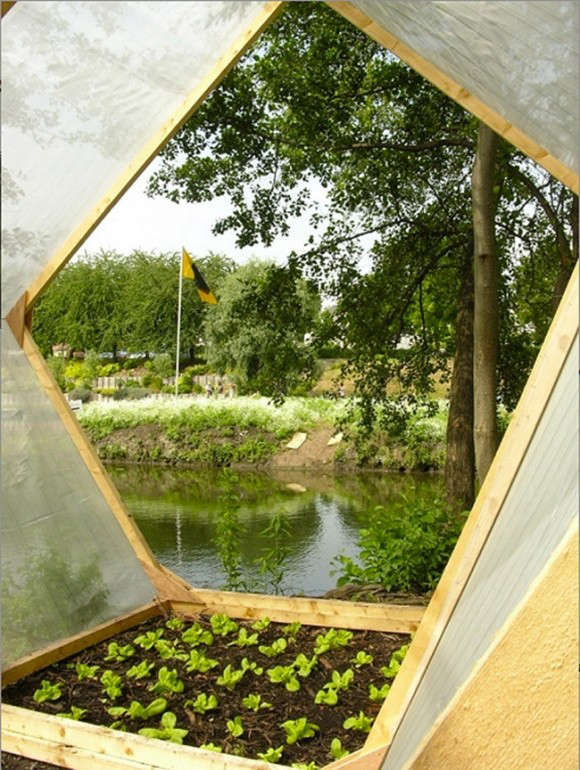 Above: The trouble with F1-hybrids is that most of these seeds are not open-pollinated and can't be saved by farmers from year to year. In "On vous Raconte des Salades," Atelier Altern showcases heirloom varieties of lettuces, many of which aren't currently for sale on the open market.
Above: Delicate lettuce plants inside an architectural "veil."
Above: Described as floating islands of garden beds, the beds look like they've nestled into their new home quite comfortably.
Looking to create your own (more traditional) raised bed garden? See Janet's Raised Garden Bed Roundup.
Finally, get more ideas on how to successfully plant, grow, and care for lettuce with our Lettuce: A Field Guide.
Interested in other edible plants for your garden? Get more ideas on how to plant, grow, and care for various edible plants (including flowers, herbs and vegetables) with our Edible Plants: A Field Guide.
(Visited 401 times, 1 visits today)