We love an Adirondack chair, but we don't love splinters or rotting wood. Enter Duluth, Minnesota-based Loll Designs, with chairs, tables, and benches made from recycled HDPE plastic (mostly single-use milk jugs discarded by consumers). In Loll math, one Adirondack chair equals 376 milk jugs, and since 2005 the company has turned more than 46 million of them into modern outdoor furniture.
Loll products are made in the US and require no maintenance; they are waterproof, UV-resistant, and easy to clean. We also appreciate the company's designer collaborations, including one with Gardenista favorite Brendan Ravenhill. Here's a look at Loll's furniture line:
Above: San Francisco-based landscape architect Scott Lewis used Loll's Emmet Lounge Chair (designed for Room & Board) in the garden of a Hillsborough, California home. "We like the simple forms, color choices, and recycled content" from Loll, said Lewis. "They also have great outdoor furniture options for children." Photograph by Matthew Millman courtesy of Scott Lewis Landscape Architect.
Above: Heliotrope Architects in Seattle used Loll's Flat Adirondack Chairs ($748 apiece) around a backyard fire pit in the San Juan Islands of Washington state. Photograph by Sean Airhart courtesy of Heliotrope Architects.
Above: San Francisco builder Jeff King & Co. used Loll's gray Rectangle Planters in an urban carport project featured in Designer Visit: A Carport Makes a Difference. Photograph by Paul Dyer courtesy of Jeff King & Co.
Above: The Fire Bench ($1,199) and Fire Chair ($724) are simple forms inspired by Loll's popular Picket Collection but with horizontal (instead of vertical) slats. Shown here in sky blue, every Loll product is available in 10 saturated colors (including white, black, dark gray, and beige for neutrals lovers).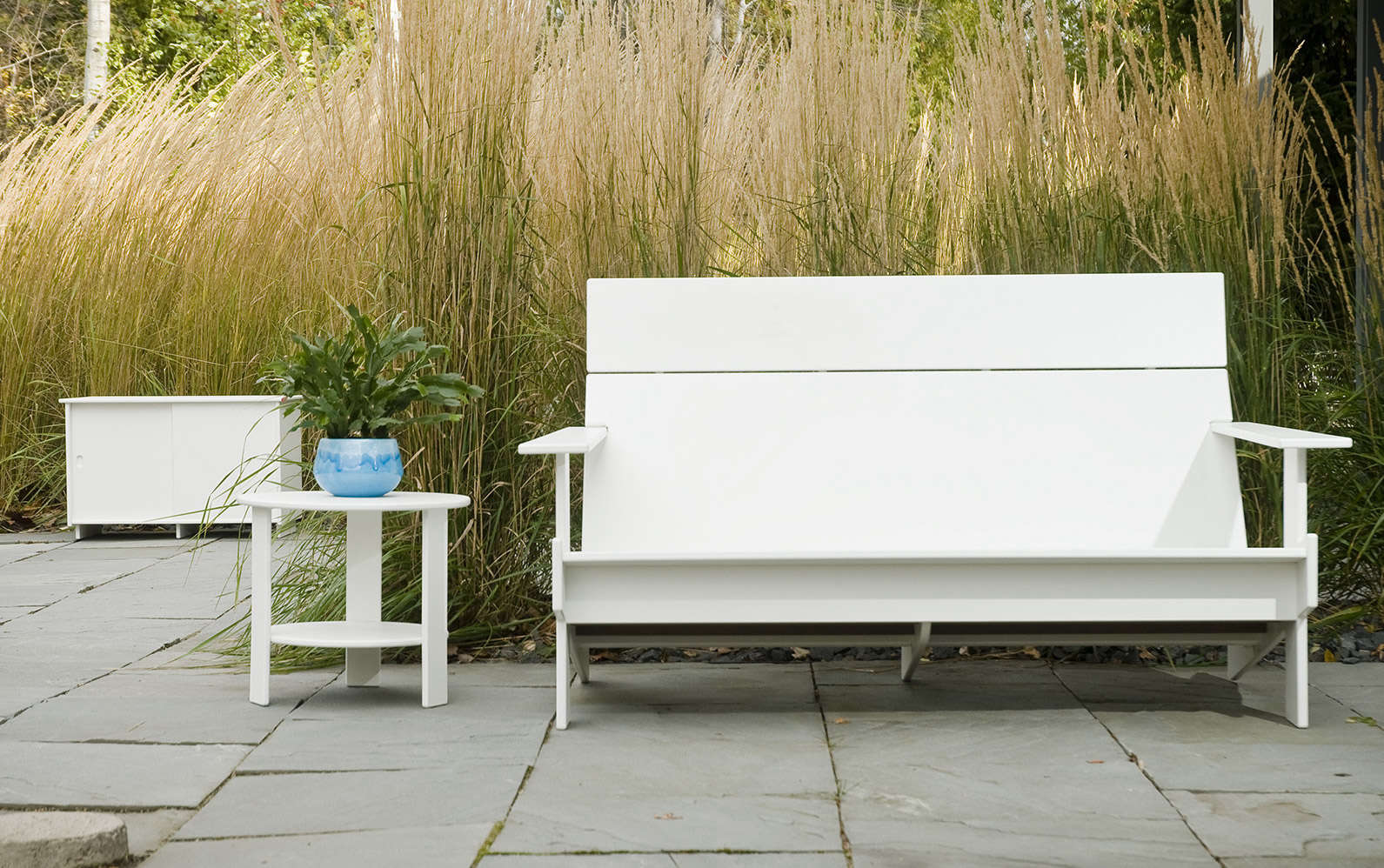 Above: Part of Loll's ultramodern Lollygagger Collection, the Lollygagger Sofa ($1,069) is a two-seater version of the Lollygagger Lounge Chair ($512.50). It features a bottle opener under the arm and is available with an optional cushion. Also shown: the Lollygagger Side Table ($148.50).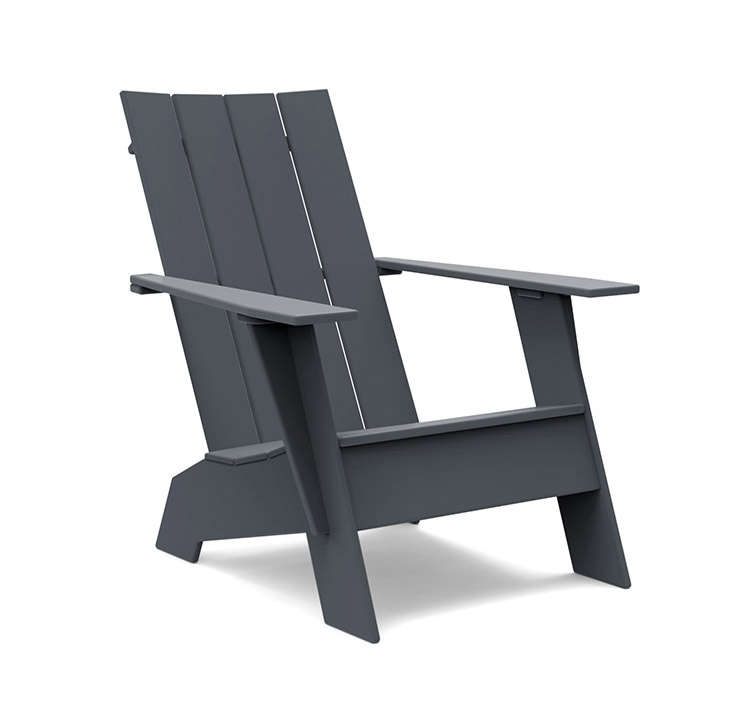 Above: The Standard Adirondack Chair with flat back in charcoal gray is $748. (It's also available in a Curved version for the same price.)
Above: The Fresh Air Collection includes six tables and five benches of varying sizes, meant to mix and match. Shown here is the 62-inch Fresh Air Table ($1,199) with benches in 48-Inch ($569) and 18-Inch ($259) sizes.
Above: The Cubby Bench stores shoes, boots, and garden accessories indoors or out. It's available in five sizes, some with taller cubbies for boots; the 46-inch version shown here is $812.
Above: Loll's Milk Stool is a modern take on the traditional farmers' stool. Use as an outdoor side table, extra patio seating, or as a seat in the shower; $213.
Above: The Rapson Low-Back Rocking Chair is Loll's version of a circa-1940 design by American modernist architect Ralph Rapson; $1,240.
See more from Loll in Outdoor Furniture Roundup: Architects' 10 Favorite Collections, Colorful Birdhouses from Loll Designs, and Patio Furniture 101: The Adirondack Chair.
(Visited 271 times, 1 visits today)