We set out to find the best of the best in outdoor furniture, so we asked members of the Remodelista + Gardenista Architect/Designer Directory for their all-time favorites. We're glad we asked, because several lines are new to us. Here are their picks:
Above: "My all-time favorite outdoor furniture line is the Synthesis collection from Unopiu," says LA-based interior designer Wendy Haworth. "I love all the pieces; the chairs are sturdy and comfortable, and there's an optional cushion but it's not necessary." San Francisco-based landscape architect Scott Lewis is also a fan. In Europe, contact Unopiu for purchasing information. In the US, the collection is called "Serene" and is available from Henry Hall.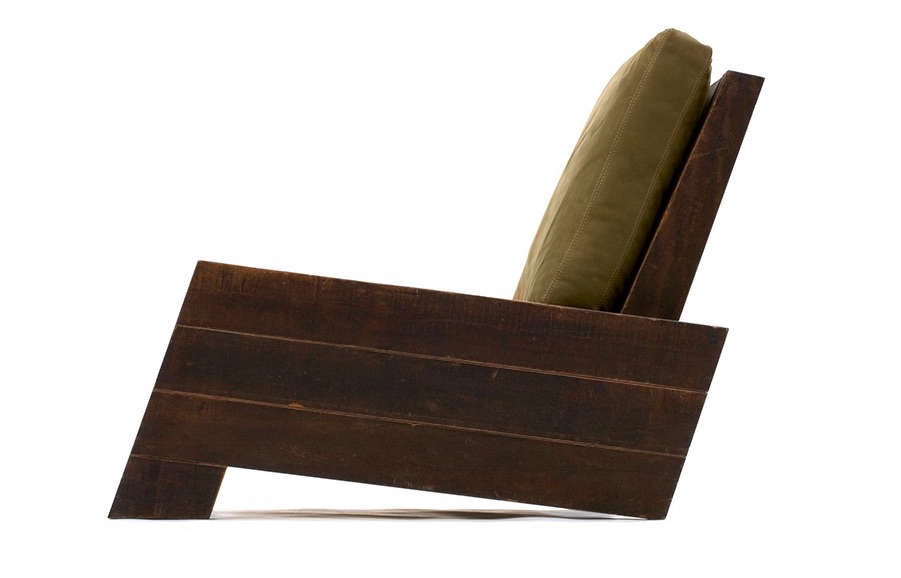 Above: New York-based interior designer Jan Eleni recently specified the Asturias collection from Brazilian designer Carlos Motta for the poolside cabana of a Bahamas waterfront home.  Made of reclaimed wood, the pieces in the collection "are rustic yet modern," she says, "and I wanted something different from what I have been seeing." The Armchair is shown here and the line also includes a sofa, reclining chaise, and ottoman; contact Espasso for purchasing information.
Above: To furnish the deck of the same home in the Bahamas, Eleni chose Motta's Timbò line, made from eucalyptus wood; she notes that the pieces will weather to a silvery gray color over time. The Sideboard is shown here; contact Espasso for purchasing information.
Above: London interior designer Harriet Anstruther likes Jan Howard's historically inspired outdoor line, called Room in the Garden. "The collection is excellent and British made," she says. Shown here is the Elizabethan Bench; contact Room in the Garden to purchase.
Above: Architects Faith Rose and Devin O'Neill of O'Neill Rose Architects in Brooklyn like the St. Tropez line from Kingsley-Bate, made of solid teak with a fabric sling. They used the Chaise shown here by the pool of a Berkshire mountains weekend home, featured in Swimming Pool of the Week: A 1920s-Era Summer House at Woods' Edge; contact Kingsley-Bate to purchase.
Above: Landscape architect Scott Lewis has specified outdoor furniture and rugs from Italian modern designer Paola Lenti. "We like their pieces," he says. "They are textural, durable, contemporary, and sculptural." Shown here, an armchair from the Sabi line; contact Paola Lenti to purchase.
Above: Santa Barbara-based interior designer Carole Magness likes the All-Weather Wicker collection from Terrain. Her favorite piece is the Curved Armchair shown here, which she says "is just plain comfy, will last forever, and is so handsome." It's $898.
Above: Landscape architect Janice Parker (based in New York and Connecticut) likes Zachary A Designs' concrete-like furniture as accent pieces. "The collection is modern, sturdy, and deceptively lightweight—especially perfect for rooftop gardens where you need to remain conscious of weight but refuse to sacrifice style." Shown here is the Waterfall Dining Table; contact Zachary A. for purchasing information.
Above: Landscape architect Scott Lewis is also a fan of Loll Designs, made in the US of recycled plastic milk jugs. Says Lewis, "We like the simple forms, color choices, and recycled content. They also have great outdoor furniture options for children." The Standard Adirondack Chair shown here is $748.
Above: LA landscape designer Judy Kameon of Elysian Landscapes recommends her own outdoor furniture line, Plain Air. She founded it in 1999 with husband Erik Otsea after she couldn't find the stylish and comfortable furniture she wanted for her clients. "Plain Air is unique in that it is a collection of different furniture pieces that are complementary, rather than a group that is all the same," says Kameon. "You can create groupings that are layered and personal." Shown here is a Hoop Chair in black frame with white cord; contact Plain Air to purchase.
Explore more Gardenista Outdoor Furniture profiles, including 10 Easy Pieces: Round Outdoor Coffee Tables and Patio Furniture 101: The Adirondack Chair.
(Visited 412 times, 1 visits today)