Most of the land on this 75-acre property in the Hudson Valley two hours north of New York City looks as if no one has ever lived on it. There are meadows, woodlands, vernal ponds—and a modest trio of buildings designed to blend artfully into the gentle contours.
The first thing you see when you arrive is a 19th-century barn, painstakingly moved from another property down the road to a more prominent site, where it offers spectacular views of the Catskills. The barn also serves as a backdrop to a natural swimming pool that feels "incredibly blissful" to swim in, says architect Alan Barlis.
BarlisWedlick Architects created the low-impact compound (the main house and the barn's living quarters meet Passive House Institute standards for energy efficiency) for client Ian Hague, who wanted to leave the landscape as natural as possible. For the firm, which has designed dozens of energy-efficient houses (including architect Dennis Wedlick's own passive-solar house in upstate New York),  "it was kind of a perfect fit with the kind of work we do," says Barlis.
Photography by Reto Guntli except where noted, courtesy of BarlisWedlick Architects.
Above: A 3,500-square-foot barn was transported from a neighbor's property; it serves as pool house and guest quarters (and has a second Tesla charging station on the ground floor). "It was a one-hundred-and-eighty-year-old barn that was falling down in Ghent, but it had good bones," says architect Barlis. "The barn was the first thing we put on the site because we wanted Ian to be able to live there right away,"
Above: Chemical free, a natural swimming pool is filtered entirely by plants and organic systems. "I wish I were eloquent enough to describe what it feels like to swim in that pool," says Barlis. "The experience of being in it is incredibly blissful. We're ingrained to think that when we get into a pool our bodies will experience chlorine or saline, which is fine, but once you swim in one of these things you feel like you've been so refreshed. It's like being in a Brita for an hour, it's like taking the best shower of your life."
Above: An ipe wood deck surrounds the pool, which has a gunite liner.
Above: On the other side of a low wall, the pool has a water garden with plants to filter and clean the water. "It's so beautiful to have the component of the water garden, which has 18 to 24 inches of sand and soil and plants growing there," says Barlis.
Above: Waterlilies, grasses, and other water garden plants die off naturally in the winter and come back in the spring, says Barlis.
Above: Photograph by Jonny Valiant.
Inside the barn, a woodburning stove and layered rugs mitigate drafts in cold weather.
Above: Photograph by Jonny Valiant. In the barn's loft is a catwalk with a woven rope rail.
Above: Photograph by Jonny Valiant.
In the barn's ground-floor level is a 1,000-square-foot studio apartment.
Above: Photograph by Jonny Valiant.
An old-fashioned Esso gas pump hides a Tesla charging station in the barn, one of two on the property. Behind the gas pump is a brass firestation pole that connects the garage level to a studio apartment below.
Above: A five-minute walk away, the barn-like silhouette of the 1,800-square-foot main house echoes the architectural vernacular of rural upstate New York. Adding to the look is a pitched metal roof constructed of panels from Agway Metals.
Above: Carefully sited to minimize the need to remove existing trees, the main house relates to the contours of the land. Using traditional Japanese shou-sugi-ban techniques, the facade's cedar siding was burned, brushed, washed, and oiled to achieve its charred look.
For more on the charring process, see Shou-Sugi-Ban Wood Siding on Remodelista.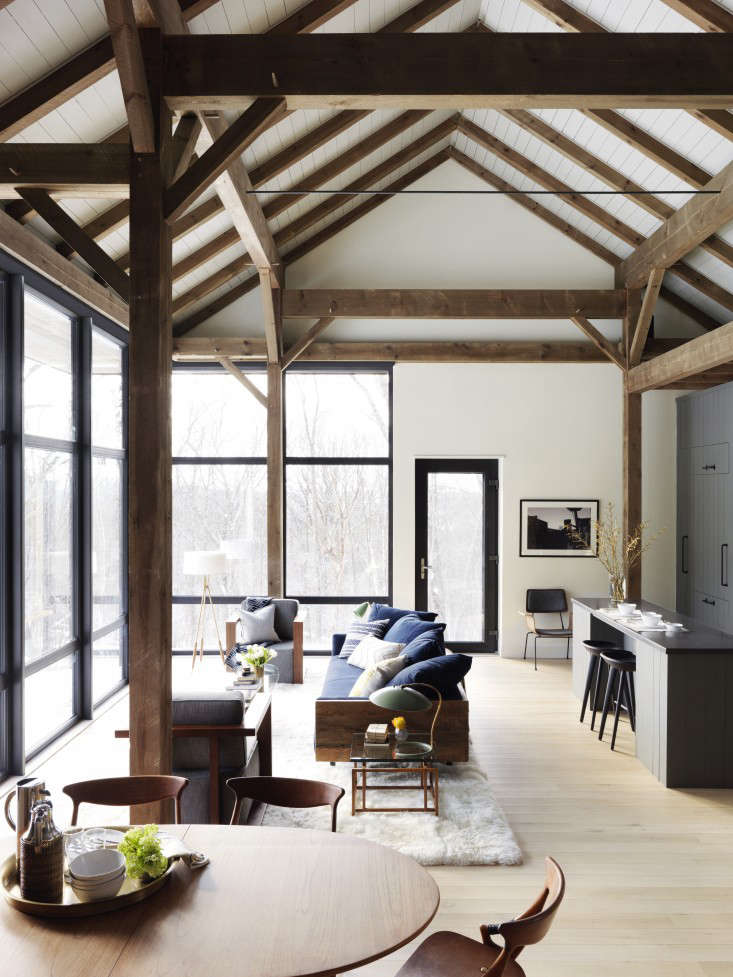 Above: Photograph by Jonny Valiant.
A glass-panel door in the living room opens onto a metal-and-wood bridge that connects the house to a three-story screened porch with a sauna on its bottom level.
"The house sits on a ridge, and as you walk to the screen porch, you're suspended in air from 10 feet to 20 feet," says Barlis.
Above: The three-story screened porch (at L) has a swing on the top level and a table and chairs for dining on the middle level. The sauna is at ground level at the bottom of a slope.
Above: Tucked into the earth, the garage has a second Tesla charging station and a green roof. "We tucked the garage into the earth so you wouldn't notice it and it wouldn't distract you from the view of the Berkshires," says Barlis.
For more environmentally friendly landscape design ideas, see 11 Tips for Gravel Garden Design and 10 Simple Layouts for Roof Gardens.
(Visited 56 times, 1 visits today)