Jeffry's House in Ireland is a funny-looking hut on stilts, with walls of thatch. It's so charmingly odd that it should be in the pages of The Little Fur Family. Instead, it overlooks a wind-swept beach at Ards Forest Park, in Donegal.
Photographs by Emily Mannion and Thomas O'Brien.
Above: Jeffry's House has been described as a "folly"–the term used for a decorative small building of no specific purpose. However, as the winner of an Irish Architecture Foundation competition, it's not an idle folly: The brief was to create a building that would improve or enhance its surroundings.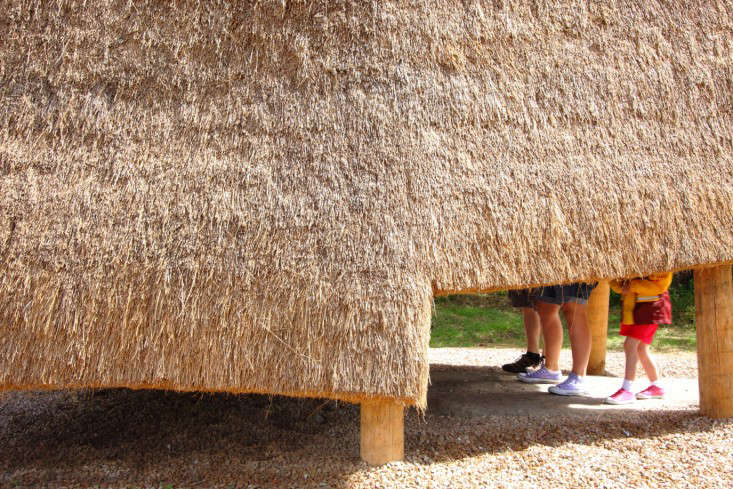 Above: The hut was designed by architect Thomas O'Brien and artist Emily Mannion. It stands on legs to allow scrub and rough grasses to grow up around and beneath it.
Above: The walls of Jeffry's House are steep to aid rain runoff, and thatched for insulation. But the flax thatching is also meant to blur the hard lines of the wooden frame. It's a friendly landscape intervention.
Above: The timber frame includes window openings that frame the sea and the sky. 
Above: Jeffry's House is intended to provide respite from the elements. Donegal faces the Atlantic from Ireland's northwest coast.
Above: The window facing the sky shares characteristics with church windows that are designed to let in light only at certain times of day. It is hooded with folded steel.
Above: Jeffry's House was named for Jeffry's Lough, a lake that appears on old maps of the area but that no longer exists. This mysterious hut has succeeded in nestling into its landscape and even enhancing it. 
For a parallelogram sea-view elevation, see Outbuilding of the Week: A Tuscan Hillside Aerie. And see more bold and unusual designs at Outbuildings. 
(Visited 214 times, 1 visits today)