On a recent European vacation, I spotted this petite cottage garden in Samedan, Switzerland (pop. circa 3,000), just a few towns over from the wintertime jet-set capital of St. Moritz. If there are any cottage gardens in St. Moritz–I didn't see any–we'll leave them for the pages of the Robb Report. Here at Gardenista, we'll take the gardens of actual cottages.
Photography by Meredith Swinehart.
Above: The cottage garden's requisite wooden gate, with the Swiss Alps in the background.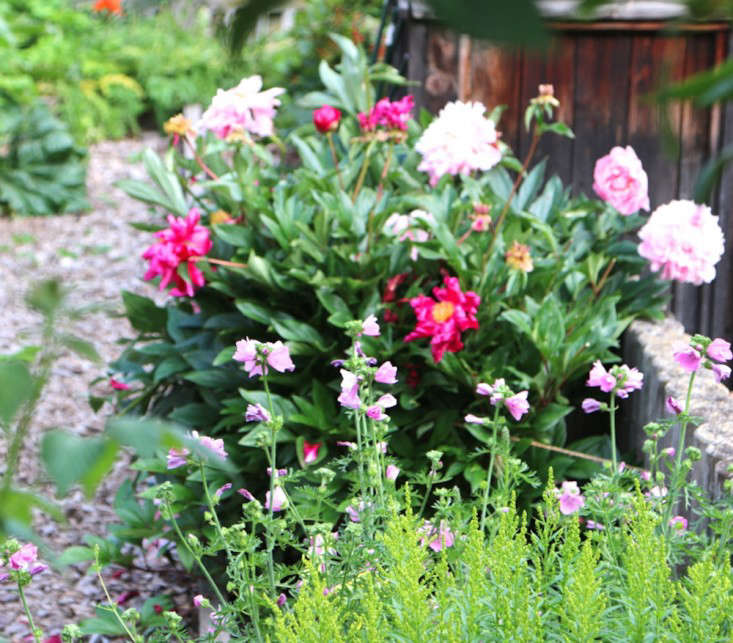 Above: Pink flowers and edibles growing in abundance, thanks to the summer's bountiful rainfall.
Above: A gardening apron hangs along the perimeter.
Above: Among the healthy-looking edibles are kohlrabi and behind it, fennel.
Above: Various lettuces, frisee, chard, green onions, and a flourishing rhubarb plant.
Above: A dainty row of strawberries in front, sorrel behind it, and carrots in the back.
Above: A dark pink peony bush at the center of the garden.
Above: Yellow lupines, along with the seed pods produced after they bloom.
Above: I admired this simple setup on a tiny lawn next to the garden: a stove made of stone with a slate shelf, and a basket underneath for storing wood to burn.
Above: The garden's surroundings are both mundane–it's next to a condominium parking lot
–and striking–in the shadow of the Swiss Alps.
Explore more cottage gardens in Garden Visit: Camera Ready in the English Countryside at Walnuts Farm and Garden Visit: Derek Jarman's Prospect Cottage at Dungeness.
(Visited 68 times, 1 visits today)