When the writer Daisy Garnett and her husband, Nick Pearson, bought their Georgian house in Brixton, south London, in 2007 the garden initially looked like a verdant utopia. But as they began to strip away the overgrowth they soon realized that the lushness was all ivy and that many of the trees, including a copper beech, were long since dead.
The house had once belonged to an haute couture collector named Mrs. Hillyard, and despite being left to its own devices for many years, the space clearly had potential. "It had great bones," says Daisy of the walled garden where gnarled apple trees, a magnolia, and a bay tree remain. It had clearly been a much-loved garden too—the former chatelaine had grown roses through the trees and had nurtured a white lilac tree from flowers in her wedding bouquet. Daisy gives us a tour.
Photography by Clare Coulson.
Above: Daisy, a former staff writer at both British and American Vogue, describes herself as "a total novice" when she started to rework the garden, but she had grown up in a big garden and that had instilled a deep sense of horticultural preferences. "I knew what I liked—and I think lots of those things were influenced by the garden I grew up in."
Above: The garden is based around roses. "I loved the Rosa Mundi that my dad grew. They only flower once but I am happy to have just three weeks of them." There are plenty of repeat flowering roses too, including climbing Gertrude Jekyll, Young Lycidas, Falstaff, Claire Austin, and Harlow Carr (all David Austin).
Above: A zinc-topped table (bought from Petersham Nurseries) is the focal point of the dining area, which is shaded with a vine and a Noisette rose which flowers all summer and into autumn. Rosa Pierre de Ronsard climbs a brick wall close by.
Above: Astrantia 'Shaggy' flourishes in the shade of the mulberry tree.
Above: After starting out with a fastidious palette, she has allowed more plants to filter in: "I would have pulled out the wild purple foxgloves in the past and only had white ones but now I let them grow." Ditto the vivid yellow flowers of fennel or the peachy blooms of Verbascum 'Southern Charm'.
Above: Many of the impressive architectural features came courtesy of her parents who sold their Somerset house, Cannwood, to downsize in 2010. Copper pots, cast iron benches, enormous urns, and a stunning stone bench give the space an amazing atmosphere and grandeur in contrast to the delicate, pretty plantings.
Above: The herbaceous mix is given an added layer of interest with grasses including Miscanthus sinensis Variegata (seen above), as well as Briza media and Stipa tenuissima.
Above: The lean-to greenhouse was installed by builders during renovation work to the house. "We didn't have the money to go and buy an expensive greenhouse," says Daisy of the space which is now a necessity for sowing hundreds of annuals and biennials each year. One of her favorite annuals is Echium 'Blue Bedder', a wonderful blue contrast for the pink roses which flower at the same time.
Above: A generous display of pots clusters around the house. In spring pots are filled with tulips, hyacinths, and narcissi which are then planted into the garden. In summer they are replaced by dahlias, agapanthus, pelargoniums, hostas, and herbs and pots of Lynchis grown from cuttings from Rose Gray at the River Café.
Above: Copper pots are filled with a classic Sarah Raven mix of Anagallis Monellii 'Sky Lover', Argyranthemum Madeira Cherry Red, and Pelargonium Attar of Roses.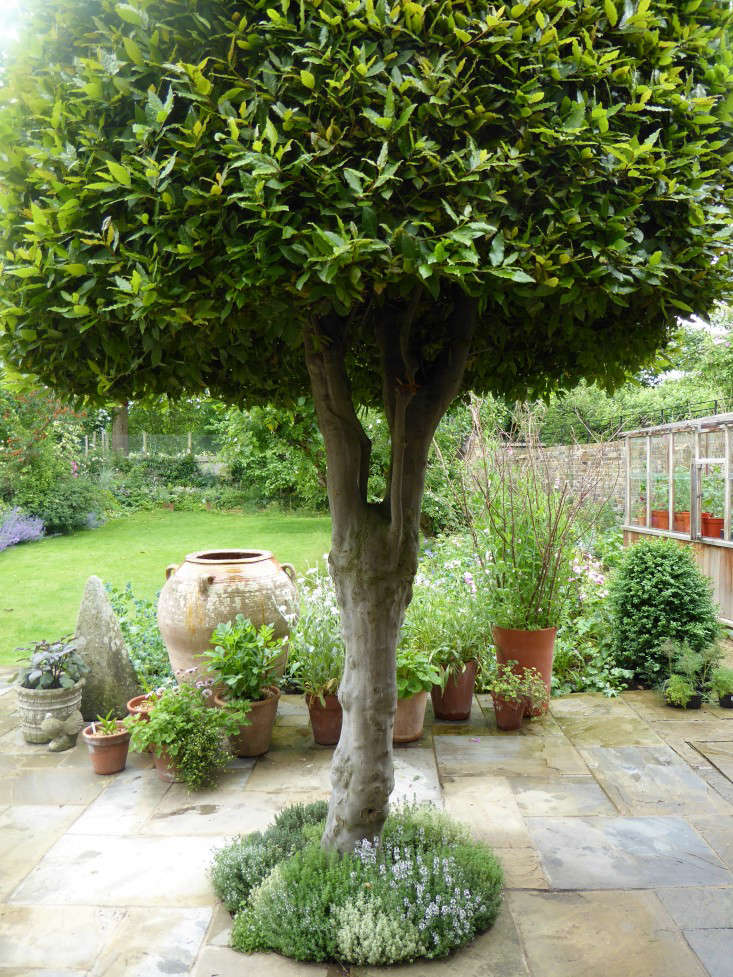 Above: A mini thyme lawn, inspired by Sissinghurst, thrives under a clipped bay tree despite the shady conditions.
Above: Every winter Daisy takes on one (or two) major projects—this year she extended the borders to create a new narrow entrance onto the lawn, which is framed with urns and stone obelisks. She also installed raised beds, paths, and a timber fruit cage to her nearby allotment.
(Visited 1,321 times, 1 visits today)