In a recent editorial meeting, the subject of drip irrigation came up. As Michelle considered to whom she might assign the post, I found myself volunteering from the UK across the ocean through various time zones. My offer landed in our digital meeting room with a moment of silence. Then with raised eyebrows (yes, Michelle, I can see that level of detail on my computer screen), she said, "You, our reluctant gardener, want to do a post on drip irrigation?" Unoffended, I explained that I was intrigued by the concept of drip irrigation as the lazy person's (referring to myself only) solution to keeping plants well fed and happy–not to mention the environmental benefits of delivering water straight to plants' roots–and I wanted to know more.
Was I right? Let's just say I am contemplating quitting the day job soon and turning my attentions toward applying the principles of drip irrigation on growing teens, boys in particular. Just think about how much extra time we would all have if someone cracked that. Read on to see what else I found about drip irrigation.
Above: Beneath a hoop tunnel, seedlings get their strength from a drip irrigation system. See more at Greyfield Gardens: A Chef's Dream on a Remote Georgia Island. Photograph by Emily Hall courtesy of Greyfield Inn.
What is drip irrigation?
Drip (trickle, micro, or localized) irrigation benefits plants and crops by delivering water straight to their roots on a slow drip, thereby saving water and fertilizer. As the global water shortage becomes increasingly critical, drip irrigation seems to be the buzzword on every gardener's tongue. Far from being a new trend, though, the concept has been around for centuries since farmers in China started to control the flow of water using unglazed pots placed near trees. The water, after periodically filling the pots, would seep through the clay walls slowly, delivering water to the roots of the tree.
These days? A basic drip irrigation system includes a network of tubes with emitters to release water evenly across the network.
Above: Graphic by Dalilah Arja.
This diagram illustrates the key components of a drip irrigation system. It's not as scary as it looks; the valve controls water flow into the system, which can be set for either automatic or manual control.
The backflow preventer makes sure there's no reverse flow and stops contaminated water from entering the clean water supply.
A pressure regulator keeps water flowing at a steady rate to the drip system, and the filter removes sediment and debris that can clog an irrigation system.
Tubing adapters and fittings attach the drip tubing to the rest of the system. (Drip tubing is a polyethylene tube which carries the water; emitters release the water from the drip tubing, and end caps are used to plug the end of the drip tubing to keep the water from flowing out.) Porous Soaker Hoses which ooze water along the entire length can be used in lieu of emitters.
Simple, no?
Why is drip irrigation good for the environment?
Drip irrigation is efficient. It delivers water directly to the root zone of a plant, so less water is lost from evaporation or runoff, which has the added benefit of reducing erosion. This is particularly good for mulched areas because the water can soak the mulch without washing it away.
According to the editors at Organic Gardening, studies show that "well-designed drip systems use at least 30 to 50 percent less water than other methods such as sprinklers."
Above: An adjustable sprayer attached to a drip irrigation system. Photograph by Michelle Slatalla.
Why is drip irrigation good for plants?
Drip irrigation delivers water at a consistent rate. When plants get all the water they need, their growth is not inhibited by water stress (which occurs when there isn't enough water to extract from the soil). Happily fed plants, like children, grow more quickly (like weeds, dare we say?) and are much more productive. An added bonus is that even as drip irrigation encourages plants to grow, the system discourages weeds. Because the flow of water is directed at your plants' roots, the soil surface remains drier and less likely to germinate seeds of weeds.
Which has me wondering, would drip-fed teenage boys–who from my experience are always hungry–always work hard and be happy as well?
Above: Turn a water trough into a raised bed. The homeowner attached an irrigation hose through the trough's drainage hole. For step-by-step instructions see Steal This Look: Water Troughs as Raised Beds. Photograph by Marla Aufmuth for Gardenista.
What's in it for the gardener?
With an initial outlay of time and cost for planning and installation, the gardener who invests in a drip irrigation system will have the assurance that the garden is being effectively watered with a minimum expenditure of effort and cost.
Above: Installing drip irrigation in a raised bed edible garden in LA. Photograph courtesy of Pam Rownak.
How much does installing drip irrigation cost?
The cost to install a drip irrigation system averages from $2.50 to $4.50 per square foot, depending on labor costs in your region.
You can eliminate labor costs by installing it yourself.
How do I install a DIY drip irrigation system?
For DIY'ers, the best advice is to start simple and small. There are many companies that sell Irrigation Kits for specific garden types including garden beds, decks, and individual plants. As your confidence increases, a simple drip irrigation system can be expanded and added on to as required. This set of comprehensive and accessible "how to" videos on Dripworks has inspired me to install a drip irrigation system in our London garden.
Drip Irrigation Recap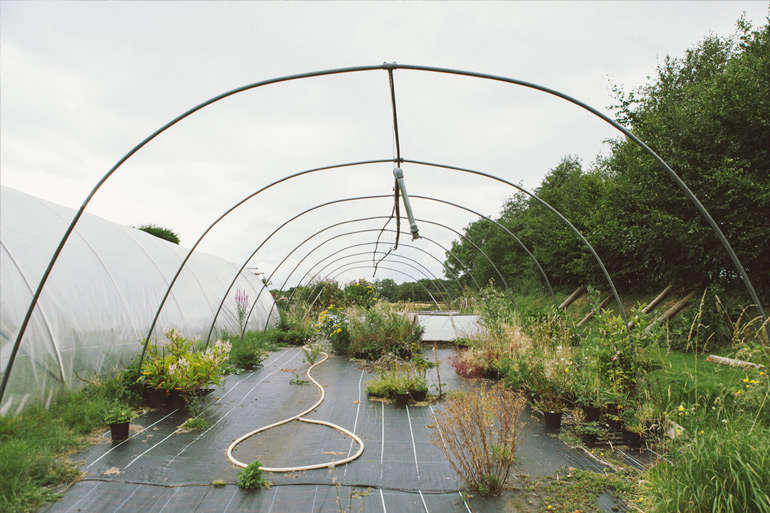 Above: A low-tech irrigation system is in place in England's West Midlands. For more, see Studio Visit: Glasshouse Flowers with India Hurst of Vervain. Photograph by India Hobson.
Pros:
Water saving because plants are fed more efficiently
Cost efficient because you are saving water
Time saving for the gardener as less effort is required to water the plants
Above:  PayPal's headquarters in San Jose is home to an organic vegetable garden with a drip-irrigation system so employees can grow their own food. (And there's a waiting list to get a plot.) For more, see Garden Visit: Paypal in Silicon Valley. Photograph courtesy of StartOrganic.
Cons:
Initial cost and time outlay
Parts and fittings require upkeep to keep things working efficiently
A Stylish Way to Water Your Plants While You're Away takes the drip irrigation principle indoors. If drip irrigation isn't for you, see our catalog for some favorite Watering Cans. And over on Remodelista, Jen Leone of Leone Design Studio has some suggestions for colonizing a roof space with a trellis to create an outdoor garden in Brooklyn.
N.B.: This is an update of a post published April 17, 2014.
(Visited 440 times, 1 visits today)