After a childhood living on her parents' plant nursery in England's West Midlands, florist India Hurst of Vervain Flowers says it's probably inevitable that she grew up to become a florist. A fourth-generation horticulturalist (her great-grandfather began building wood-framed greenhouses in 1921), Hurst grows and arranges her flowers in studio space carved out of what she describes as her family's picturesque "tumbling old glasshouses."
After photographer India Hobson recently visited Hurst, we stumbled across the story via The Garden Edit. Let's take around Hurst's charming winter garden:
Photography by India Hobson via The Garden Edit.
Above: "These tumbling old glasshouses and splitting poly tunnels have been home to my parent's award winning plants for nearly 40 years," says Hurst.
Above: "I swore I would never follow my parents' career after spending my childhood at plant fairs and flower shows moaning about long days surrounded by plants and compost," says Hurst. "However, I have turned full circle."
Above: When Hurst launched Vervain, she began in 2014 to grow local British flowers.
Above: Whimsical garden ornaments include a bird cage turned into a plant cage.
Above: Hurst's family business is Alton Greenhouses. (We'll be profiling the company's product line later this week.)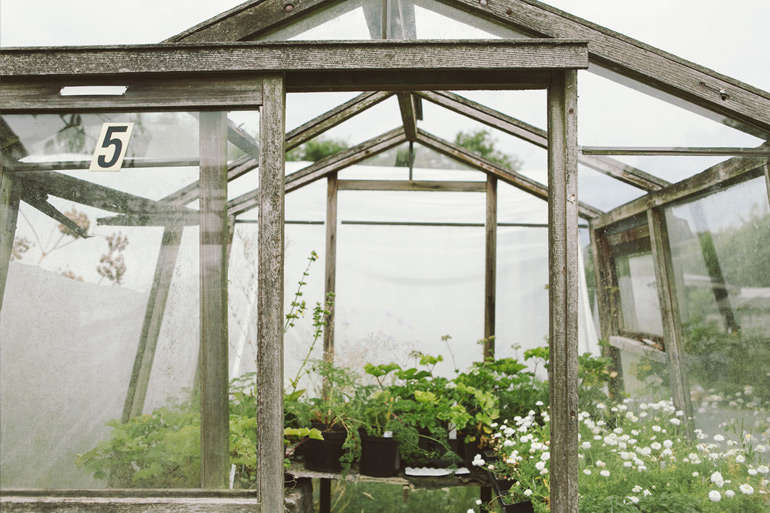 Above: Some of the British flowers that Hurst grows include strawflower, larkspur, yarrow,  scabious, nigella, phlox, and snapdragons.
Above: Black growers' cloth prevents weeds and absorbs sunlight to warm the soil.
Above: Adjacent are the glasshouses are garden beds with seasonal flowers.
Above: A low-tech irrigation system includes garden hoses.
Above: A bouquet of blowsy white peonies.
Above: Translucent poly tunnels protect delicate seedlings from wind, rain, and cold temperatures.
Above: In the florist's studio: stems and seeds.
(Visited 59 times, 1 visits today)