The secret to a successful garden? Know thyself and definitely know thy limitations.
We arrived in London 17 years ago, urban to the core. As New York architects, we had a deep and extensive knowledge of building materials, but we knew next to nothing about plants. With a small garden to fill, we knew the plants had to be low-maintenance so we called in the experts–landscape architect friends.
Their solution? To create a micro rain forest of hardy, shade resistant plants in the heart of London. Anchored around four New Zealand ferns, it grows more lush every year despite my neglectful parenting. Five minutes in my private eco system, listening to the birds and chirruping insects, is all you need before the din of London melts away and the calm sets in.
To see the interiors of my house, go to Christine's House: Living Small in London.
Photography by Christine Hanway, except where noted.
Above: Two custom built sheds enclose the outdoor room and provide us with much-needed storage for bicycles, garden equipment, and tools.
Above: A view through the ferns. The large splayed leaves of Monstera deliciosa (L) create structure to frame the perimeter. In the center raised bed, the striped leaves of Liriope muscari 'Variegata' (Front, L) complement shades of burgundy including the small, rounded leaves of Heuchera micrantha 'Palace Purple' (Front, R). Photograph by Kristin Perers.
Above: An outdoor carpet and a few chairs are all you need for an outdoor room. (For more, see Design Sleuth: Christine's Outdoor Rug.)
Above: Jasmine climbs the trellis and smells divine in the summer.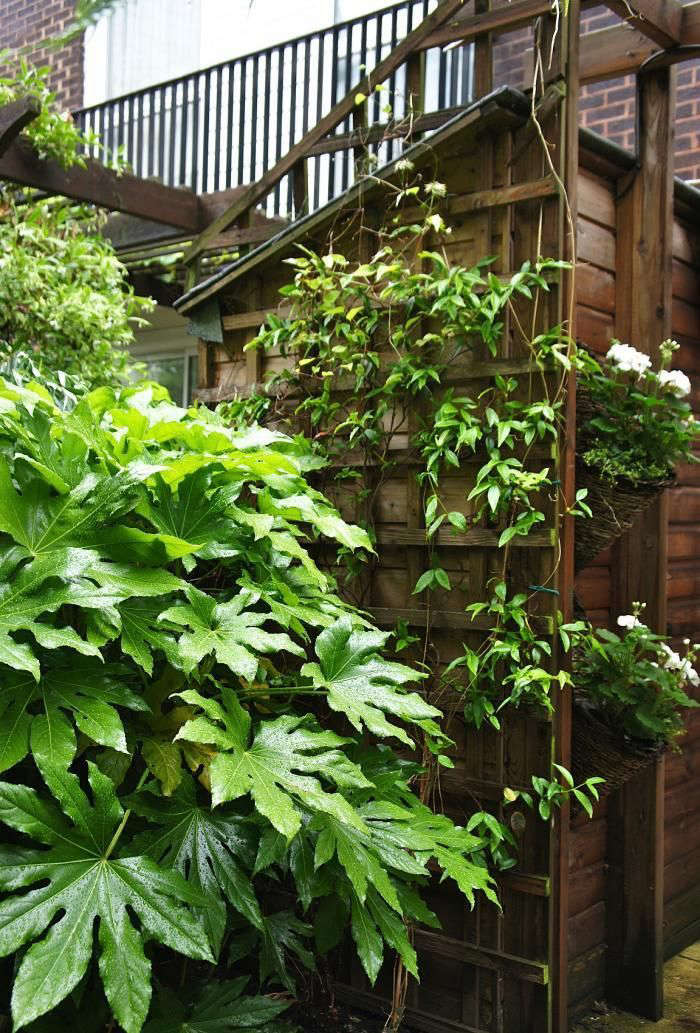 Above: The large leaves of Monstera deliciosa (L) provide contrast to both the vine and the textured, slightly furry leaves of white pelargonium (R). For more about pelargoniums, see Please Don't Call Them Geraniums.
Above: Ferns and black bamboo in a London rain forest.
Above: Bamboo provides a canopy for the ferns.
Above: A bird's eye view of our ecosystem.
For more of our favorite gardens in London, see:
N.B.: This is an update of a post originally published July 17, 2012.
(Visited 711 times, 3 visits today)