It was chance that led me to crush a leaf of northern bayberry, a hardy shrub that grows up and down the Northeastern coast of the United States and into Canada. It was 2011, and I was on a barrier island in Brooklyn, heading to the beach. Bayberry covered the summer dunes like a ruffled green throw. As I opened my hand, the scent of the bruised leaf whispered, "Cook me!" In my garden-designing life I had overlooked this native duneland shrub until I learned its value as a tough rooftop plant, able to withstand wind, baking sun, and dry conditions. And now that uplifting aroma magnified its appeal. I brought home some leaves.
Bayberry is now a staple in my kitchen, at every stage. From its delicate spring foliage and small flowers through the leaves' slow midsummer toughening, and into its fall intensity, bayberry is useful.
Photography by Marie Viljoen.
Bayberry used to be classified botanically as Myrica pensylvanica. Now, it's Morella pensylvanica. And this reflects its connections to other bayberries, like southern bayberry (also called southern wax myrtle), M. cerifera, and California wax myrtle (M. californica).
Bayberry may be best known in New England for its fruit and its use in candle-making. The summer-ripe drupes are hard little blue nuggets coated in wax. Boil enough of them long enough, and the wax floats free. But I was more intrigued by the leaves. Most foraging resources I consulted at the time listed the dried leaf as the edible part, and no one spoke about using it as a fresh herb. But that intense, fresh, resinous fragrance was calling out to be used in quantity.
While bayberry has a flavor profile reminiscent of Mediterranean bay leaf (Laurus nobilis), it is less pronounced and so I use more of it. Where you might deploy one bayleaf, use 10 bayberry leaves. While the leaves dry well, their flavor is bland and musty. This native herb sings when it is fresh.
Spring's bayberry leaves and flower buds are soft enough to chop finely and to use as prolifically as you would parsley or cilantro (although their flavors have nothing in common). They make delicious fresh herb crusts and stuffings, compound butter (slather on sliced baguette, wrap, and warm-through), and an intensely green and flavorful oil, which I freeze, to use in spoonfuls though the year.
Later, when the leaves are too fibrous to chew, they can be used whole to perfume infusions, cooking broths, seafood stews, poached mussels, roast chickens (stuff them under the skin and in the cavity), pies, sweet sauces, and even roasting or poaching fruit (they're wonderful with plums).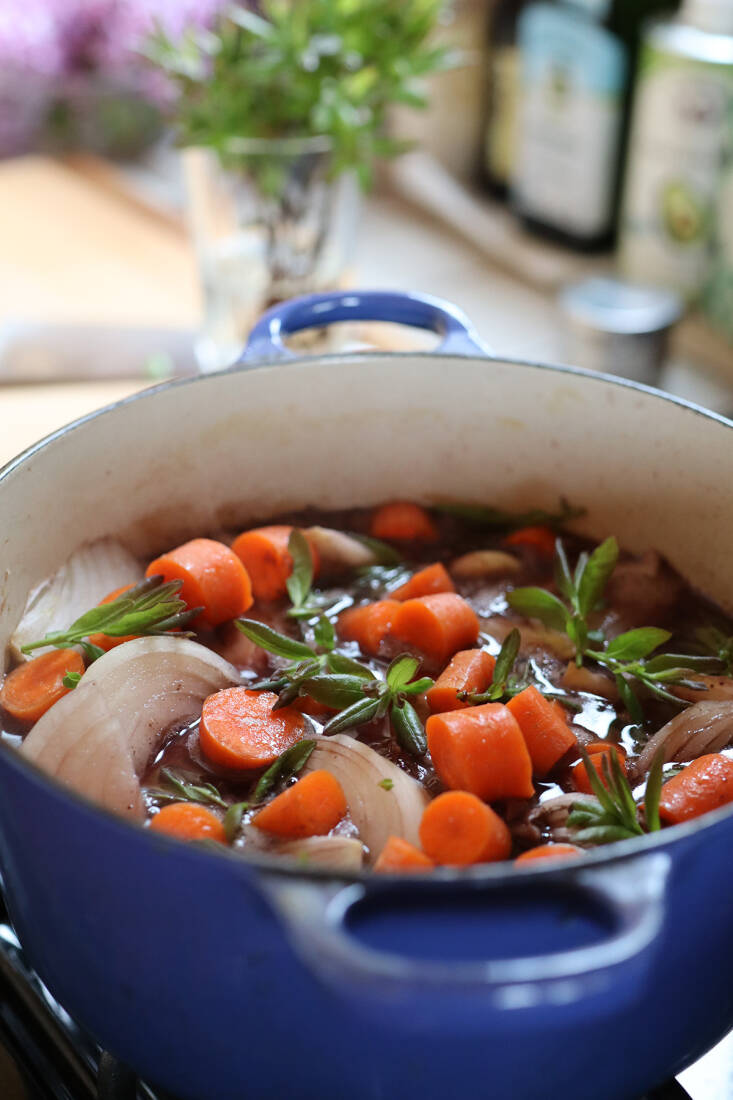 The unripe fruit—green and soft, and ready to collect around early summer—can be used just like the leaves, as a fresh seasoning.
The mature, hard fruits of bayberry are too resilient to crack up like pepper in a mill, but they make great bitters, combined with vodka and soaked for a week. Gin with bayberry takes on a delicately green herbal note, which works well with the spirit's juniper kick.
Apart from their ornamental value, bayberries are a very important winter and early spring food for birds.
Early last spring, we noticed a flurry of swallow activity around a sprawling, wind-trimmed bayberry shrub at Jones Beach on Long Island. At first we thought that the swooping birds, recently arrived from parts south, were hunting insects, but it was too cold. A telephoto lens soon brought their beaks into focus: they were feasting on the bayberry fruits, still on the branches after a hard winter. Later reading revealed that bayberry is an essential food for tree swallows.
Cultivation: Bayberry should be in every kitchen garden, and I hope that the cut herb begins to make an appearance at farmers markets, too. Northern bayberry is hardy from USDA Zones 3–7. The shrubs thrive in full sun but will grow in high shade and half a day's shade (shaded plants will be less strongly flavored). At home on shorelines, it is extremely adaptable and drought-tolerant but will tolerate moist, well-drained soils, as well as alkaline or acidic conditions. It grows well in pots and in ground. If you want fruit—mainly for ornamental purposes, or to provide food for birds—you need a male and a female plant.
Bayberry Ratatouille
Serves 4 as a side
Summer's bayberry leaves are very flavorful and good for adding entire to the produce that now pours from gardens and gluts greenmarkets. My unconventional ratatouille recipe benefits from the startling combination of coffee and red wine. Try it. You'll like it. (I use leftover coffee from my breakfast stovetop espresso.) Serve the ratatouille as a warm side dish, or as a meal (with a baguette, or with an egg poised on top of individual portions). It's really good cold, too.
3 Tablespoons olive oil
4 medium tomatoes, quartered
1 large onion, cut into eighths
1 medium eggplant, cut into chunks
1 head garlic, cloves thinly sliced
20 bayberry leaves
1 cup red wine
2 Tablespoons coffee, preferably espresso
1 Tablespoon balsamic vinegar
2 teaspoons sugar
1/4 teaspoon salt
Black pepper, ground
In a large pot heat the oil over medium-high heat. Add the vegetables and the bayberry. Cover with a lid and cook for about 5 minutes, shaking the pot every now and then to turn the vegetables. Remove the lid and add the red wine, allowing it to bubble for a few seconds. Add the coffee, sugar, salt, and enough water to bring the liquid midway up the vegetables. Stir, reduce the heat, cover, and cook very gently for 45 minutes. Remove the lid and taste. Adjust the seasoning if necessary (a touch more sugar?). Cook uncovered for another 25 minutes at a simmer until the mixture is almost syrupy and utterly soft. Serve hot, or chill until needed.
See also:
(Visited 4,832 times, 2 visits today)
Frequently asked questions
What is a bayberry?
A bayberry is a native North American herb that grows in the form of a shrub or small tree. It is known for its fragrant leaves and waxy berries.
Where does bayberry grow?
Bayberry can be found growing in various regions of North America, including the northeastern United States, Canada, and parts of the southeastern United States.
What are the uses of bayberry?
Bayberry has been traditionally used for its medicinal properties. The berries can be used to make bayberry wax, which has been used in candle-making. The leaves and bark of the bayberry plant have also been used for their astringent and antimicrobial qualities.
How do you propagate bayberry?
Bayberry can be propagated through both seeds and cuttings. Seeds can be collected from ripe berries and planted in a well-draining soil mix. Cuttings can be taken in the early spring and rooted in a moist medium.
What are the growing conditions for bayberry?
Bayberry prefers to grow in full sun to partial shade and well-drained soil. It is a hardy plant that can tolerate a range of soil types, including sandy or rocky soil.
When do bayberry berries ripen?
Bayberry berries typically ripen in the late summer or early fall. They start off green and turn a waxy, bluish-gray color when fully ripe.
Are bayberries edible?
Bayberries are not typically consumed directly as they have a bitter taste. However, they can be used to make bayberry wax for candles or processed into herbal remedies.
Is bayberry an invasive plant?
No, bayberry is not considered an invasive plant. It is native to North America and is an important part of natural ecosystems, providing food and shelter for wildlife.
Can bayberry be used for landscaping?
Yes, bayberry can be used in landscaping as a shrub or small tree. Its fragrant leaves and waxy berries add visual interest to gardens, and it can be a valuable plant for attracting birds and other wildlife.
Does bayberry require any special care?
Bayberry is a relatively low-maintenance plant. It is drought-tolerant once established and generally does not require fertilizers or pesticides. Pruning can be done in early spring to maintain its desired shape.