Maybe you're as sick as I am of outdoor furniture that warps, rots, stains, splinters, sags, or falls apart if you forget to bring it indoors in bad weather?
If so, consider concrete. Here's a material made to withstand the elements–hurricane season, do your worst–that may even look better under a blanket of snow.
Here are 10 of our favorite pieces of concrete furniture–for dining, lounging, or just sitting around–for the garden.
Dining Furniture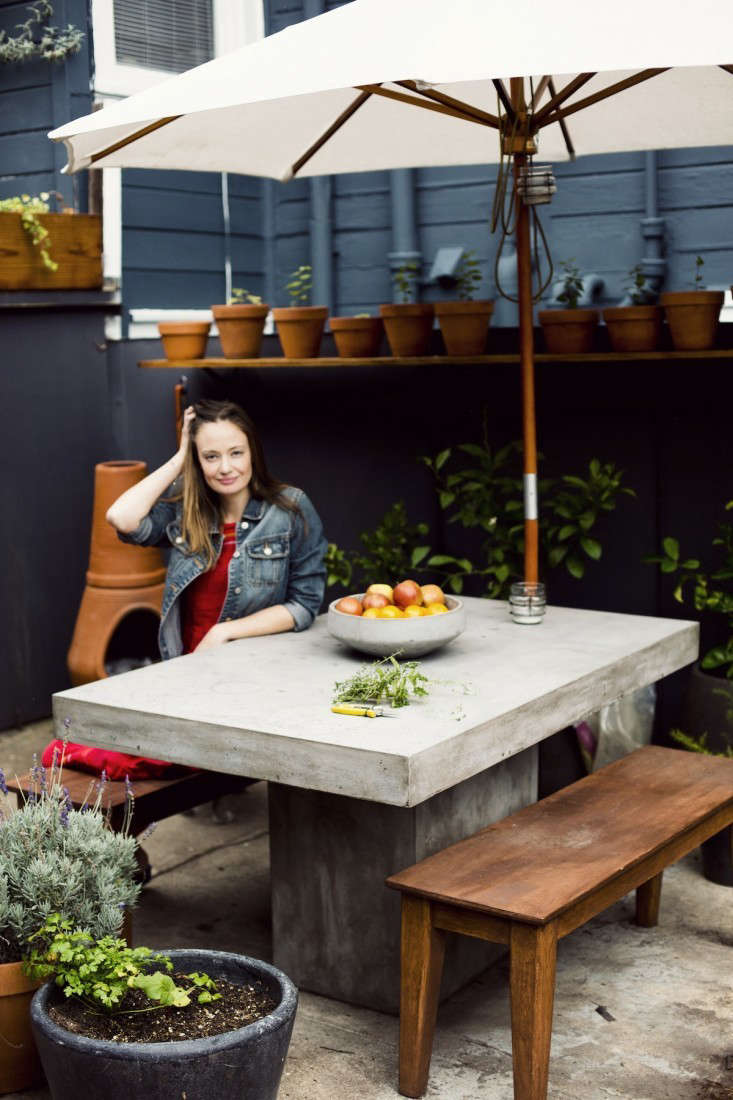 Above: Clothing designer Courteney Klein at home in San Francisco's Mission District; her outdoor dining table is the Fuze Grey Dining Table ($999 from CB2). Measuring 35.5 inches wide by "57 inches long and 30 inches high, it seats six.
Above: A matching concrete Fuze Grey Bench is 49 inches long; $399 from CB2.
Above: Christine recently discovered British architect Sally Mackereth's CAST 001 line of cast concrete outdoor furniture. "From Le Corbusier to Donald Judd, architects and artists have long been attracted to the sculptural qualities of cast concrete," Christine notes. "Mackereth adds warmth and texture with a metallic sheen." For more information, see Outdoor Furniture with a Dose of Glamor.
Above: A Concrete Slab Dine Table is made of Eco Concrete, a lightweight mix of granite, stone, marble powder, natural fiber, and cement that weighs about 40 percent less than typical concrete. Suitable for both indoor and outdoor use, it measures 63 inches long by 35 inches wide by 30 inches high; $2,029 from Bevara Design.
For more outdoor furniture designs from Bevara, see our recent post on The Last Outdoor Furniture You'll Ever Buy.
Above: A Massive Concrete Table designed by Long Island-based artist Nico Yektai is aptly named; it measures 108 inches long by 42 inches wide. Shown here with the Modern Concrete Bench for Outdoor Dining, the table is a one-of-a-kind piece. For more information and prices, see Nico Yektai.
Lounge Furniture
Above: Designed in 1954 by Swiss industrial designer Willy Guhl, a concrete Loop Chair is made of lightweight natural fiber cement (ingredients include cement, powdered limestone, cellulose and synthetic fibers) and is $1,200 from Stardust.
Above: Weighing 400 pounds, a hand cast concrete Jenner Lounge by Concreteworks of Oakland is resistant to staining and can be left outdoors year round. It measures 72 inches long by 30 inches wide and 23.5 inches high. For more information and prices, see Concreteworks.
Above: Made of a single sheet of lightweight reinforced concrete, a Spurt Club Chair by Paulsberg comes in two colors of gray (Stone and Mouse) and is 2,170€.
Side Tables and Stools
Above: Made of raw concrete, a Letter Box stool has two handles and measures 18 inches tall (a comfortable height for seating); $179 apiece from Teak Warehouse.
Above: Measuring 15 inches in diameter and 19 inches high, a Fluted Concrete Stool suitable for outdoor use is available in black or ivory and is $400 from Mecox.
Inspired to use concrete as a design element outdoors? See our recent post on 10 Genius Garden Hacks with Concrete Blocks. Looking for outdoor furniture that's a little less permanent? See 10 Easy Pieces: Budget Friendly Unfinished Wood Furniture.








(Visited 1,622 times, 1 visits today)