Chocolate Cosmos, Cosmos atrosanguineus
Yes, believe the hype. This charming cutie does in fact smell like chocolate, like something you'd find in Willy Wonka's candy factory. But I get it, you might not believe me until you smell it yourself. That's okay. This deep maroon flower is worth seeking out in the nursery as a start or as seeds. Either way, once you grow this fragrant flower you won't be disappointed—especially if you have a penchant for chocolate.
Please keep reading to learn more about this care-free and chocolate-scented perennial:
One can describe the color of this unique Cosmos as wine-red, sophisticated (especially when paired with white blooming plants) —or yummy. I prefer yummy. Velvety cocoa-colored petals surround a dark brown center and sit on dark green divided leaves. Each flower resembles a miniature dahlia and is a little under 2″ round, and the entire plant can grow to about 30″ tall and 18″ wide. Of course every garden has i's own micro climate, but in general, you can expect flowers to bloom mid-summer through fall, especially if the spent ones are routinely deadheaded.
Native to the higher elevations of Mexico, the history of this plant is documented in an article by Graham Rice, "The Story of Cosmos atrosanguineus" found in The Plantsman. The shortened history is that this plant arrived in England from Mexico and was then introduced to the plant trade by William Thompson (founder of famed Thompson and Morgan Seed Company) back in 1885. Then as a result of WWII, the plant basically became rare in cultivation and was also reported to be extinct in the wild. The only known plant left (and unfortunately with sterile seeds) was a clone being tended to by a few devoted horticulturists at the Kew Gardens.
Well, it turns out that the flower was not actually extinct in the wild and, in fact, was found in New Zealand. Then around 1990, a "mother" Chocolate Cosmos plant in New Zealand produced a few fertile seeds, and subsequently a first self-fertile cultivar, Cosmos atrosanguineus 'Pinot Noir', was released locally by Russell Poulter in 1996. Now, luckily, we can grow this flower from seed. I like to grow this plant from a 4″ nursery start, and I snatch one (or five) up as soon as they arrive on the shelves because they are usually in high-demand.
This is the perfect plant to grow with your kid, as it's fast to bloom, the stems are long and good for cutting, and the delicious scent on a warm day will totally appeal to their sugar-loving senses. And if the kiddos ask you how it smells like chocolate, you can tell them that the fragrance comes from vanillin, an organic compound that is also found in cocoa. But warning, this is not an edible flower. Repeat: please do not eat.
The only problem I've ever encountered growing this plant is powdery mildew. To avoid this issue, make sure you plant this flower in full sun, provide plenty of space between plants, and make sure there is good air flow.
Cheat Sheet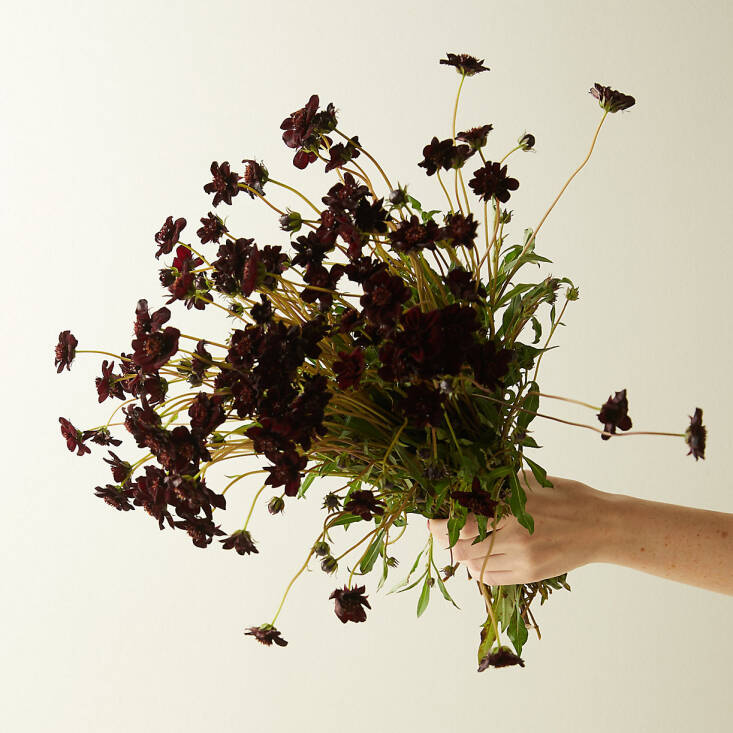 A few cultivars to choose from: 'Chocamocha' (the easiest one to find in nurseries), 'Dark Secret' and 'Spellbound'.
Add this sweet-smelling flower to a cutting garden, cottage border, habitat garden or mixed into a container.
Plays nicely with airy grasses and rambunctious wildflowers.
Make sure to cut some and add them to a bouquet.
Bees and butterflies love to visit and dine on this flower.
The verdict is still out on whether this plant is deer resistant or not. Please comment below if you have a vote.
Keep It Alive
Hardy to USDA Zones 7-10. Lift tubers from the ground in the fall in Zones 3-7. Dry them outside for a few days then store in a cool, dry and frost-free location.
In warmer climates, top dress them with mulch to protect the roots over the winter.
Plant this Cosmos in rich, well-draining and slightly acidic soil and plant 20″ apart.
Full sun is best for flower production.
Regular watering is preferred but excess will rot the roots.
Remove spent flowers to prolong the bloom time.
For more on dark colored plants, see:
For more on cosmos, see:
You need to login or register to view and manage your bookmarks.