Feeling a tad moody and dark lately? Me too. And while darkness as an emotion isn't totally desirable, in the world of plants it's a completely different thing. When you add dark beauties to your mostly green garden or containers, you create a surprising richness, depth, and drama. And when you mix them with lighter foliage, you create a contrast and visual interest that other colors don't quite achieve. And even though true-black plants are basically non-existent in nature, many dark browns, wine-reds, plums, and mahoganies inch close.
Ready to be lured to the dark side?
Featured photograph by Marie Viljoen for Gardenista, from Garden Visit: Summit Street in Red Hook.
What You Need To Know
In general, dark hued plants work best as accent plants that are appreciated up close, when placed as focal plants to highlight other colored plants in the garden, or when used as a rich backdrop for lighter plants. Inky foliage and flowered plants show up most in part to full sun because they (unintentionally, of course) disappear in shady spots. With this bit of info, reduce or avoid these types of plants in your dimly lit areas.
Another thing to know is that darkly hued plants combines amazingly well with most colored leaves and flowers, including blue, gold, and silver, even variegated. And flowers with saturated colors have a mutually beneficial relationship with dark leaves: the bold colors wake up the dark leaves, and the dark leaves tame down garish tones. (One of my favorite plant pairings is the combination of dark purple leaves with vibrant chartreuse leaves.) When used in a garden appreciated at night—called a moon garden—dark plants provide the needed contrast during the day to commonly used white flowers and silver foliage; then when dusk falls, the deep hued leaves melt away and the white and silver tones really glow as intended.
Last, while you may be infatuated with these sophisticated beings, avoid planting dark colored plants en masse (unless it's the mondo grass I mention below). Dark leaves and flowers work best grown alone as solo divas or combined with bright flowers or leaves so they can bounce off each other.
Below, my eight favorites:
Aeonium arboreum 'Schwartzkopf' or 'Zwartkop'
This tender succulent produces rosettes of glossy, rich leaves so deeply purple they almost appear black. Like most aeoniums, this beauty likes less frequent watering during their summer dormancy period. Forms clumps 3 to 4 feet tall and is happy in Zones 9 to 10. (See Gardening 101: Aeoniums.)
Loropetalum chinense 'Hines Purple Leaf'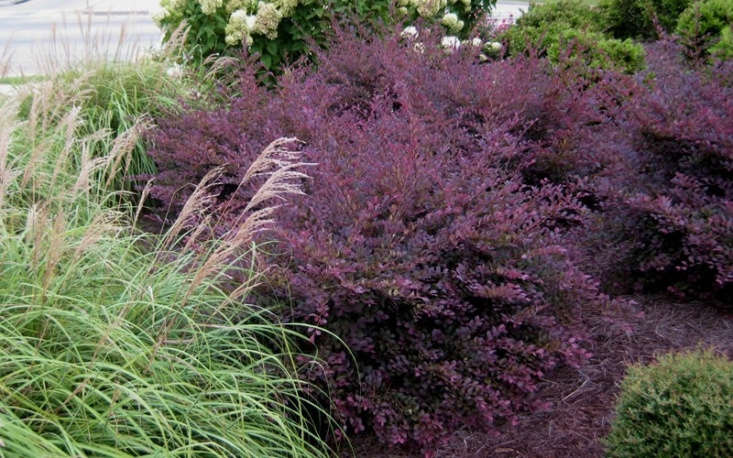 The Loropetalum chinense 'Hines Purple Leaf' is a versatile evergreen shrub, with deep pink fringy flowers and dark gracefully arching foliage, grows to a robust 6 to 8 feet tall and wide. Use as a superb foundation plant. (See Gardening 101: Chinese Fringe Flower.)
Cotinus 'Royal Purple'
Also called smoke bush for the summer display of hazy feathery flowers that appear, this large deciduous shrub with deep-wine purple rounded leaves makes a dramatic backdrop to brighter hued perennials, tawny grasses, or silvery succulents. Full sun produces the best leaf color.
Elderberry 'Black Beauty'
This exuberant shrub has striking chiseled leaves and produces clusters of pink blooms that attract butterflies and then bears edible fruit in the summer. Prune back to the ground in early spring to ensure a marvelous display of maroon colored leaves.
Cercis 'Forest Pansy'
A profusion of petite pea-like flowers in vibrant pinky shades appear on this small deciduous tree in the spring and contrast beautifully with its deep mahogany heart-shaped leaves. Reaches a moderate 20 feet tall with an equal spread. Best in full sun to light shade and appreciates well draining soil. Grows in Zones 5 to 9.
Ophiopogon planiscapus 'Nigrescens'
Known for its dramatic evergreen foliage, slow-growing mondo grass forms dense tufts of almost jet black leaves, 8 to 12 inches long. Situate as an edging plant or tuck into containers.
Aquilegia vulgaris var. stellata 'Black Barlow'
Dark plum purple (almost black) blooms appear in the spring and resemble petite starry dahlias.  This columbine was bred for cut flower production and even though it is short lived it will self-seed prolifically. Best in full sun to part shade. (See Columbine: A Springtime Flower That Arrives on the Wind.)
Heuchera 'Obsidian'
Also known as coral bells, this compact variety rocks the dark vibe and keeps its richness through the winter months. Hardy in zones 4 to 9. This plant grows to 10-inches-tall and 16-inches-wide and looks best in part sun.
For similar content, see:
(Visited 2,410 times, 3 visits today)