The classic English white garden is a romantic, old-world affair. We are reluctant to leave it behind. Yet Ursula Cholmeley, on creating one of her own at Easton Walled Garden in Lincolnshire, has drawn on the cosmos for inspiration.
Her ambitious and decadent gardens thrive around a ruined house. They have only been revived since the beginning of this century, having collapsed with the demolition of the house in 1951. The stables, gatehouse, and a few remaining outbuildings offer a tantalizing hint of what the (originally Elizabethan) house had to offer. These buildings were only saved because the machine with the wrecking ball ran out of gas.
Photography by Jim Powell.
Above: People weren't really "doing" grasses in Vita Sackville-West's time and the wavy presence of blue oat grass (Helictotrichon sempervirens) is an early indication that this White Space Garden is a far cry from Sissinghurst. Not strictly white, the sandy seed heads are nicely pale.
Modern white gardeners also like to add subtle color. Here, Rosa glauca lends a spiky, structural presence, its auburn leaves and stems adding depth. Dog rose-like pink petals will be a further rogue element.
Above: Try as we may to get away from Vita's Sissinghurst, Easton Walled Garden in Lincolnshire does have some similarities. The ruined house in each is not the focus but the foil to the gardens. The thriving atmosphere of this happy place is due to the efforts of the younger Cholmeleys, Fred and Ursula.
Above: Cerastium tomentosum ('Snow-in-summer') makes a swirl with dwarf box. It's a cosmic swirl; the White Space Garden explores ideas of the universe and our place within it.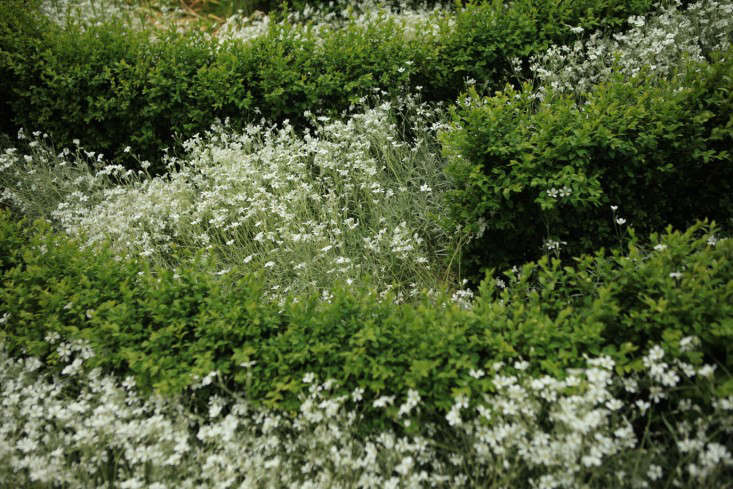 Above: Has this spreading, mat-forming alpine plant ever looked so good? Cushioned between box it is buoyed up. It makes me think of the Milky Way.
Above: The ghostly 'Broken Arch' stands to attention at the back of the white garden at Easton. Originally it was part of the formal drive leading up to the house.
Old photographs show a mansion modernized for Victorian leisure, with vast windows facing out over the descending garden. President Franklin Delano Roosevelt spent some of his honeymoon here and wrote that Easton Hall was "almost too good to be true." Perhaps he was right.
Above: Geranium pratense 'Galactic' (get it?) and a closer look at the red-leafed rose.
Above: A galaxy of snowballs on a rounded Viburnum opulus 'roseum'.
Above: The silvery shrub Eleagnus angustifolia 'Quicksilver' forms a backdrop with the tall grasses. At the lower story the flowers are–pure white.
For more inspiration and tips to create a white garden, see:
(Visited 96 times, 1 visits today)