A recent crisp October afternoon marked my second visit to Harley Farms Goat Dairy in Pescadero, California. I made the trek (just over an hour from San Francisco) motivated by my desire to get out of the city, my love for small towns in fall, and a lifelong fondness for goats. 
Harley Farms is located on nine acres in coastal Pescadero, a one-street town with barely an inkling of the big-city hipness from which I wanted to get away. On the farm, goats are milked, cheese is made, and most things are decorated in the artsy aesthetic endemic to optimistic farmer types (think primary colors and wiggly fonts). Cool or not, Harley Farms manages to maintain a very genuine character, and it's a joy to be in a place that really feels real.
Harley Farms offers farm tours, seasonal dinners, and a farm shop; for visiting information, see Harley Farms. 
Photography by Meredith Swinehart.
Above: Harley Farms has a herd of 200 alpine goats; milked twice a day, each produces a gallon of milk and an (eventual) pound of cheese.
Above: The farm is more than 100 years old, with origins as a cow dairy. Here, a corrugated metal barn offers shade to the goats. The barn door is painted in red Goat Milk Paint.  
Above: Harley goats are happy goats; the farm takes immense pride in its healthy animals and their highest-quality milk. Here, my friend Amruta making a new friend.
Above: In addition to goats, farm residents include chickens, llamas, dogs, cats, ducks, and turkeys. Several retired show llamas share the pasture with the goat herd, protecting them from coyotes, dogs, and other potential intruders. Next to the goats, the llamas look like serious intellectuals.
Above: Farm chickens are occasionally housed in "chicken tractors," small structures to be moved around the pasture to fertilize the ground. The goats love to chew and climb on them as much as they love to chew and climb on everything else.
Above: Deciduous trees border the pasture, changing color in fall. 
Above: Nothing is fancy on the farm, including the sink. The farm makes every effort at sustainability, including reminding visitors to be mindful when using water. 
Above: Pink cosmos in the garden.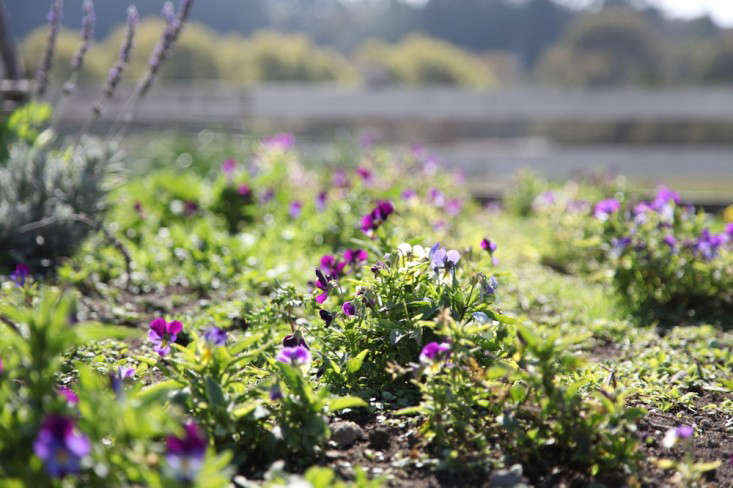 Above: Harley Farms grows several varieties of edible flowers in its small garden for use in decorating its cheeses. Here, johnny jump-ups (also called viola tricolor or heartsease) look like tiny pansies in yellow, white, and purple.
Above: Harley's signature chí¨vre round, called Monet, is decorated with flowers grown on the farm. Here, orange calendula, purple and yellow johnny jump-ups, and blue cornflowers are washed and ready to ornament.
Above: The Monet cheese features Herbs de Provence sandwiched between two rounds of chí¨vre.
Above: Harley's chí¨vre is pasteurized at the lowest possible temperatures to retain the highest nutritional content. In 2009, the farm's chí¨vre won first place in the "Fresh Goat Milk Cheeses" category at the American Cheese Society Awards.
Above: Dill and tomato-basil chí¨vre for the tasting in the farm shop. In addition to cheese, the farm produces soaps, lotions, wool, duck eggs, and even goat milk paint, sold online and in the farm shop yearround.
Above: A mature eucalyptus tree hangs over a tiny barn painted with Goat Milk Paint.
Above: A very local bouquet of eucalyptus leaves in the hayloft dining space, where the farm hosts seasonal dinners. (I hope a Farm Dinner is my next occasion for visiting.)
Above: Young mousers in the farm shop, sleeping on the job.
Can't get enough of goats? Read about Michelle's adventures on a goat farm in France in Dinner–and a Bed–at the World's Most Beautiful Goat Farm. 
(Visited 79 times, 1 visits today)