At the Chelsea Flower Show last month one plant kept popping up again and again, dotted through show gardens and on nursery stands and displays. Atriplex hortensis—or orache—is an edible salad crop that is increasingly being grown in borders, too, and at Chelsea it was used as a bold vertical accent amidst summer perennials. But its most distinguishing characteristic may be its deep purple and bronze foliage, which can provide a foil to softer pastel flowers and green leaves—and bring drama to each space.
Dark leaved plants add vital depth and interest to planting schemes and can be deployed in myriad ways. Here are seven ideas for using them to dazzling effect.
Photography by Clare Coulson, unless otherwise noted.
1. Contrast with pastels.
2. Cover bare ground.
3. Clip a structural dome.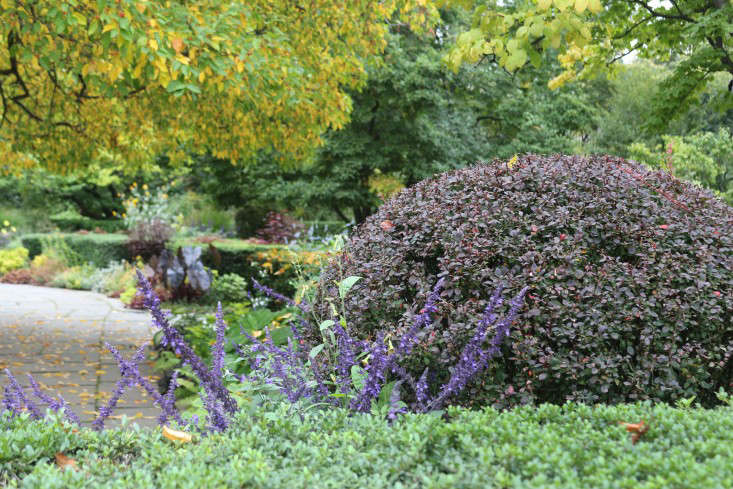 4. Deploy statement leaves.
5. Paint a border with heucheras.
6. Add late season interest.
7. Go large with impact plants.
See also:
(Visited 5,597 times, 1 visits today)
Frequently asked questions
What are some plants with dark foliage that can be used in the garden?
There are several plants with dark foliage that can add a dramatic touch to your garden, such as Heuchera 'Obsidian', Actaea simplex 'Hillside Black Beauty', and Lysimachia congestiflora 'Persian Chocolate'.
How can dark foliage be used to create contrast in the garden?
Dark foliage can create striking contrast when paired with plants that have lighter or vibrant-colored foliage. It can help highlight the colors of flowers and create depth and visual interest in the garden.
Are plants with dark foliage suitable for both sun and shade?
While some plants with dark foliage thrive in sunnier spots, others prefer shade. It's essential to choose plants suitable for the light conditions in your garden. For example, Heuchera 'Obsidian' can tolerate both sun and shade, while Actaea simplex 'Hillside Black Beauty' prefers partial shade to full shade.
How do you care for plants with dark foliage?
Plants with dark foliage generally require similar care to their counterparts with lighter foliage. They typically prefer well-draining soil, regular watering, and occasional fertilization. However, it's essential to follow the care instructions specific to each plant, as requirements may vary.
Can dark-foliaged plants be used in container gardens?
Absolutely! Dark-foliaged plants can be excellent additions to container gardens, providing a striking contrast to other plants. They can bring a bold and dramatic look to your patio or balcony.
Do plants with dark foliage attract more pests?
Plants with dark foliage are not necessarily more prone to pest problems. However, certain pests may be more attracted to specific plant varieties rather than the color of the foliage. It's good practice to monitor and address pest issues promptly, regardless of foliage color.
Can dark foliage be used in formal garden designs?
Certainly! Dark foliage can add a touch of sophistication and elegance to formal garden designs. When used selectively and paired with appropriate companion plants, they can create a striking and well-balanced visual impact.
Are there any considerations when using dark-foliaged plants in small gardens?
In smaller gardens, it's essential to consider the scale and proportion of dark-foliaged plants to ensure they don't overpower the space. Opting for compact or dwarf varieties can be a wise choice. Additionally, strategically placing them in areas that need visual depth can maximize their impact.
Can dark foliage be combined with different garden styles?
Yes, dark foliage can be combined with various garden styles. It can effortlessly complement modern, rustic, cottage, or even tropical garden designs. The key is to select plants and incorporate them in a way that harmonizes with the overall style and aesthetic of your garden.
Where can I purchase plants with dark foliage?
You can purchase plants with dark foliage at local nurseries, garden centers, or online plant retailers. Additionally, there are plant catalogs, plant swaps, and garden shows where you can find a wide selection of dark-foliaged plants.