Calla lilies were go-to wedding flowers even before Cornelius Vanderbilt's great-great-granddaughter, Consuelo, got married in 1926 in her family's Fifth Avenue mansion in a candlelit drawing room that was, as the New York Times put it, "heavy with the scent." Silver-ribboned calla lily bundles bedecked the mirror-paneled room as the bride walked down the aisle in a silver lace gown.
Tastes change. (Certainly Consuelo's did; bridegroom Earl Smith turned out to be the first of four husbands.) And calla lilies—which aren't really lilies, by the way—deserve a spot in the garden and a place in an everyday vase. No bridal bouquet necessary:
Photography by Mimi Giboin for Gardenista.
Horticulturally speaking, calla lilies are members of the Zantedeschia family. Native to southern Africa (and perennial in USDA growing zones 8-10), calla lilies have large, colorful leaves—called spathes—which we think of as flowers. But the real flowers are the tiny blossoms on the spadix in the center of the spathe.
 Growing Calla Lilies
Plant Care: Calla lilies like soil that is moist (but well drained) and warm; plant them after the last frost date.
Sunlight: Plant them in a spot where they will get bright, indirect light.
Sources:  Some of our favorite calla lilies include yellow Zantedeschia 'Callafornia Callas Flame' and Zantedeschia 'Callafornia Callas Pink Melody' ($11.50 apiece from White Flower Farm; both ship for spring planting).
Caring for Calla Lilies
Although we call them lilies, calla lilies are not member of the Lilium family. Calla lily hybrids are available in a wide spectrum of colors, including yellow, gold, purple, mauve, pink, and white.
How To: Calla Lilies in a Vase
For our non-bridal arrangement of calla lilies, we chose a black vase as a neutral backdrop to the colorful lilies.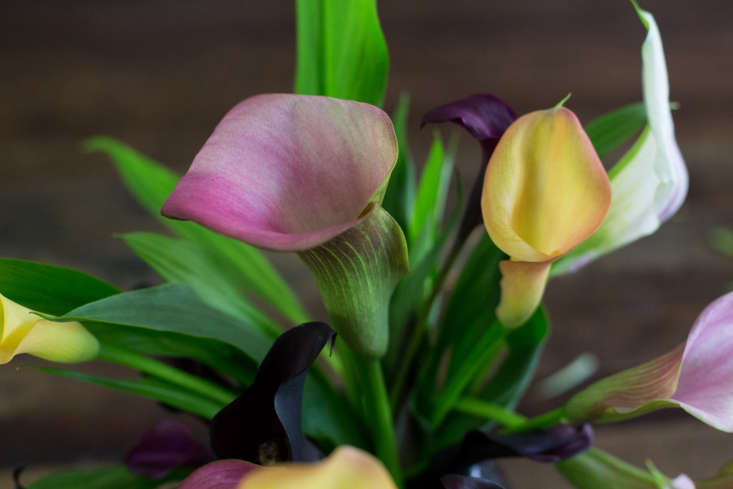 N.B.: No more flower stereotypes. See other flowers we're giving a second chance:
Finally, get more ideas on how to successfully plant, grow, and care for calla lily with our Calla Lily: A Field Guide.
Interested in other bulbs and tubers for your garden or indoor space? Get more ideas on how to plant, grow, and care for various bulbs and tubers with our Bulbs & Tubers: A Field Guide.
(Visited 92 times, 1 visits today)