The wild and tame red fruits of fall are botanical holiday decorations, in miniature. Adorning trees and shrubs, they breathe optimism into the darkening season. They can bring DIY holiday decorations to life, or make a tasty treat. Some may be a berry, while others are drupes (or pomes).
Here are 10 common red fruits that light up branches even after autumn foliage has turned to a crisp.
Photography by Marie Viljoen.
Winterberry
Native to the central and eastern United States, winterberry glows with color through winter. Red as well as yellow and orange varieties hold their fruits even in hard freezes, and look spectacular on the deciduous shrubs' bare branches. They are often seen in late fall and winter, fresh-cut, at flower sellers. The vivid drupes (not berries) are good food for migrating or resident birds. Although tolerant of shade, female shrubs in full sun will produce the most fruit, in USDA hardiness 3-9. (See Gardening 101: Holly.)
Chokeberry
Aronia arbutifolia produces its red pomes (not berries) about a month or more later than its better-known dark cousin, A. melanocarpa (black chokeberry). Its smaller fruits make up for their size in intense color. And once a touch a frost blets them, red chokeberry becomes more palatable than its name suggests. (See Aronia: Grow Your Own Superfood.)
Use the pomes in syrups (you can substitute them in this fermented elderberry syrup method) or add them to cooked fruit butters or fermented ketchups. Their flavor, raw, is very mild and apple-like. Red chokeberry is native to the eastern US and is hardy from zones 4-9. It tolerates dry to boggy soils.
Mountain Ash
Sorbus americana is a small native tree that grows in acidic soils and cooler climates (zones 3-6) in the eastern part of the US. If there are mountains around, look for this pretty tree. Its clusters of fruits (pomes, again, not berries) take color in late summer but persist on the trees well after leaf-drop and into winter. Taste one, raw. Horrible! But they transform well into cooked jellies and syrups, and, like red chokeberry, are improved by a freeze. (See Gardening 101: Sorbus.)
Hawthorn
Hawthorns belong to the genus Crataegus, with dozens (possibly hundreds) of species native to North America, Europe, and Asia. In the US, C. viridis 'Winter King' is often deployed in cold-climate urban landscaping, where its scarlet fruits (pomes) ripen in fall. More palatable than astringent crabapples, the mild flavor of hawthorn fruit is improved by slow-cooking with spices, to make a hot mulled drink, or to preserve the fruit whole in the tradition of Mexican tejocotes (C. mexicana). 'Winter King' is hardy from zones 4-7. (See Gardening 101: Hawthorn.)
Crabapple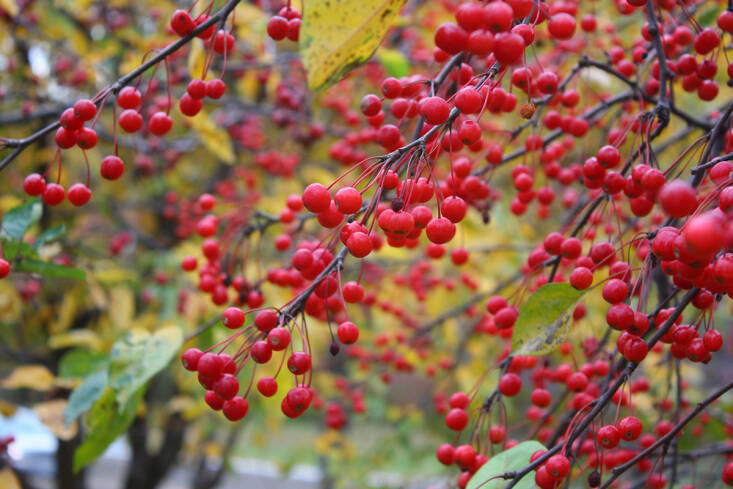 Tiny crabapples may be mouth-puckeringly astringent but they make up for it in looks come fall. A favorite of birds, especially after a hard freeze, crabapples are also an excellent source of pectin for jelly and jam makers. They can be the basis of a surprisingly good apple vinegar: Substitute them for the apples in this Market Apple Fizz, and then follow the (dead-simple) vinegar method. (See Gardening 101: Crabapple Trees.)
Christmas Berry
Once designated Photinia, Christmas berry is now classified as Pourthiae villosa, a tree native to East Asia and naturalized in the eastern US, where it has become invasive. Its crabapple-like fruits (pomes, again) look like elongated, small crabapples but are noticeably juicer and less tannic, with fewer and larger seeds. Collecting the fruit (for jellies and sauces) before birds enjoy them helps curb their spread.
Rosehip
Sprays of rosehips are a cheerful antidote to winter's cold. Collecting branches of hyper-invasive roses like mulitflora prevents their seeds from being dispersed by birds who feed on them.
Rosehips dry well on the branch and can be included in indoor holiday arrangements, windowboxes, and wreaths. (Bear in mind that birds will still eat the rosehips if they are outdoors.) Visit our rosehip story for a simple rosehip syrup.
Japanese Barberry
Barberries are very beautiful. That's where the trouble started: Planted as ornamental shrubs in gardens and in parks, Japanese barberry (Berberis thunbergii) soon spread into woodland and other habitats via birds, who relish their fruit (drupes). The hyper-invasive Japanese barberry's leaves have smooth edges; common and American barberry leaves are toothed. The proliferation of barberry has also been associated with an uptick (pardon) in the tick population where the shrubs grow. Gather armsfuls when they fruit. Better yet, dig them up if they are on your land. All barberries are edible; not all are delicious.
Autumn Olive
Autumn olives ripen from fall through the early months of winter. In mast years they can produce many pounds of juicy fruit. Elaeagnus umbellata is considered highly invasive in the US, and is ripe during peak migration season. It's bad timing for the environment but makes fruit forgers very happy. The lycopene-rich drupes dry well, and make very good autumn olive jam, and fruit leathers.
Linden Viburnum
Sigh. Another invasive shrub. But the good news is that Viburnum dilatatum can be gathered with a clear conscience, and by the basketful, to be turned into a distinctive preserve that catches its distinctive aroma exactly.
See also:
(Visited 1,778 times, 1,778 visits today)