Real, seasonal apples in autumn and winter are a joy. Full of life, they have interesting names and snapping flavors. And they make fantastic mixed drinks. Fill your kitchen with their perfume this winter as you pamper yourself and your guests with housemade cocktails.
Read on for step-by-step instructions to make some of my favorite apple cocktails (and mocktails) for the holidays:
Photography by Marie Viljoen.
Market Apple Fizz
Use fresh, local apples, and begin one week before you need to use it. Before the slow vinegar process begins, I dip into the fermenting brew several times. It is delicious, either straight up like a light cider, or as a lovely, seasonal mixer, either with hard liquor or a squeeze of lemon and a splash of seltzer over ice. This December I made two batches, one with the famously sweet Honey Crisp, the other with the pale and complex Winter Banana cultivar.
Ingredients:
3 ½ lbs crisp seasonal apples, cut up, not peeled or cored
2 cups sugar
10 cups water
Place the apples in two clean large glass jars. Add the sugar and water and stir. Secure cheesecloth over the jar mouths with twine or a rubber band. Stir the mixture once a day (use the long handle of a wooden spoon) for seven days. By day two or three you will begin to notice some bubbles rising, which means that fermentation has begun. By day five or six you will notice that the foam on top of the apples is quite sticky and viscous. Totally normal.
On day seven strain the liquid from the apples, using a fine mesh sieve and a double layer of damp cheesecloth. (Save the apples for Apple Rosemary Essence—see below).
For apple vinegar: You can also place the fizz you will not be using for punch in a clean, cheesecloth-covered jar, and allow it to sit in a dark spot for around six weeks to turn naturally into a homemade apple vinegar.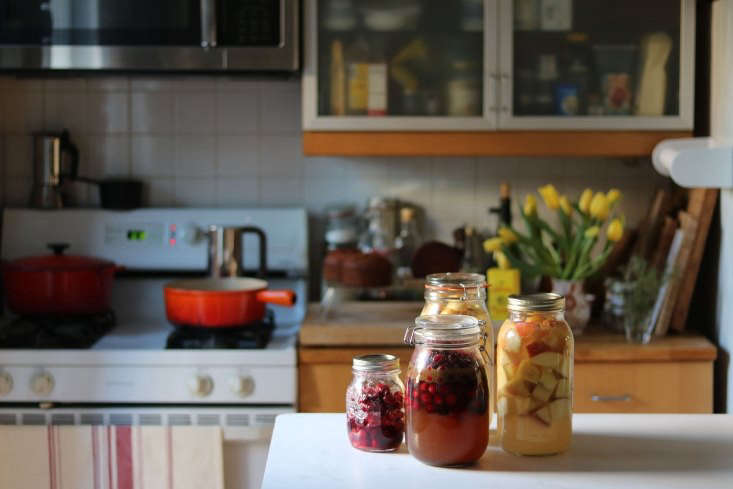 Apple Rosemary Essence
Ingredients:
Leftover apples from Market Apple Fizz
2 pieces of lemon zest, 3 inches long
2 rosemary branches, 6 inches long
6 cups water
Place all the ingredients in a pot over high heat and bring the liquid to a boil. Reduce the heat to maintain a gentle boil. Remove the rosemary after 10 minutes. Continue cooking until the apples are very soft, about 25 minutes. Strain the apples from the liquid. Return the liquid to the pot and boil until there is just one cup left. Allow it to cool, then strain through a fine mesh sieve and cheesecloth.
Transfer to a clean bottle and keep in the fridge for up to 1 week.
Fermented Mint Syrup
I make a fermented mint syrup in summer with bountiful garden mint. It keeps for months in the refrigerator and blends very well into all sorts of drinks. Luckily, fresh mint is available year round in grocery stores. The syrup will flavorful to use immediately after straining, but for the ferment effect, you will need to plan ahead by a week.
Ingredients:
2 cups water
1 cup sugar
4 ounces fresh mint leaves
Combine the water and the sugar in a saucepan and bring the liquid to a simmer in a saucepan over high heat, stirring to dissolve the sugar. Remove from the heat. When the liquid has cooled to lukewarm, pour it into a clean jar and add the mint leaves. Cover loosely and stir once a day until you begin to see bubbles forming spontaneously. Allow to ferment another two days (still stirring daily). Strain the mint off, strain the liquid again, and bottle in a clean jar. Keep in the refrigerator.
Rosy Cheeks Cocktail
Ingredients:
3 ounces dry gin
1 ounce Cranberry Syrup
1/2 ounce Apple Rosemary Essence
1/2 ounce Cranberry Sour
Combine all the ingredients in a shaker with ice. Shake, strain, and pour.
Cold Snap
If you would prefer your holiday cocktail without the alcohol, here is a sipper I created for winter. Visit the Cranberry Cocktail story to learn how to make Cranberry Sour.
For the rim:
1/2 teaspoon lime zest
1/2 teaspoon blood orange zest
1 teaspoon sugar
1 tablespoon  lime juice
Mix the zest and salt in a small dish. Pour the lime juice in another dish. Dip the cocktail glass first in the lime juice and then very gently into the zested salt, working it all the way around, Allow to sit for a couple of minutes before pouring in the cocktail.
For the drink:
2 ounces blood orange juice
1 ounce Apple Rosemary Essence
1 ounce Cranberry Sour
1  ounce mint syrup*
Combine all the ingredients in a shaker with ice. Shake, strain, and pour.
Applejack Punch
Ingredients:
Makes one drink
2 ounces applejack
1 ounce Market Apple Fizz
1 ounce dry sherry
1 teaspoon Cecil and Merle Bitters
To serve 10:
Somehow the holidays are made merrier by a punch bowl…
2 ½ cups Market Apple Fizz
2 ½ cups applejack
1 ¼ cups dry sherry
3 tablespoons Cecil and Merle Apricot Bitters
Combine these all in a bowl or jug. Add plenty of ice and apple slices a few minutes before serving. Stir well.
The Gardener's Helper
Northern bay is Myrica pensylvania while its southern cousin, southern wax myrtle, is Myrica cerifera (a shrub in a three-quart pot is $12 from Pine Ridge Gardens). Sweetfern is Comptonia peregrina (a 4-inch plant is $8.99 from Prairie Nursery). If you do not grow these indigenous North American herbs, you can substitute two regular bay leaf, and just skip the sweetfern.
Ingredients:
Makes 4 drinks
1/2 cup Apple Rosemary Essence
1/4 cup water
10 bayberry or southern bay leaves
6 sweetfern leaves
4 matchsticks of Meyer lemon zest
1/4 cup applejack
Combine the Apple Rosemary Essence, water, herbs and lemon zest  in a small saucepan over medium high heat. When it comes to a boil, allow it to simmer for five minutes. Turn off the heat. Pour in the applejack. Remove the herbs and pour the toddy into heatproof glasses or mugs. Garnish with fresh leaves.
N.B.: For more of Marie's favorite holiday recipes, see:
(Visited 51 times, 2 visits today)