It's no coincidence if Japanese gardens remind you of those scene-in-a-shoebox dioramas you made in grade school.
A Japanese garden is a miniature world full of abstract shapes–rocks, gravel, and cloud-pruned plants–designed to represent the larger landscape of nature. And Nature. For centuries, Zen Buddhist monks and other Japanese landscaping designers have been trying to provoke deep thoughts, with design elements such as raked gravel paths and moss checkerboards and tiny bonsai trees trained to look permanently windswept.
A Deep Question: How do you channel all those centuries of serenity to add a bit of Zen to your garden?
The Answer: Steal one or more of our favorite 10 garden ideas from Japan:
Featured photograph by Ye Rin Mok, for Creative Spaces, from LA Noir: Architect Takashi Yanai's Humble-Chic Bungalow.
Japanese Maple Trees
Plant a lacy Japanese maple. There are hundreds of different varieties of Acer palmatum, the maple tree native to Japan. With gracefully articulated leaves and diminutive stature (most don't grow taller than 30 feet), Japanese maples tuck themselves easily into nearly any size garden. Varieties with multi-branched trunks have a sculptural quality and become a natural focal point in the garden.
For more ideas, see Japanese Maples: A Field Guide to Planting, Care & Design.
Landscape Rocks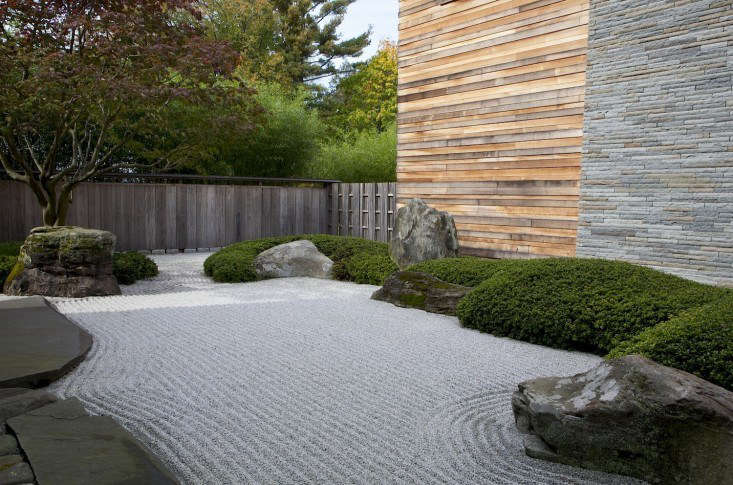 Use rocks as a design element. In Japanese gardens, the pleasing shapes of large rocks and craggy boulders are reminders of the larger natural landscape that surrounds us. Depending on the size and shape, a rock also can serve as a functional element–as seating or a table–in the garden.
For more ideas about how to use boulders, rocks, and abstract stone sculpture in the garden, see 10 Easy Pieces: Noguchi Style Sculpture and Rocks.
Fortune Telling
Face the future. At temples and shrines in Japan, visitors choose fortunes written on strips of paper. Bad fortune? Tie it to a branch to make the prediction go away.
Dry Gardens
Create a dry garden. The Japanese were water-wise long before modern climate change made it expedient to conserve natural resources. Rake the gravel into soothingly geometric patterns; feeling more serene? Japanese dry gardens–karesansui–have minimalist motifs conducive to meditation. Instead of water, gravel flows through a landscape. The concept owes its popularity to the success of 14th century garden designer Musō Kokushi (a Zen Buddhist monk).
Cherry Trees
Plant a cherry tree. Prunus serrulata, the Japanese cherry tree known as sakura, covers Tokyo in pale pink snow every year during blossom season. Hardy in growing zones 5-8, the Japanese flowering cherry is the sort of interestingly shaped small tree (reaching a height of no more than 25 feet) that can anchor a front garden and look good year-round.
Water Features
Add water. Along with rocks and plants, water is an essential element of a naturalist Japanese garden. Burbling water is a sound that reduces stress. For more, see  Instant Bamboo Water Fountain: Just Add Water.
Cloud Pruning
Prune a Cloud Tree. Niwaki is the Japanese art of cloud pruning, which creates pillowy, billowy shapes that won't overwhelm a garden. For more, see our post on Cloud Pruning as Arboreal Art.
Tame Bamboo
Harness the power of bamboo. As a living plant, it may be too invasive for your garden. But bamboo poles are a durable, hardworking hardscape element. Use them to make a canopy, instant fencing, or as a drain cover (shown). And remember that when it comes to invasive plants, not all bamboo is created equal. Learn more in Bamboo: The Re-Think.
Bonsai Trees
Bring the garden indoors with bonsai. These carefully cultivated dwarf trees need not be expensive or labor-intensive. For a modern approach, see Ask the Expert: Bonsai Basics with Eric Schrader.
Shou Sugi Ban
Shou sugi ban involves torching timber to preserve it. (For more about the tradition, go here. For a modern-day example of shou sugi ban, see The Soot House: Conjuring the Ghosts of Old New England on Spruce Head in Maine.)
For more Japanese garden inspiration, see our recent posts:
(Visited 296 times, 6 visits today)