Call it the soil-to-skin movement. In Northern California, Marnie Jackson of Black Mountain Farm raises and shears angora rabbits for their fibers (which are finer and softer than cashmere). As a member of Fibershed, a non-profit organization, which promotes local production of natural fibers, she dyes the yarn with native plants and processes it locally, on her family farm.
Jackson lives in Marin County, about 45 minutes north of the Golden Gate Bridge in the picturesque rolling hills of Nicasio, with her husband, Whit, and her son and daughter. Last weekend, Jackson spoke to a group of urban homesteaders and yarn enthusiasts, demonstrating how to shear a rabbit and transform the fiber to yarn. It's an intensive process:
Photography by Alycia Lang, except where noted.
Above: Jackson shears rabbits every three months, or whenever she finds time between tending to her menagerie of sheep, chickens, horses, turkeys, dogs, and bees.
"In a nutshell," Jackson explains, "you must shear the animal; skirt the wool; wash the wool (around 15 times); dry it for three days; spin it; wash it again; hang it to dry; ply it with another single ply of yarn."
And that is just to produce a skein or ball of yarn. "If you want something other than the natural color of the animal, you have to dye it, which is a 13-step process," she said.
That's before you start knitting.
Someday Fibershed, the non-profit organization to which she belongs, hopes to build its own wool mill, a zero-waste facility to: recycle 100 percent of the water it uses to wash wool;compost by-products; purchase raw materials from California farmers, and spin and weave yarn into fabrics for manufacturers. For more information, watch Fibershed founder Rebecca Burgess' plan for the facility and the sustainable practices behind it. 
Above: About 32 miles from San Francisco, Black Mountain Farm is open for tours year-round though Jackson recommends spring visits for the baby rabbits and goats. For information, see Black Mountain Farm.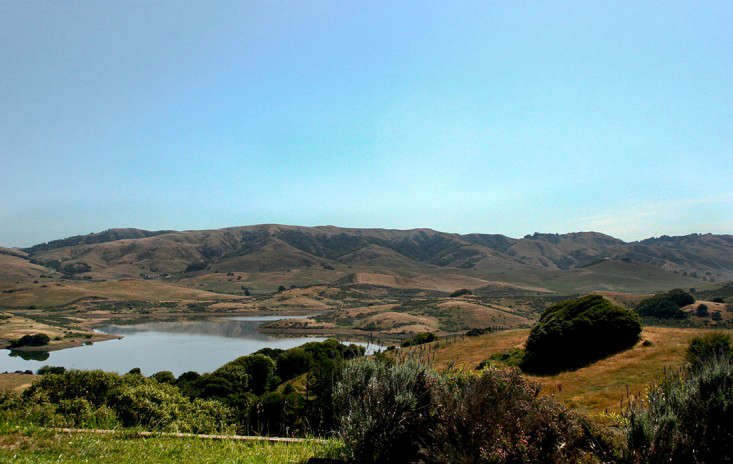 Above: A view of Nicasio Reservoir from Black Mountain Farm.
Above: Marnie spent her childhood in Arenzano, Italy, a small fishing village on the Ligurian coast (near Cinque Terre), and lived near one of the region's many established, self-sustaining farms. Hoping to instill a respect for the land and food supply in her two children, she moved from Palo Alto to establish Black Mountain Farm ten years ago. Photograph courtesy of Marnie Jackson.
Above: Jackson shears her German and English angora rabbits with everyday kitchen scissors, and she's observed the rabbits relax and enjoy it. "They get to itch places that they don't usually get to itch." Photograph courtesy of Marnie Jackson. 
 Above: The farm has a dye garden, with indigo and amaranth.
Above: One of Black Mountain Farm's prized products is a knit hat, made of two fused yarns: angora for softness and wool for strength. Jackson encourages us to "think wool." Not just environmentally friendly, natural fibers are better for your skin and "wool doesn't retain body odor." 
Above: To see what her animals are up to (the farm's two turkeys, Tom and Alice, provide comic relief), visit Black Mountain Farm's Facebook page, updated weekly. 
For more on farm life, see our favorite stories:
(Visited 86 times, 1 visits today)