Too many people ignore curb appeal until it's time to move. Then they spruce up the place for the next residents. How does this make sense? Every time you come home, the sight of your front door should give you the sort of euphoric endorphin rush that long-distance runners feel when they stop.
Adding curb appeal doesn't have to be expensive. Take it one step at a time: Here are 11 ways to add instant curb appeal for $100 or less.
New House Numbers
House numbers are one of the first things to catch the eye—first-time visitors are looking for them to confirm they're at the right address—and should set a tone for what to expect indoors as well as out. The spare, slim lines of Hillman Group 5-In Satin House Numbers (above) hint at the modern interior that lies beyond the traditional facade; $6.58 per number at Lowe's.
Well-Kept Gutters
Nothing says "Boo Radley lives here" like clogged gutters full of soggy leaves and the odd bit of twigs. Don't be shy about attempting this housecleaning chore yourself. Make it pleasant by using the the World's Loveliest Gutter Shovel, your oldest pair of waterproof garden gloves, and a bucket to fill with water to flush out the downspout.
For more tips on installing and caring for gutters, see Hardscaping 101: Rain Gutters.
Coat Hooks
If you have a mudroom or covered entryway, you can turn it a welcoming extension of your home with hooks for coats, jackets, and dog leashes. Hanging fabric instantly softens the look of a space (think: curtains).
A New Porch Light
It's hard to go wrong with a black matte ceiling light, a versatile style that complements both modern and traditional facades. We recently rounded up our favorites, including several under $100, in
10 Easy Pieces: Black Porch Ceiling Lights
. Check out more of our favorites in
10 Easy Pieces: Classic Ceiling Porch Light
s.
A New Doormat
Artful Wind Bells
Wind chimes add a pleasing auditory dimension to your home's curb appeal.
Matching Planters
Flank your entryway with matching potted plants (as above) to create symmetry.
A Colorful Door
Think of your front door as jewelry for your house. It can be a little flashier than the rest of the outfit the facade is wearing. A strong color that complements wall and trim paint colors can be pleasing. (To get the look of the bright blue door above, paint color consultant Eve Ashcraft recommends Benjamin Moore's Starry Night Blue paint in Advance Satin Finish.)
For more color ideas, see 5 Favorites: British Front Doors with Style.
A New Mailbox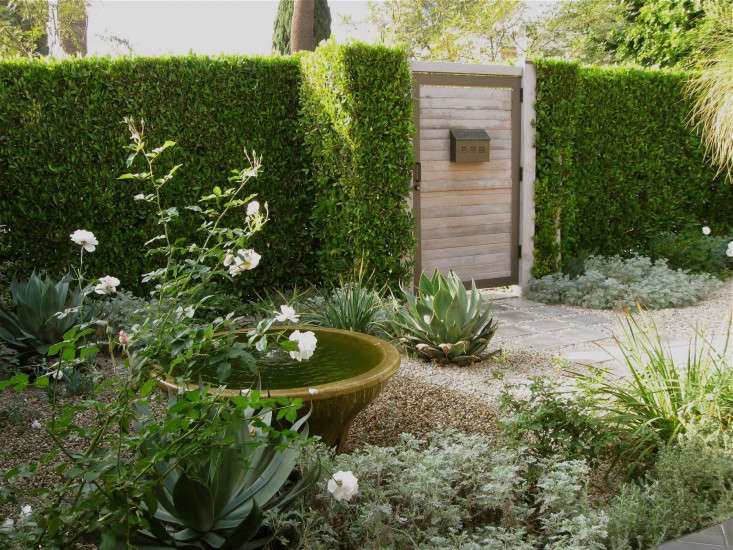 If your mailbox is rusty or dented, consider replacing it with a long-lasting aluminum or steel model. See our favorites in 10 Easy Pieces: Slim Mailboxes and 10 Easy Pieces: Indestructible Mailboxes.
A Well-Behaved Hedge
Overgrown bushes that block your front windows are not a good look. Ever. Period. Shrubs should frame your windows but never hide them (unless you're on the run from the law).
Do you live in a climate where rosemary is a perennial? You too can have an herb hedge. For more on growing and caring for rosemary, see our recent Field Guide: Rosemary. For other climates, see our Shrubs Design Guide for more ideas.
Fence Post Caps
Sparkling Windows
Washing the windows will improve the view from within as well as from the curb. Are you wondering if you can wait until spring? If your windows have cobwebs, a visible layer of dust, or dirt on the sills, you can't. Get out there and get the job done on the next sunny autumn day. Use our all-natural cleaner with The Secret Ingredient to Make Windows Shine Bright Like a Diamond.
Window Boxes
A window box is the fastest way to add color to your facade. Update the plantings year round and you can change the look every season. Wondering where to start? For more about choosing, installing, and maintaining a window box, see Hardscaping 101: Window Boxes.
If you are inspired to spruce things up a bit, see our archives for more Curb Appeal posts and check out our curated design guides to Exteriors & Facades, Exterior Hardware, and Pavers. And on Remodelista, see Outdoors: House Numbers from A Short Walk in Cornwall.