Often little noticed, rain gutters occupy a prominent place on many homes. They're frequently perched at the edge of a slanted roof where they are not only a critical part of a building's infrastructure, they also create a visual outline of a house's architecture.  When it comes time to select new gutters, there is a lot to keep in mind: style, color, material type, cost, and longevity are factors to consider. We've put together a cheat sheet to help with the selection process:
Above: A gutter's downspout drains into pebbles at the foundation. Photograph by Matthew Williams for Gardenista.
Does your house need rain gutters?
Most houses do, but not all. Their primary function is to channel rain that falls onto a roof toward a surface drainage system (or catchment system) and away from the foundation, basement, or crawlspace.  Whether you need gutters depends on the size of your roof's surface area, the slope of the land and surrounding landscaping, and how much precipitation falls on your house. In some climates, gutters are not advised. In heavy snowfall territory, for instance, ice buildup can tear them off. And in regions with little rainfall, they may be unnecessary or only necessary on a portion of your house (above exterior doors, for example). You may wish to consult an experienced builder or architect in your area if you're unsure if you need rain gutters. If most homes in your area have them, chances are you'll need them also.
Above: A rain spout protrudes from a copper-trimmed roof. Photograph by Brian W. Ferry for Remodelista; styling by Alexa Hotz. For more see The Wood House: A Midcentury House in Progress in Westchester.
What materials are used for gutters?
Gutters come in a variety of materials:
Copper
Zinc
Wood
Galvanized steel
Galvalume
Aluminum
Vinyl
Most expensive: Copper, zinc, and wood gutters are at the high end of the price spectrum, ranging from $20 to $32 per linear foot including installation (depending on area and metal gauge). Though expensive, they last longer; copper and zinc gutters have the added benefit of requiring no paint and little maintenance.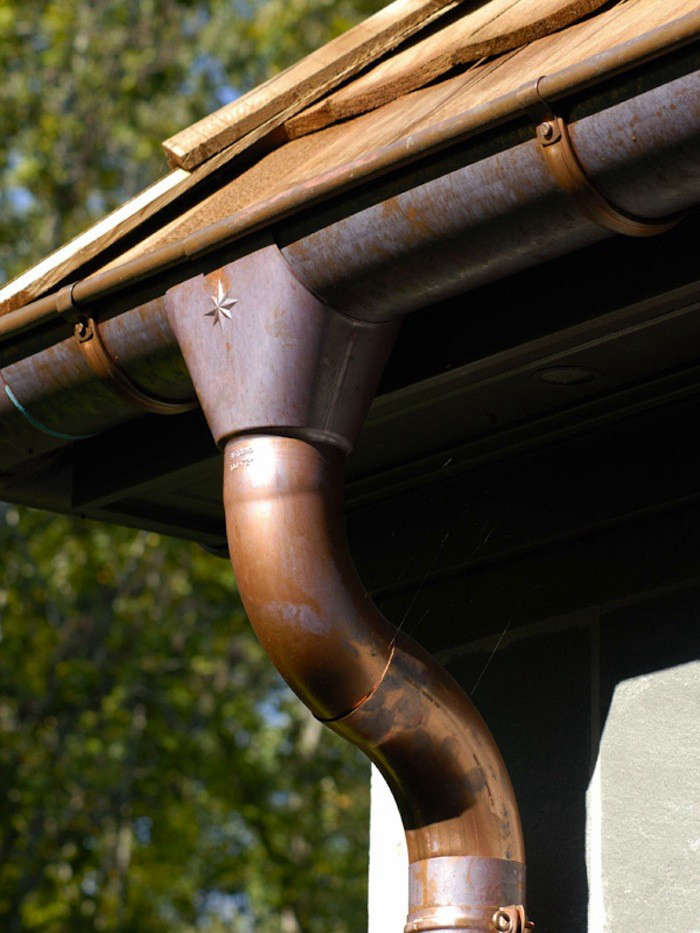 Above: Weathered copper gutters; photograph via Euro Gutter USA.
Copper weathers from a bright finish to an understated brown and verdigris that blends well with stone, wood, and Mediterranean style homes. Zinc has an understated, uniform gray finish that works well with a variety of styles.
Above: Zinc gutters, half-round style. Photograph via Gutter Supply.
Wood gutters made of cedar, redwood, and fir are used mostly in renovation work on historic homes. Allen Buschert, an experienced contractor in the Bay Area, says he often sees redwood gutters that still look great after 100 years of use.
Above: Hand-carved curved redwood gutters made by Blue Ox Mill in Eureka, California. The cost of redwood gutters is from $22 to $32 per linear foot.
Mid-price range: Galvanized steel; "galvalume" (steel with a zinc and aluminum coating), and aluminum are in the medium price range of from $6 to $10 per linear foot, including installation.
Aluminum is the most commonly used material and has the benefit of being corrosion-resistant (although aluminum does not perform well in salt air). Its main drawback is that it dents easily.
Above: Galvanized steel gutters and downspout; photograph via Fitzgerald Timber Frames.
Where I live, north of San Francisco, most contractors prefer to use high-gauge galvanized steel, soldered in place, then painted. Though it can rust, high-gauge steel is strong and durable.
"Galvalume" is a relatively new product made of steel with a zinc and aluminum coating to guard against corrosion.
(A word about joints: Pre-painted galvanized steel and aluminum gutters are an economical choice, but need to be caulked, rather than soldered at the joints, because solder cannot be used on a pre-painted metal.  Caulked joints need to be maintained at regular intervals to prevent leaks.)
Least expensive: Easy to install and corrosion-resistant, vinyl gutters cost as little as $3 per linear foot (plus installation), but have a tendency to expand and contract during warm or cold weather, causing them to crack and break.  It's best to avoid vinyl if you live in an area with extreme temperature changes.
What profile/shapes are available?
Different styles predominate in different parts of the country. In the eastern United States, many homes use half-round gutters, while in the west the K-style, or Ogee gutter is more common.  A third style, also common in the west, is the fascia style, in which the gutter acts as a fascia board.
Above: An example of K-style or ogee gutter. Photograph via Tradeline.
What are some design considerations?
Perhaps the first factor to consider is color.  If unpainted copper or zinc would work with your exterior, you may want to invest in one of these long-lasting materials. Or if you'd prefer to have the gutters blend in with your home's body or trim color, steel or aluminum gutters (both of which can be painted) may be your best choice.
The second factor is shape, and once again you may want the gutter to blend in as trim or stand alone as its own architectural statement.
Rain Gutter Recap
Pros:
Protect home's foundation, crawlspace, basement
Protect landscaping and prevent soil erosion
Protect siding from water damage
Cons:
Maintenance chore
Can break or bend under the weight of heavy snow
Can become a breeding ground for mosquitoes, if improperly maintained or installed
Can be aesthetically limited
Are you remodeling the interior of your house as well as the exterior? See Remodelista's archive of Remodeliing 101 posts.
Want to know more about gutters? See our earlier post, Mesh Gutter Leaf Guards.
(Visited 306 times, 1 visits today)