Think of red as lipstick for your garden.
Even if you're one of those gardeners who thinks a little red goes a long way, you still need a little. We've made a study of scarlet and come up with our favorite 11 ways to add red to a garden:
A Pop of Poppies
Above: Plant a clump of red poppies at the edge of a path. For more of this garden, see Garden Visit: Rent a Wing of Wiveton Hall.
Less Is More
Above: Sarah's friend Renee placed a single red chair against a backdrop of gray and green (both neutral colors in a garden). For more of this garden, see Indoor-Outdoor Living, Napa Style.
The Red and the Black
Above: Plant red flowers against the backdrop of a black fence or facade to intensify the color. For more of this garden, see In the Garden with Philippa: Brit Style with a Black Backdrop.
Paint a Panel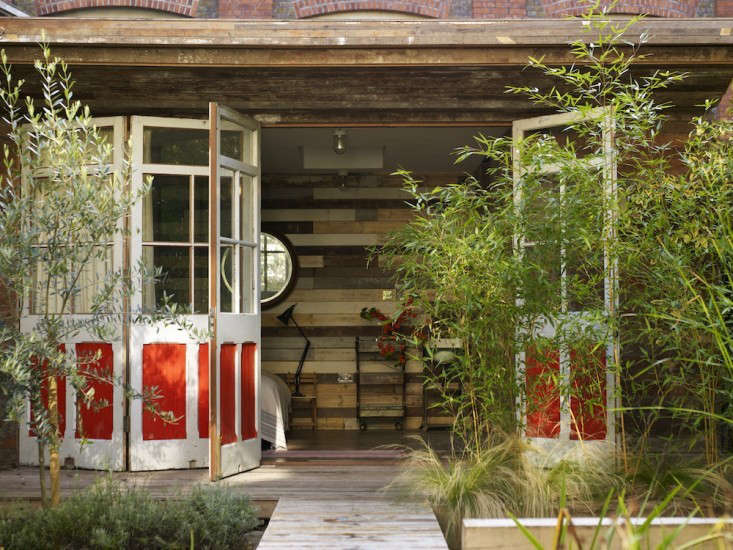 Above: Bi-fold doors, repurposed from their original use as chapel doors, have red panels at the same height as red flowers would grow in the garden. For more of this garden, see Outbuilding of the Week: A Secret Hideaway in a Central London Garden.
Accent an Archway
Above: A fast-growing red bougainvillea flowering vine frames a walkway. For more, see 10 Garden Ideas to Steal from Greece.
Relax a Formal Garden
Above: A riot of red in a garden bed makes even the stiff formality of a stone folly look playful in upstate New York. For more of this garden, see America's Greatest Forgotten Garden.
Add Annuals
Above: Ceramist Frances Palmer plants hundreds of dahlias every summer, creating a riot of color in which red always triumphs. For more of her garden, see A Garden Lovely Enough to Inspire Art.
Be a Shutter Bug
Above: Use red as an accent color on a facade to draw attention to shutters or a front door. For more, see Hardscaping 101: Exterior Shutters.
Pick a Perfect Paint
Above: When we asked architects to share their secrets, they came up with a list of their favorite red paint colors for exteriors. Top row, left to right: Benjamin Moore Cottage Red; Benjamin Moore Million Dollar Red; Farrow & Ball Rectory Red; and Farrow & Ball Blazer. Bottom row: Benjamin Moore Caliente; Sherwin-Williams Solid Color Stain in Cape Cod Red; Benjamin Moore Heritage Red; and Cabot Solid Stains Barn Red.
Complementary Colors
Above: Reds work well together. Growing against a red brick wall, a red camella's color looks even richer. For more of this garden, see The Cult of the Wild Camellia.
Color Theory
Above: Red zinnias pop in a border of feathery gray, lime green, and chocolate plants. For this planting scheme, see Color Theory: 10 Perfect Plant Combinations.
For more of our favorite ways to use red as an accent color, see: