For most urbanites, escaping the crowds means getting out of town. Unless the retreat is in your own backyard.
Enter a garden cabin designed by architectural-salvage specialists, Adam Hills and Maria Speake, who own London-based salvage and design business Retrouvius. And while we marvel at its seamless incorporation of modern conveniences and patinated materials, it's the commute that makes the retreat every city dweller's fantasy. From the main house located off a lively intersection in Central London, it's a quick zip from the bedroom, a walk across a worn-timber bridge, and you're on vacation. Let's have a look around.
Photography by Debi Treloar.
Above: The structure, while considered a "new build," is filled with well-loved and well-worn objects and materials. A bridge made of rough-hewn wood leads to the cabin, situated directly across from the main house at the end of the garden. The famous London fog notwithstanding, light streams in from the sliding doors and above, thanks to three Velux windows-turned-skylights.
Above: During summer, the doors, repurposed from former chapel doors, slide open in accordion style to reveal an ensuite bedroom. In winter, heavy curtains made of antique patchwork and two modern radiators (hidden beneath a pair of salvaged church grills), keep the cabin toasty and insulated.
Above: The walls have a life of their own, with tongue-and-groove panels of variegated wood arranged in seemingly random fashion. Designed for a debonair man-about-town, George Lamb, there is built-in storage for books and shoes, made from old church pews. Similar Victorian Mirrors, starting at £45, are available to buy on Retrouvius' website.
Above: A reclaimed industrial sink in its original stand was selected by the experts at Retrouvius. The construction materials and furniture are one of a kind, or as Retrouvius  puts it, "due to the serendipity of salvage." The design house's website sells similar Timber, from £25 to £125 per square meter, and Industrial Storage Trolleys, ranging from £245 to £495.
Above: Derbyshire limestone panels offer a cool contrast to the wood clad walls and point the way to the shower, which is in the same material.
Above: Metal hooks at the entry keep clutter in the tiny cabin to a minimum.
Above: Rather than blackout curtains, the designers opted for textiles in the same color as the bedroom in the main house, for a mirrored effect that ties in both structures.
Above: Patchwork detail on the custom curtains.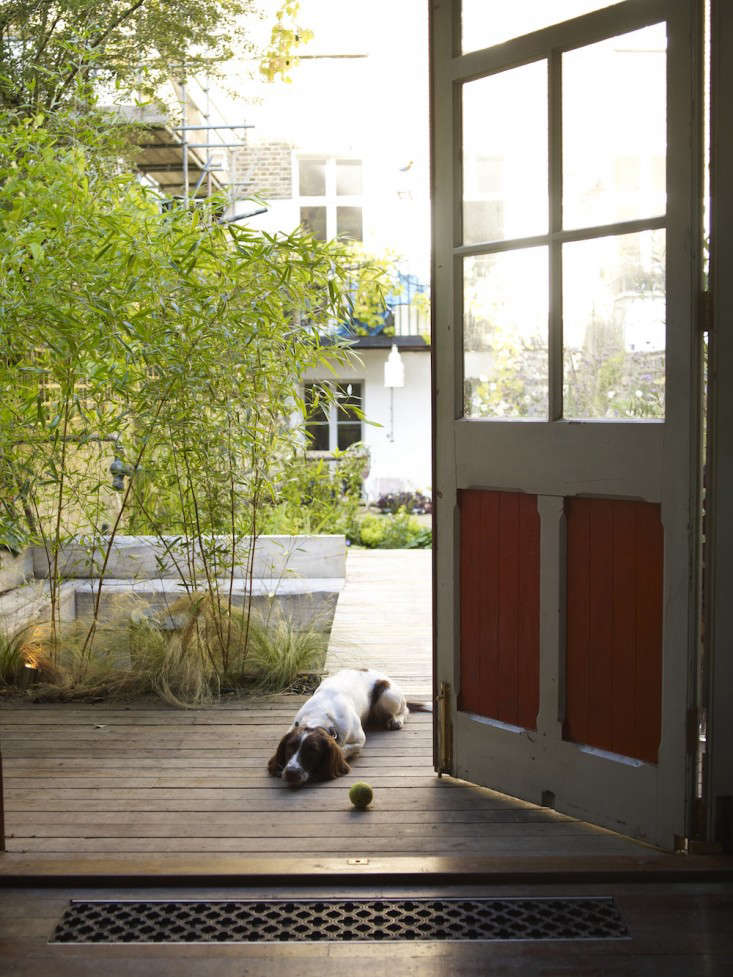 Above: Between the two structures is a set of concrete benches, surrounded by bamboo and ornamental grasses.
For more high-design salvage projects rescued from what Retrouvius calls "the vagaries of demolition," read the book on the design studio Reclaiming Style: Using Salvaged Materials to Create an Elegant Home. And, for more imaginative uses of reclaimed materials, see our favorite examples here:
(Visited 142 times, 1 visits today)