Red Twig Dogwood, Cornus sericea: Red Willow
There are all sorts of plants you can use to provide much needed color in your garden in winter.  But for a jolt of scarlet that is unusual and sculptural, consider adding red twig dogwood to your landscape.
Let me be clear, when I say red I don't mean rust or reddish brown or the dark red of red wine.  I mean bright red.  Think heart-shaped boxes of Valentine's Day candy:
Above: Photograph by Steven Depolo via Flickr.
I promise, you will stop in amazement if you are out for a winter walk and happen upon a stand of Cornus sericea. The smooth, bright red stems somehow seem to be illuminated, maybe even brighter and redder then they actually are, against the general drabness of other plants. They are particularly striking when skies are gray and snow is on the ground.
Above: Photograph by Jerry Kirkhart via Flickr.
Cornus sericea is a wide-ranging native shrub found from Alaska and northern Canada down through southern California and Virginia and even Mexico. It is highly adapted to a broad temperature range including severe cold and often appears as an understory plant in forests and woodlands. In the garden it obligingly provides four season interest, producing flat clusters of fragrant white flowers in the spring followed by white berries which attract many types of birds.  In the fall its leaves put on a spectacular show turning orangey-red and burgundy.  But it is in winter, after its leaves have fallen, that red twig dogwood comes into its own.
Above: Photograph by Audrey Zharkikh via Flickr.
It is a remarkably easy plant to maintain but its signature bright hue begins to fade as stems age so some judicious pruning is required. There are two ways to do it. You can cut the whole thing down to the ground every 2 or 3 years. That will give you lots of color, but you will sacrifice the spring flowers which appear on last year's growth. Alternatively you can remove about a quarter of the stems every year encouraging colorful new growth while still retaining most of the flowers.
Above: Red twig dogwood branches are a bright contrast to white birch trunks and snow. Photograph by Wewon31 via Flickr.
Cheat Sheet
While this plant is not aggressive, it does send out suckers.  If your space is limited, you may need to control width by removing new shoots.
Use this native plant in your garden to attract birds and other wildlife.  Red twig dogwood will work as a specimen plant throughout the year and can also be used as an informal hedge or screen as it readily forms thickets.
A remarkable feature of red twig dogwood is that it is flood tolerant; plant it in rain gardens, in swales, or along stream banks where it will thrive and help to control erosion.
Keep It Alive
Hardy in USDA growing zones 2 to 9, red twig dogwood is a moisture-loving, fast grower that will quickly reach a sizable 6 to 8 feet in height and width.
It is not picky about soil and will thrive even in clay or in boggy conditions.
Grow C. sericea in full sun to partial shade, but it is best to avoid placing red twig dogwood in a site that is hot and dry.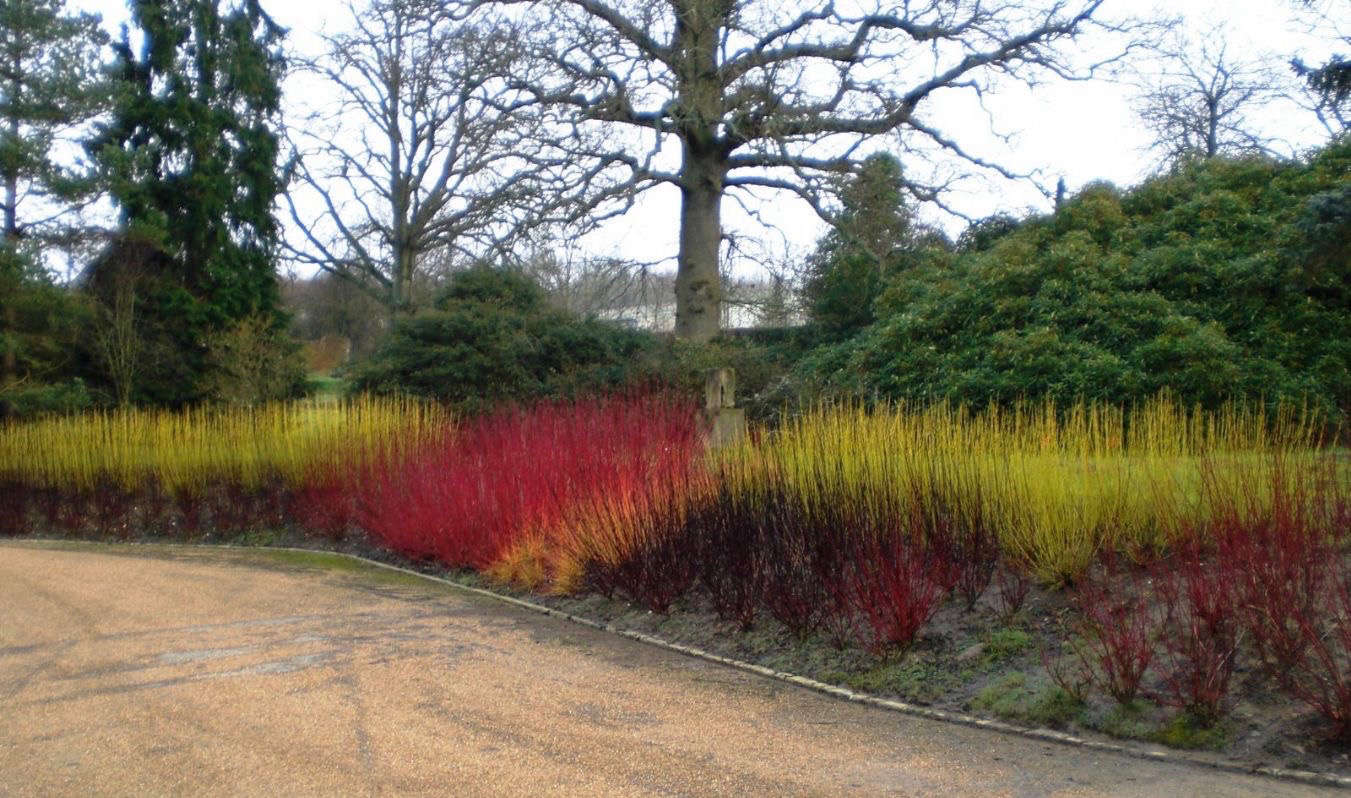 Above: Photograph via Signature Plants. Yellow-stemmed dogwood is a variety of red twig dogwood. Cornus Stolonifera Flaviramea is £4 from Signature Plants.
If red is not your color, Cornus sericea obligingly comes in bright yellow.  Yellow twig dogwood or Cornus sericea 'Flaviramea' enlivens the winter landscape equally as dramatically as its red relative. Its cultivation requirements are the same, including the pruning, but it tends to be a somewhat smaller shrub, growing to a maximum of from 5 to 6 feet tall and wide. It combines well with the red version and the two together will make for a brilliant winter display.
Looking for a shrub to add winter interest to a landscape? See our earlier posts:
N.B.: For helpful hints on planting, care, and design with shrubs, see our Garden Design 101 guides:
(Visited 733 times, 1 visits today)