Not everyone loved the the mid-19th century architectural fashion that introduced to Manhattan genteel rows of brownstones whose "uniform hue coated New York like a cold chocolate sauce," as the novelist Edith Wharton (not a fan) observed drily.
A century and a half later, how do you create a modern garden to complement that rather oppressive brown color? This was the challenge facing architects Sawyer | Berson when they designed both front and back gardens for a 20-foot-wide, four-story brownstone on a particularly pretty stretch of Perry Street in the West Village–which just happened to be a few doors down from the much-filmed Sex and the City facade made famous as Carrie Bradshaw's house.
Their solution?  A luminous white garden that shimmers in the dappled shade cast by mature city trees. Let's take a tour:
Photography courtesy of  Sawyer | Berson.
Above: Mark Alan Hewitt Architects oversaw a 1988-90 restoration of the historic Italianate facade designed in the 1860s by Robert Mook.
A Dr. Merrill magnolia blooms in early spring, protected from the street by an iron railing and a brownstone curb. Behind the railing, a front garden is paved with slabs of bluestone edge by plantings of enkianthus and hosta.
Above: Behind the townhouse, a wood and mirror trellis fence encloses an 825-square-foot courtyard garden where a minimal planting palette emphasizes only three colors: white, green, and black.
Sawyer|Berson designed another similar white garden for actress Julianne Moore, who lives nearby in the West Village. See Julianne Moore's garden at Design Sleuth: Julianne Moore's Staghorn Ferns
Above: The white garden's plant palette includes hostas with variegated leaves, clipped boxwood shrubs, ivies, ferns, clematis vines, and annuals to add seasonal color.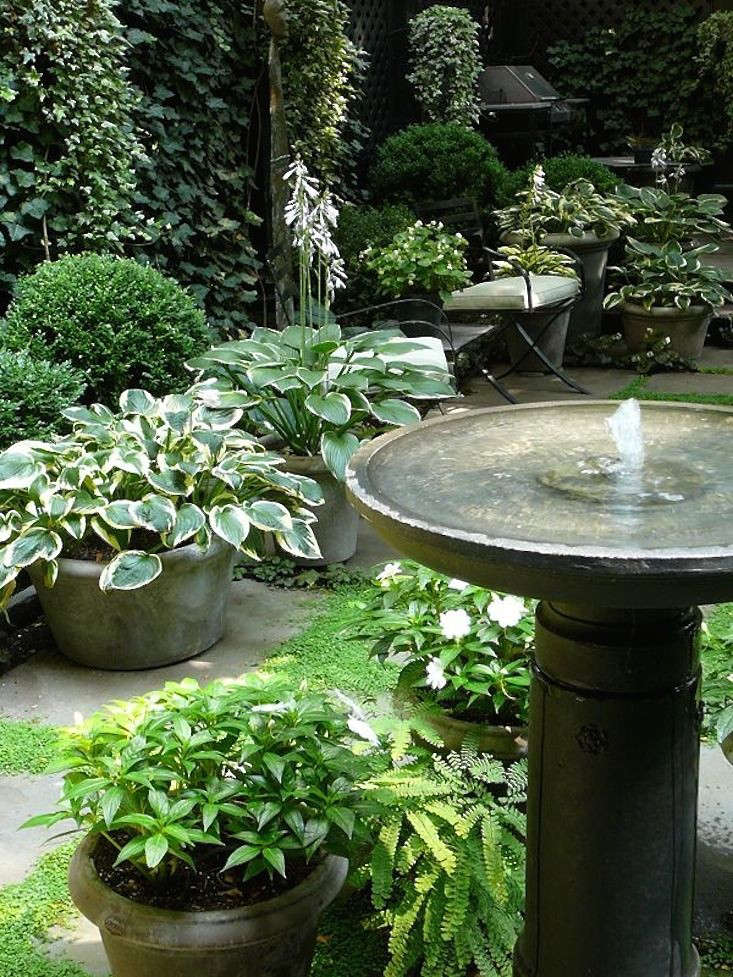 Above: Handmade in Italy for the garden, gray terra cotta pots are a silvery foil for green foliage.
Above: Custom iron furniture and antique bluestone pavers complement the green and white planting scheme.
Above: A mature Norway maple creates dappled shade in the garden but allows in enough sunlight to enable a mature wisteria vine to thrive on the back wall of the house.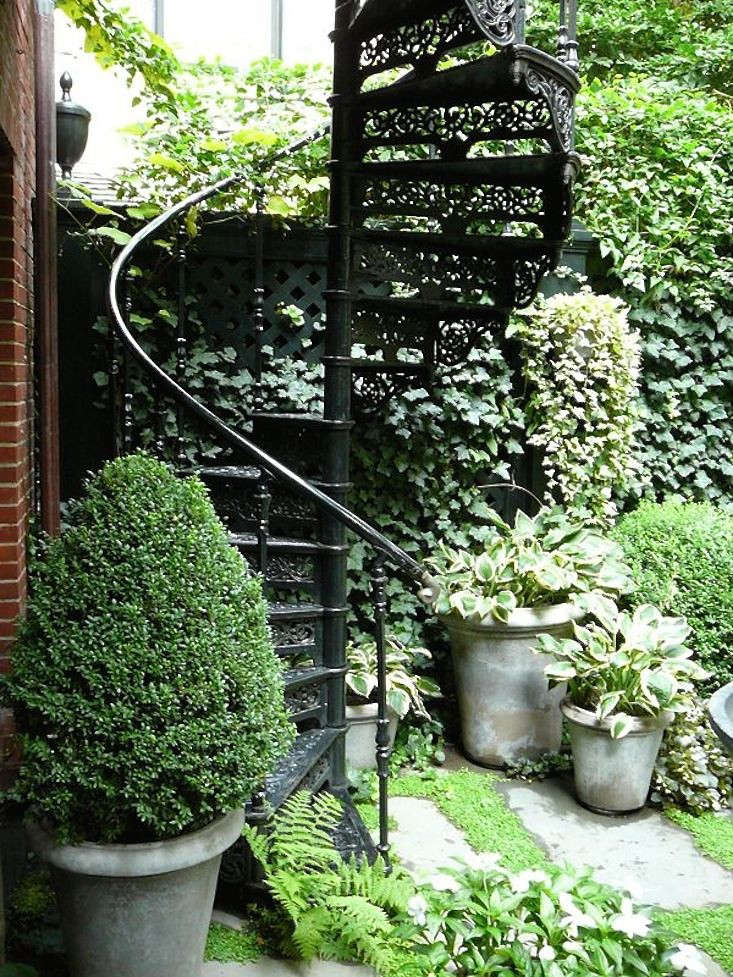 Above: A spiral staircase repeats the circular patterns found elsewhere in the garden and leads to the parlor floor level of the townhouse.
Above: The leaves of ferns, ivy, and baby's tears add different textures and shapes to the garden and soften the hard edges of the metal staircase.
Above: White impatiens in round pots surround a circular birdbath; the reflective watery surface is another mirror in the garden.
For more of our favorite NYC townhouse gardens, see:
(Visited 1,196 times, 2 visits today)