Who can resist the curbside appeal of the classic rural mailbox with its red flag and utilitarian vibe?
If you live in an especially rust-prone area (i.e.: near the sea), consider an aluminum mailbox. Steel is your best best if you are looking for toughness against dents, winds, and other sources of battering.
(NB: Prices listed are for the mailbox only; posts are purchased separately.)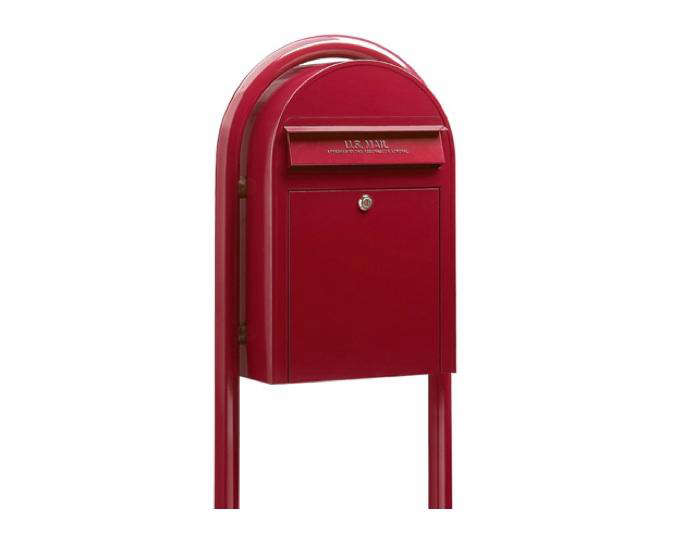 Above: One of our favorites, the Finnish-made Bobbi Classic Post Mailbox is constructed of stainless steel or zinc plated steel covered with a polyester coating in red, grey, black, or white; $527 at Mailbox Works.
Above: Solar Group's Large Premium Rural Mailbox is sturdy and affordable. Made of steel that is 30 percent heavier than standard gauge mailboxes, it is available in white, black, and green rust-resistant finishes; $31.40 at Amazon.
Above: The simple and durable GDM Newport Mailbox is made of stainless steel and available in seven finishes (including red as shown); $79.99 at Wayfair.
Above: The Solar Group Jumbo Size Steel Rural Mailbox in silver galvanized steel measures 15-Inches high, 12 Inches wide and 24 Inches long; $41.65 at Amazon.
Above: The Heavybilt Country Estate Mailbox is made of 12 gauge high strength steel and features a recessed door design to prevent the mailbox from freezing shut in the winter. Available in eight colors (mail flag red is shown); $150 for the through Steel Mailbox Company.
Above: We like the handle pull on the Salsbury Industries Antique Rural Mailbox shown in a nickel finish with all aluminum construction and steel hinges; $100 at Mailboxes.com.
Above: The Titan Steel Post Mounted Mailbox by Special Lite Products is made of tough premium grade steel and is available in four powder-finish coat options; $97.99 at Wayfair. An aluminum version, the Titan Aluminum Post Mailbox is also available for $107.99.
Above: Said to be the finest rural mailbox on the market, the sturdy (it weighs in at 62 pounds) Veeders Stainless Steel Heavy Gauge Roadside Mailbox is made in Ohio of heavy duty stainless steel; $585 for the small and $695 for the large size at Steel Mailbox.
Above: The winner in the budget category is the Solar Group Premium Aluminum Post Mount Mailbox. The durable body is made of ribbed rust-proof aluminum; $21.97 at Amazon.
Above: A clean, industrial take on the classic: the Jayco Industries Non-Locking Rural Letter Locker made of heavy duty steel and is availble in a choice of five finishes; $179.00 at ATG Stores.
I am also still coveting this Custom Mailbox with Style to Spare.
NB: This post is an update of "Outdoors: Rural Mailbox Roundup" published on August 3, 2009.
(Visited 288 times, 1 visits today)