During my year of training as an under-gardener in Northamptonshire, I spent a lot of time—too much time—inside various laurel bushes, thinning them and "topping" them from the inside out. It was a dark and gloomy business. They had to be done by hand because laurel leaves look dreadful when they are cut in half, and a considered shagginess was the desired effect.
Inside the shrubs, I had a lot of time to think: When is a hedge not a hedge? When it is an intriguing piece of topiary? Or a prehistoric-looking tree? Here is a story of yew, box, and laurel:
Photographs by Kendra Wilson for Gardenista.
Above: Purely decorative topiary-ized yew, dotted around at Great Dixter. The garden, an Arts and Crafts classic, was made famous by the late Christopher Lloyd but was laid out originally by his father. Nathaniel Lloyd was so mad for topiary that he wrote Craftsmanship in Yew and Box (available used for $13.58 from Better World Books) in 1925, the first book of its kind for centuries.
Above: Laurel in the Wild Garden at Cottesbrooke Hall. Many country houses in the UK have looser areas further afield from the immediate garden with names like "the wilderness." Once carefully maintained, then neglected, then resurrected again, the "wild" element is in the shrubs and trees which were allowed to charge upwards and outwards unchecked. The laurel here has been liberated from the dense thicket growing around it, and the foliage, which had reached to the top for light, now forms a delicate canopy. Unlike the dark barriers of laurel we are more used to. A Bay Laurel Plant One Gallon is $21.99 from Amazon.
Above: Yew, left to its own devices, behind a low hedge of clipped yew. An English Yew in a three-liter pot is 11.99 from Crocus. For US gardeners, an English Yew Tree in a one-gallon pot is $39.95 from Amazon.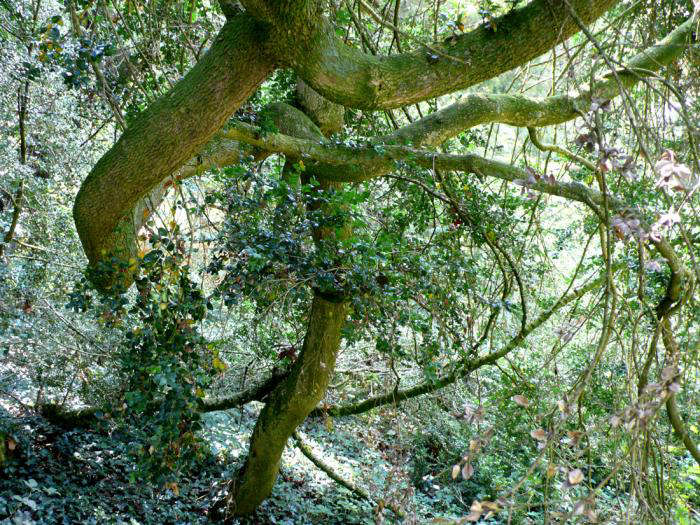 Above: Wild box, the unrecognizable cousin of clipped box, even the roughly clipped version below. A set of five bare root Boxwood Shrubs is $28.99 from TN Tree Nursery.
Above: Loosely hand-clipped stands of box look perfectly at home in a wilderness setting and are not required to act as hedging.
Above: It's not a hedge and it's not a barrier, but an informal edge-softener and weed-suppressant between outbuilding and gravel.
Above: A "loggia" cut out of overgrown yew in the 1920s at Kelmarsh Hall. It provides a focus, a tunnel, a view on to the next one and beyond.
(Visited 66 times, 1 visits today)