What to do in the garden in February–is this some kind of a joke? Here's a thing I like to do in February: sit by the fire and look at the garden through a window.
However. If you (or I) can find the motivation to throw on a coat, a hat, gloves, a heavy woolen scarf, thick socks, boots, and lip balm–this is what I wear to brave the chilly weather in Northern California; if you live in New England or Colorado, you might want to add a layer of thermal underwear and a second coat–we will be well rewarded for our efforts in springtime.
If you live in a warmer climate, your to-do list for February garden chores will be different from what you can accomplish in colder regions. (For instance, in my USDA zone 10a garden, where the ground does not freeze, I can weed even in cold months. In winter, before weeds spread, is an ideal time to get rid of them.)
Here are a few things we all can do in the garden this month.
1. Prune trees.
Winter is the best time to prune deciduous trees. After trees lose their leaves in late autumn, their structure and shape are revealed. It's easier to see which branches are growing inward (get rid of those) or crossing others (get rid of those too). Winter pruning will encourage new growth in spring. During this dormant period, insects and diseases that could harm fresh-cut trunks or branches also are dormant.
An exception to this rule is spring-flowering trees. Wait to prune those in late spring after their flowers fade. If you prune them now, you'll be cutting off this spring's blossoms.
2. Prune shrubs.
Like trees, deciduous shrubs go dormant in cold weather. Prune them now before leaves start to appear, to encourage healthy growth and flowering in spring. (You can wait to prune evergreen shrubs—if they don't produce showy spring flowers–until next month.) See more growing tips in Boxwood: A Field Guide to Planting, Care & Design.
3. Add trellises and arbors.
Without flowers and foliage to confuse your eye, you can really see the shape of your garden in winter. What's missing? "Now is a good time to think about—and add—screening elements like trellises and tuteurs," says Barb Pierson, nursery manager at White Flower Farm in Connecticut. Read more of her ideas in Expert Advice: 10 Tips to Get Your Garden Ready for Spring.
With bare spots visible, you'll also see where there's room in the garden to install new arbors, trellises, pergolas, and tuteurs. See more ideas in Everything You Need to Know About Arbors.
4. Order plants and seeds.
"February doesn't need to be the low point of the gardening year," writes our contributor Marie Viljoen. "A safe way out of darker days and enforced inactivity is planning and reflection: Now is the time to go through seed and bulb catalogs and to choose flowers that do well in your garden." See the plants on her wish list in February To-Do: 10 Flowers and Ferns to Preorder Now.
5. Fill a bird feeder.
"To survive cold weather, birds need extra nutrition. Feed them high-fat foods for energy: White millet seed, thistle seed, peanuts, and peanut butter are good choices," writes Erin Boyle. See more ideas in 10 Easy Pieces: Bird Feeders.
If you're wondering how to get started, check with The Bird Watcher's General Store, the best bird lover's store on the planet.
6. Plant a bare-root hedge.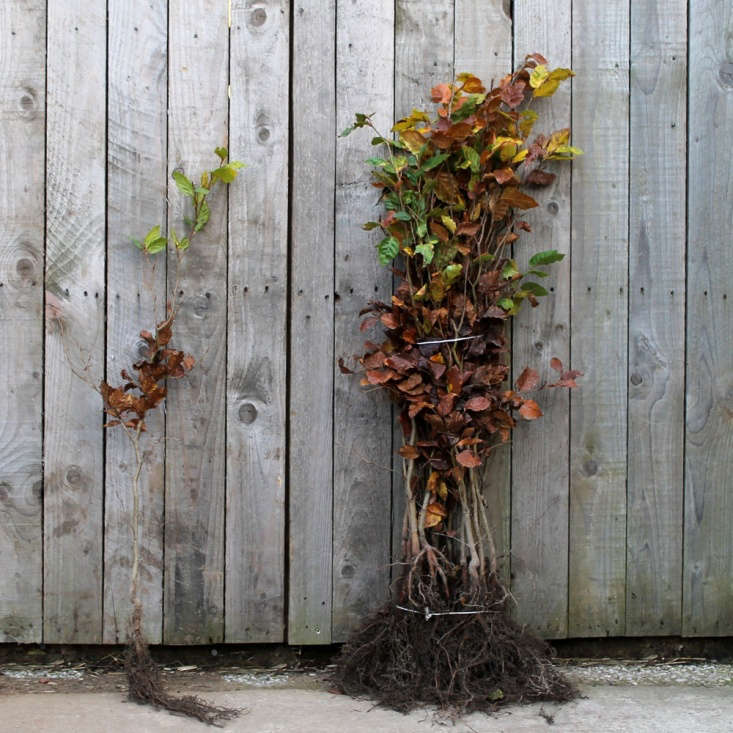 If the ground isn't frozen, the best time to plant a new hedge is now, when you can plant dormant bare root shrubs. "Because bare root shrubs are field grown and can be shipped with no soil or pots, the cost of using them is often significantly lower than using potted or root-balled plants," writes our contributor Clare Coulson, who planted a bare root beech hedge in her garden last winter. Read her step-by-step instructions in Landscaping 101: How to Plant a Bare Root Hedge.
7. Reorganize your garage (or garden shed).
"Almost every garage I've walked into has the same affliction: cardboard boxes from who-knows-when outlining a space for the car to park, with just a surrounding inch or two to spare," writes Alexa. Solve that problem with our favorite garage storage containers (to start your KonMari process) at 10 Easy Pieces: Garage Storage Bins.
OK, back indoors to the fireplace–we earned that cup of tea. Here's more winter reading:
(Visited 185 times, 1 visits today)