The best time of year to plant a new hedge is when shrubs are dormant—and the most economical way to do it is with bare root plants.
Because bare root shrubs are field grown and can be shipped with no soil or pots, the cost of using them is often significantly lower than using potted or root-balled plants. And, as with bare root trees, hedging plants can be put into the ground at any time during their dormant season (usually from November until April) if the ground isn't frozen.
Preparing the area for planting a new hedge can be time-consuming (although well worth it), but planting a bare root hedge is a breeze. Here's a step-by-step look at how I planted a bare root copper beech hedge:
Photography by Clare Coulson except where noted.
How do I choose bare root shrubs for a new hedge?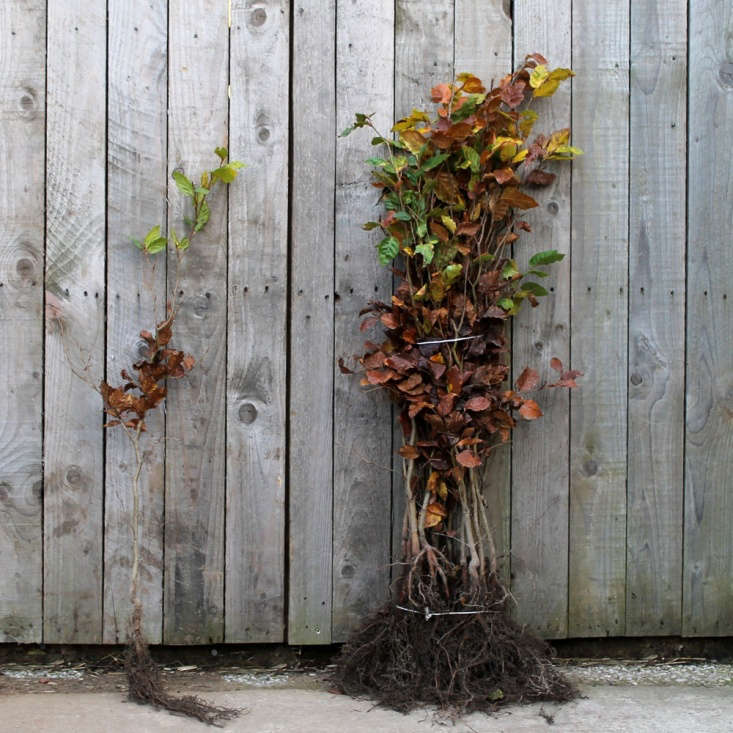 The size of hedging you order depends a lot on where you will plant it. If you have a smaller area to plant and you want the hedge to have a presence sooner rather than later, then you can buy bare root hedging that has already been growing for several years and may already be 5 or 6 feet tall.
Calculate how many plants you will need (a nursery will tell you exact planting distances depending on the maturity and variety of hedging) and make sure that your order will arrive after you have prepared the ground.
Bare root hedging can be kept in its packaging in a shady, cool spot for a few days. If you need to keep plants for longer than this you can loosely heel them into a hole or trench to keep them moist until you are ready to properly plant them.
How do I prepare the ground to plant bare root shrubs?
First, clear the area of any vegetation. Grass and weeds will compete with the hedging, so it's vital to remove anything green and growing from the planting area. Then dig a trench. If your soil is poor you can enrich it before planting with manure.
By loosening the soil, you will also make it easier for your hedge to start spreading its roots.
How do I prepare bare root shrubs for planting?
If you're planting soon after your plants have arrived keep them in their plastic wrapping until you are ready to plant. Then take a bundle and soak the roots in a bucket of water for an hour before planting.
How do I plant bare root shrubs?
Make sure that each sapling is planted to the same depth as it was in the nursery (you typically can see a line on the main stem) and try to make sure that the roots are spread out as much as possible. At this stage, you can add mycorrhizal fungi to the roots to promote growth if you want to.
How do I care for my bare root shrubs after I finish planting a new hedge?
Water the plants in and then mulch a foot on either side of the plants to keep the area weed free. Be sure to keep the hedging weed-free and watered in the first summer after planting.
Are your winter garden chores underway? Here's more inspiration:
(Visited 54 times, 1 visits today)