If you've ever stumbled upon the mesmerizing Instagram feed of the Welsh estate Old-Lands, you could be forgiven for thinking that the images of rosy-cheeked children messing about in rowing boats with nets full of flora and fauna, the abundant walled gardens, and the vast swaths of climbing roses are taken from a lost age.
But at this family-run house and parkland, slowing down time has been elevated to an art form. Eighteen months ago Anthony and Helen Bosanquet moved to a farmhouse on the estate and passed on the baton of running the main house, Dingestow Court (and 200 acres of the 1000-acre estate) to their eldest son, Sam, a naturalist, and his wife, Clare, a photographer, who devised ingenious ways to reinvigorate the estate without compromising its past.
Guests in the holiday cottages—which have been newly decorated and redesigned by Clare—can order produce from the walled garden. Here's a closer look at this beautiful house and its magical grounds.
Photography by Britt Willoughby Dyer.
The first Samuel Bosanquet was a French Hugenot who made his fortune producing textiles in the East End of London. By 1801 the second Samuel Bosanquet, who became governor of the Bank of England, bought Dingestow Court as a summer retreat.
When Sam's parents arrived in 1975 the house had skipped one generation, with the entire middle section of the house interiors shrouded in dust sheets. With three years intensive building work followed by bringing up young children there was not much time to turn attention to the grounds. But Helen did start to incorporate low-maintenance plants such as climbing roses as well as trees and shrubs.
Milner later worked independently, designing many gardens across Britain and Europe including Bodnant in Wales. The parkland at Dingestow is typical of his classic landscaping, with stately cedars and grand specimen trees as well as vistas punctuated with stone focal points.
Wildlife has been at the core of the estate for decades. Long before it was fashionable, Helen Bosanquet focused on incorporating plants for pollinators, dividing up the original walled garden to make it more manageable and then planting the middle with an area for bees, butterflies, and moths.
Helen Bosanquet did a course in bee-keeping and began to give talks on how to make gardens more wildlife friendly. The Gwent Wildlife Trust opened their headquarters here at the same time, and continue to work onsite. Now her son Sam is continuing this tradition; guests at Old-Lands (there are three holiday cottages) can go pond-dipping and join wildlife walks while children can sign up for the on-site forest school.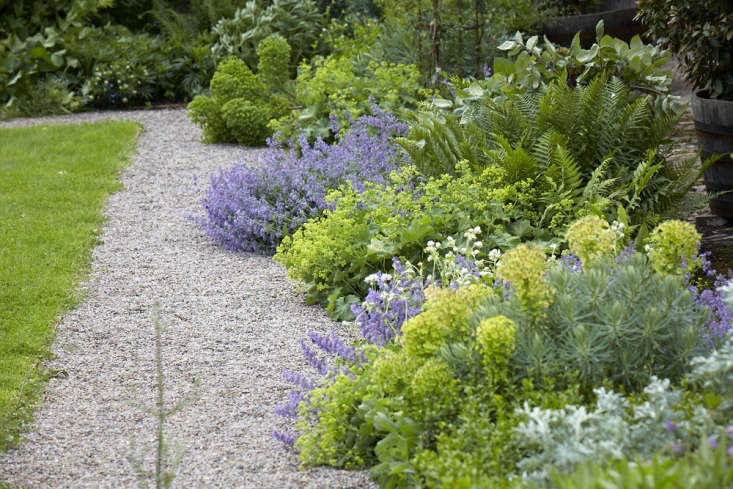 Perennials that had previously been growing in the walled garden were dug up and relocated here along with some newly introduced lavender and boxwood. A wet year helped the plants quickly establish into lush new borders with catmint, Alchemilla mollis, ferns, and euphorbias.
For more of our favorite gardens in Wales, see Garden Visit: A Landscape of Reflections in Wales and A Family Affair: Lady Llanover's Legacy in South Wales.
(Visited 396 times, 3 visits today)