Llanover Gardens in South Wales has been in the same family since the late 18th century, when Benjamin Waddington purchased the picturesque estate. His youngest daughter, Augusta, grew up to become the first Baroness Llanover and a passionate champion of Welsh music. And today Waddington's great-great-great-great granddaughter, Elizabeth Murray, and her husband, Ross, carry on the family tradition, sponsoring workshops and events at Llanover Garden School.
The landscape, laid out 200 years ago to make the most of the stream, which created "ponds, cascades and rills all enhanced by a network of paths, bridges, and archways to frame stunning views,"  says Murray. The 15-acre parkland retains much of its original design. And all of its charm:
Photography by Britt Willoughby Dyer for Gardenista.
Above: Benjamin Waddington bought the original 16th-century farmhouse (in the foreground) and added the Georgian front in the late 18th century.
Waddington's daughter, Lady Llanover, promoted Welsh customs, fashions, and language. The estate's prominent features have Welsh names, including the Rhyd y meirch stream which feeds the other waterways on the property. In English, the stream's name translates as "Ford of the Stallions."
Above: An aerial view, as seen from the vantage of the main house. The vine-covered dovecote (at left) is original to the round garden and dates to Waddington's era.
Above: Surrounding the round garden is a brick wall; an open archway accommodates one of the streams that crisscrosses the land.
Above: In the walled garden Stipa Gigantea (at at Left) mingles with a dahlia seedling, Verbena bonariensis, Rudbeckia Goldsturm, and Cornus sanguinea 'Midwinter Fire'.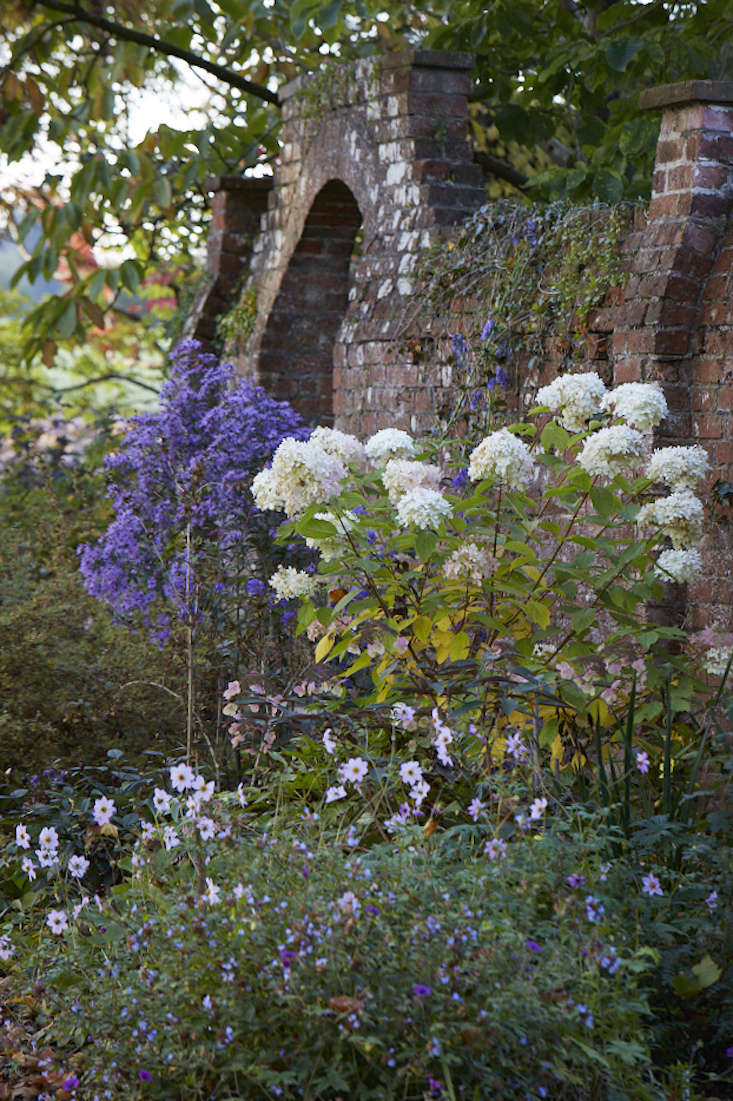 Above: Against the wall grow exuberant purple asters (Symphyotrichum 'Prairie Purple') and Hydrangea paniculata 'Phantom'.
Above: A bridge crosses the Rhyd y meirch stream in the round garden.
Above: In autumn, Betula ermanii and Acer palmatum trees put on a stunning display. "The Rhyd y meirch stream is divided into two above these lawns, to create two runs of water which have been 'canal-ised' with stone," says Murray.
Above: Elizabeth Murray's father, Robin Herbert, lived in the United States with his American grandmother during his youth, returning to Wales in the early 1960s with a desire to expand the Llanover estate's collection of trees. Shown above in full-blown autumn color are Acer nikoense, Carya cordiformis, 2 x Chamaecyparis  lawsoniana 'Intertexta',  and Quercus pontica. "All planted by my father," says Murray.
Above: The retaining walls are constructed of local stone.
Above: In the meadow is the "love seat." Says Murray, "My husband and I became engaged in Merida, Mexico, which makes a feature of these seats, so he had one made for our tenth wedding anniversary."
Above: A sycamore stands sentinel at the edge of the stream.
Above: A hornbeam in all its glory.
For more of our favorite gardens in Wales, see Garden Visit: At Home with Designer Arne Maynard in Wales and Garden Visit: A Landscape of Reflections in Wales.