Water Lane walled garden lies behind a pea-green wooden gate set within a red brick wall. Push the door open, walk under the arch, and a beguiling new venture gradually reveals itself ….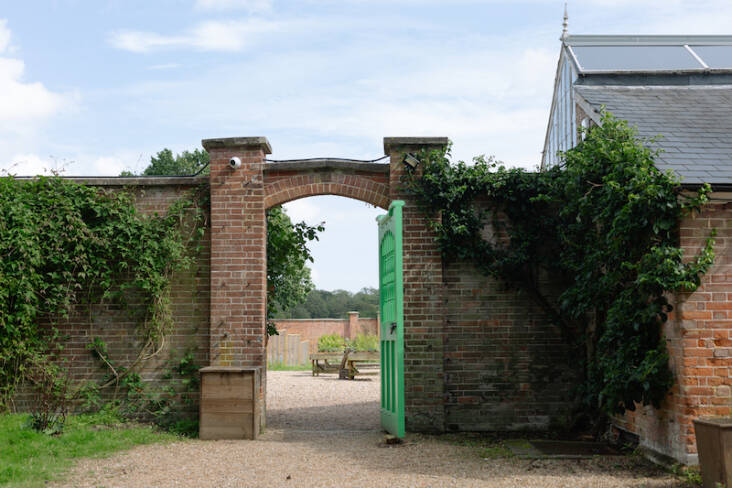 The garden was once part of the Tongswood Estate on the Kent/East Sussex borders, which dates back to the 1800s. An experimental, horticultural masterpiece, it included a melon house, cucumber house, pelargonium house, peach case, and a vinery. Today, it is the ongoing restoration project of Nick Selby and Ian James, who previously owned Melrose & Morgan, a grocery store and kitchen with shops in London's Primrose Hill and Hampstead.
"The idea of plot to plate is one that we often considered whilst at our previous business, but never actively pursued," explains Nick. "The realization of Water Lane came about while we were looking for some land to grow cut flowers – as a new 'diversion' from the day to day running Melrose & Morgan. On finding Water Lane, the project and idea suddenly grew legs, and the original idea has turned into something much bigger."
The couple were convinced by the potential of the site. "It's effectively a large canvas that we can explore lots of new ideas through," says Ian. "We were drawn to both that and the history of the site: the fact that we weren't creating something from scratch – there was already a story here, but we could create the next chapter in the garden's life."
Their vision for the garden is admirably long-term. They have a 10-year timeline to restore the site to its full capacity as a productive walled garden with 13 grade II-listed, Victorian glasshouses and 72 no-dig beds, measuring over 650 meters, growing vegetables, fruit and herbs to provide for the garden restaurant and cut flowers for sale, including Larkspur, Dahlias, Sweet Peas, Nigella, Honesty, Cosmos, Zinnia and Cerinthe.
A restaurant is already up and running and is set within Carnation House, an elegant, heated glasshouse. The menu—created by head chef, Jed Wrobel—reflects its sense of place in the English countryside. Diners can enjoy a weekend breakfast of seedy loaf, smoked salmon and soft boiled eggs or buckwheat, hazelnut and cranberry granola, yoghurt and compote. Lunch might be flat bread with potato, cherry and Winnie's Whee (a local cheese); pearl barley stuffed peppers and green sauce; wood-fire baked plaice with fennel and olives or lamb and feta meatballs with milk and chard. The aperitif and local wine list are no less enticing.
Next door, the Pelargonium House has become the gathering place for participatory events and workshops based around horticulture, floristry, and artisan crafts. "When we began Melrose & Morgan back in 2004, we like to think we were just 'ahead of the curve' in terms of customers understanding provenance and seasonality," explains Ian. "As the years have gone by, people's understanding of food has changed hugely. In a similar way, there's now a movement around flowers and their provenance and seasonality, so it's good to be part of this journey too."
The couple are hosting an event with SSAW Collective on the Spring Equinox weekend. The day will be "a full circle celebration of Spring awakening and the garden practices that are so crucial at this time of year, with talks and workshops from Chrissy Harrison, founder of Keats Organics, an organic vegetable farm in South London, who will focus on no-dig gardening techniques and soil health, while Charlotte Heffernan, head gardener at Naum House, will be demonstrating holistic cut flower growing practices and propagating."
As the restaurant manages the hungry gap, the gardeners have recently taken delivery of the Spring bulbs, including tulips, ranunculus, anemone, daffodils and narcissi. The daffodils have been planted along the bank of the garden restaurant, whilst over 4000 tulips have been planted in the cutting garden and will be sold in bunches on the produce table in the Pelargonium House. They have chosen an eclectic mix of color, shape and form, with a mix of early, mid and late flowering varieties to extend the season and color spectacle. "There are classics such as 'Spring Green' and 'Orange Princess'," explains Nick, "plus other varieties such as the beautiful 'Marianne' with its fluted shape and raspberry-pink edges and amber-orange inside; the frivolous, raspberry and cream peony-like 'Columbus' and 'Comet' with is a lovely parrot tulip with orange, red and yellow twisted petals."
"Water Lane is a long-term restoration project," says Ian. "We hope to restore the site to its full capacity as a fully productive, thriving and beautiful garden – a place where knowledge can be shared about growing in the 21st century that tackles the issues that gardeners and growers are facing and a place where artisan crafts can be shared. Most of all we hope Water Lane is a place that inspires."
For more English gardens, see:
You need to login or register to view and manage your bookmarks.