Our judges have chosen the finalists; now you choose the winners. Vote for the finalists in each of 17 Considered Design Awards categories, on both Gardenista and Remodelista. You can vote once a day in each category, now through August 8.
In the Best Overall Garden/Amateur category, our five finalists are Jane C., Sarah Neidhardt, Jane Handel, Molly Boxer, and Diani Living.
Project 1
Jane C. | Waban, MA, USA | A Garden Tour
Design Statement: A garden that's evolved over 15 years from a small, mail-order shade garden to encompassing every inch of soil around our house.
Chosen By: Gardenista editor-in-chief Michelle Slatalla, who had this to say: "Give me a minute to settle into that bench and compose my thoughts. No, give me an hour. This is a garden that begs you to relax and enjoy its play of texture and light. With a good book, I'll be asleep on that bench in under five minutes."

Above: A bench in our front garden. The Sweetspire is in full bloom on the left, and one Allium is holding on to the right.
Above: From the front garden, the grasses and the Japanese Maple create a natural gateway and screen to the back garden.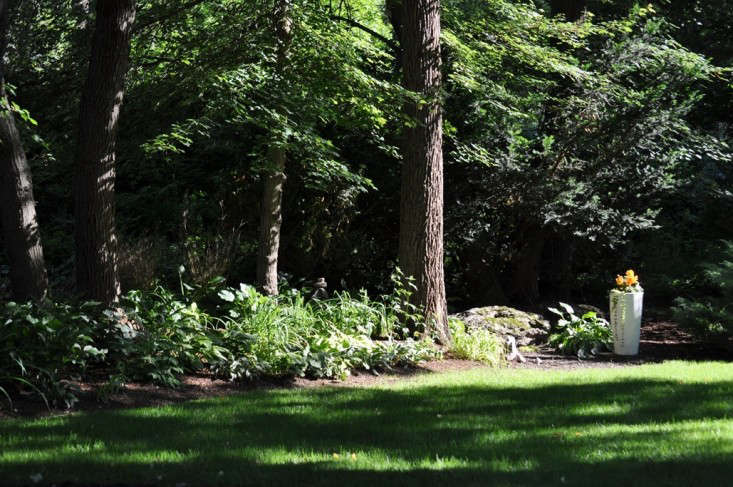 Above: The shade garden. I added a planter this year to brighten up a dark corner. 
Above: Arborvitae create a 30-foot high backdrop for an evolving mix of shrubs and perennials.
Above: Japanese Hollies form natural walls for the patio seating area.
Above: A close-up of the planter with a Begonia and Creeping Jenny.
---
Project 2
Sarah Neidhardt | Portland, OR, USA | Relaxed Portland Garden
Design Statement: When I moved from California to Portland, I wanted to retain the indoor/outdoor vibe I was used to and take advantage of the wet winter and spring and the hot, dry Mediterranean Portland summers. I wanted lushness, texture, and scent (herbal and floral). My resulting garden is a blend of English cottage, Mediterranean, and California Bohemian.
Chosen By: Guest judge Rita Konig, European editor of T Magazine. "I really like the yellow garage doors, which I know aren't strictly gardening but I think they are great fun. I love the way they have done their beds, both the raised bed and the side beds with the found branches."
Above: Front of house planted with Parrotia persica, Azara microphylla, Spanish lavenders, English and French lavenders, ericas, daboecias, and calluna vulgaris, succulents, native arctostaphylos, etc.
Above: Detail of front garden planting beds bordered with found tree limbs and tomato plants in a raised wooden bed.
Above: Fence and gate along the side of the house leading to our back garden, with a plume poppy (which has not proved invasive in my yard) peeking out and the gate arch covered in climbing rose Cecile Brunner.
Above: Detached garage (front part is a tool shed, and back part my husband's office) with potted plants on the driveway side of house. 
Above: Detail of front garden sculpture on a wooden stump pedestal and blueberries in terracotta planter, with a background of grasses, creeping white thyme, white potentilla, amsonia, and a bits of the branches of a small Salix eleagnos.
---
Project 3
Jane Handel | Ojai, CA, USA | Jane Handel's Front Garden in Ojai
Design Statement: A drought-tolerant garden on a minimal budget that complements the quasi-mid-century linearity of the house.
Chosen By: Rita Konig, who says: "I love how different it is and how she has done something that really suits the climate she is in and on a budget and it really looks great. The colours are so pretty, the planting is inventive and unusual. I love the table of pots and the way the plantings sit with the house. I am really not a fan of succulents at all so I was pleased to have my head turned by this garden of cacti."
Above: Aloes in bloom/summer.
Above: California Potter collection on the porch.
Above: Aloes in bloom/spring.
Above: Steps to porch.
Above: Aloe and Agave parryi.
---
Project 4
Molly Boxer | Richmond, MA, USA | Molly's Folly
Design Statement: My garden is filled with texture and shape, curved paths and areas for sitting, as well as plants, objects and often people that I love. A gardener's garden, it is not about perfection but process. It has evolved over the past 31 years and is becoming simpler and cleaner as my needs and tastes change.
Chosen By: Michelle Slatalla. "In many ways this is a modern descendant of Vita Sackville-West's original white garden. The snowy punctation of color–it's really nothing more than the reflection of light, a reminder of how green everything else is. Also, I'm a sucker for astilbe, those straight-backed soldiers that march on bravely in the heat." 

Above: The tree lilac behind the pool hedge is in full glory.
Above: Copper bird bath surrounded by hosta, rogersia, goat's beard and korean wax bells. 
Above: White astilbe and ligularia edge a shady bed.
Above: Pool house in the mist at the end of a row of persicaria, just beyond the raised vegetable bed.
Above: Harry Lauder's walking stick abuts a non-vining clematis above geranium alba and autumn bride heuchera.
---
Project 5 
Caroline Diani | Santa Barbara, CA, USA | Canyon Garden
Design Statement: Living in a canyon, we wanted to have our garden fit in with the surroundings, so we used a lot of the plants and shades of greens that are around us. We wanted it to all flow with our insane view. There are areas like our vegetable garden, fountain, pool and seating area that are all distinct yet complementary of each other.
Chosen By: Rita Konig, who says: "I really like every image. I love the way they have done their beds, the pale gray gravel paths. I am also a huge fan of palms so I loved the palms and weeping bamboo; their images are generally really luscious, which I loved. Lastly the vegetable garden is lovely and that it is made by them is even better; I thought that was great."
Above: Mexican weeping bamboo and loosely trimmed boxwood gently frame the perimeter of the garden.
Above: We painted these terracotta pots to jazz up the garage wall and filled them with succulents.
Above: The vegetable and herb garden that my husband built. The framing was inspired by a henna garden we saw in Morocco with a similar bamboo gazebo built over it for shade.
Above: Palms and weeping bamboo planted for their different textures and shades of green.
Above: A water feature surrounded by rosemary and daisies in the pea gravel courtyard.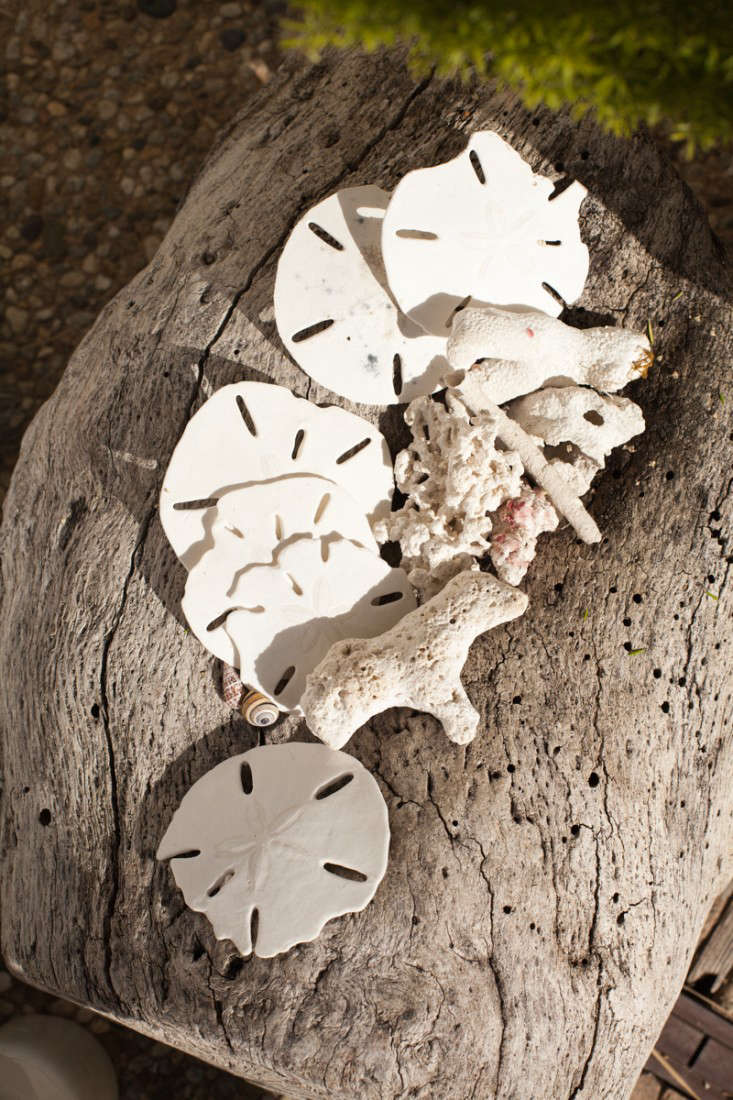 Above: Shells collected on a recent trip to the West Indies and laid next to the meditation area by the pool, to remind us to breathe and take our vacation with us every day. 
Start voting now–and vote daily through August 8 on both Gardenista and Remodelista. Winners will be announced on August 9.
(Visited 514 times, 1 visits today)