Take a gander at this gorgeously green and traditional garden design by Hadley Peterson and you'd be forgiven if you didn't notice the native plants. When people think of a native plant-filled garden, they often imagine the naturalistic look of a meadow or a wild-leaning natural woodland, but native plants can also be put to use in more formal landscaping schemes and paired with the most traditional of plants, as Peterson proves in her own backyard.
Native plant purists might bristle at Peterson's pachysandra and manicured boxwood, but for the many homeowners who have (and like!) a traditional-looking backyard and want to incorporate more natives, Peterson's Summit, New Jersey, yard is a unique source of inspiration.
Peterson spent years as a commuter with limited time to garden before turning to landscape design, so she understands what her clients crave. "Not many of my clients want a high-maintenance garden," she says. "I like native plants for the texture they add to the garden," she says. "But when selecting plants for a project, I look first at the personalities of my clients and their homes," she says. "I take all my cues from the interiors and architecture: If someone has a really funky taste that marries with a naturalist design, I would take that and do a more native garden."
Here are 8 lessons for using native plants in a more formal landscape from Hadley Peterson:
Photography by Rachel McGinn, courtesy of Hadley Peterson.
1. Think masses, not mixes.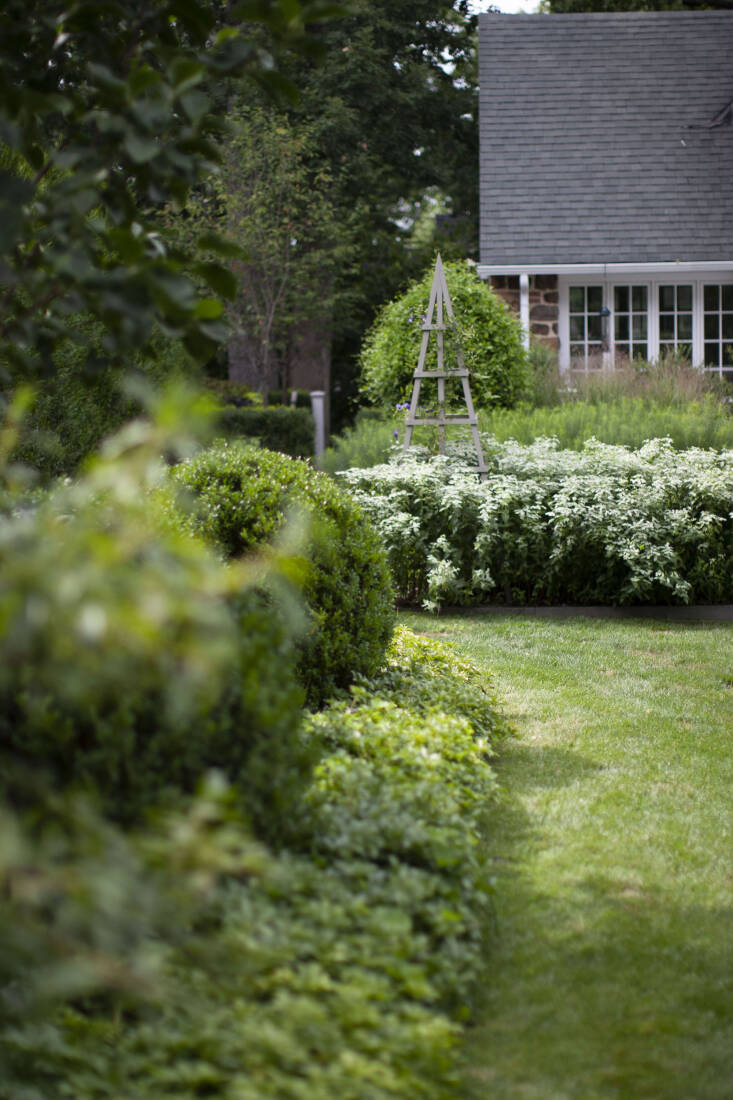 "I plant native plants in bold masses," says Peterson. "Natives plants as on-offs can look like they could be weeds, when you put them in a mass, it feels so much more intentional." In this section of the garden, Peterson planted three raised planting beds, each with one plant type: Pycnanthemum muticum (mountain mint), Amsonia hubrichtii (bluestar), and Panicum virgatum 'Shenandoah' (switchgrass).
2. And plant them densely.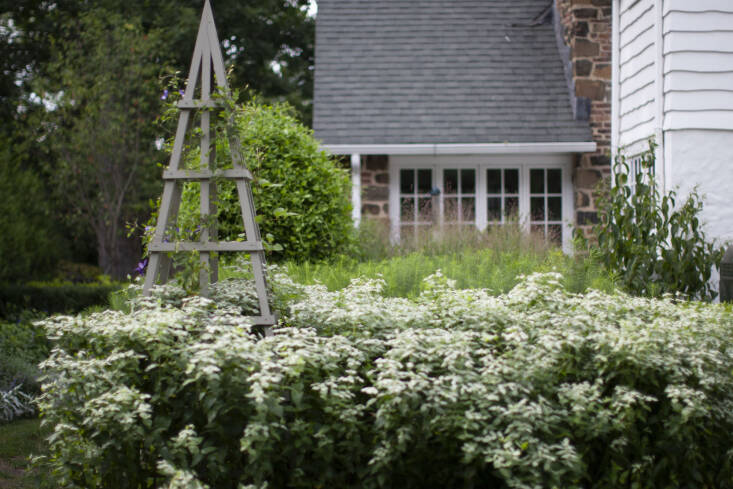 In order to get a more lush look, Peterson errs on the side of too close together rather than too far apart when planting. "I pack them in—if something is meant to be planted two feet apart, I might plant them 18 inches apart for a denser feeling," she says.
3. Aim for clean lines.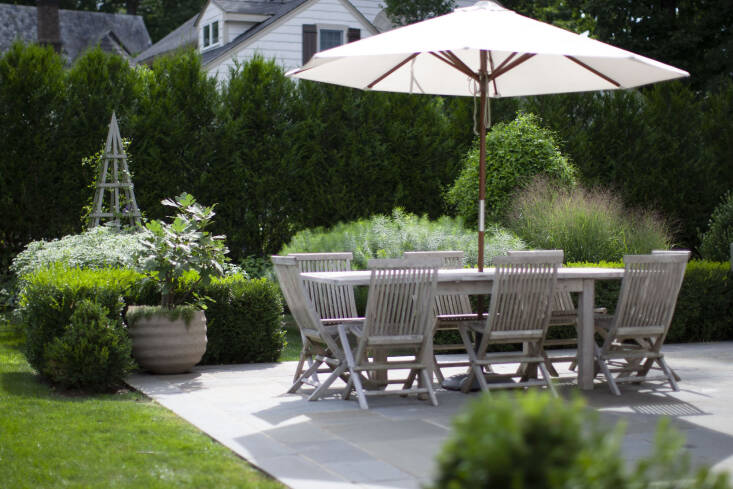 Those masses of plants look more formal in part because of the crisp edges of the beds. Something as simple as edging a straight line where the turf grass meets the garden bed can help natives appear more formal. Likewise, the bluestone patio's crisp, straight edges helps add order to the overall look of the yard.
4. And clean-lined hedges, too.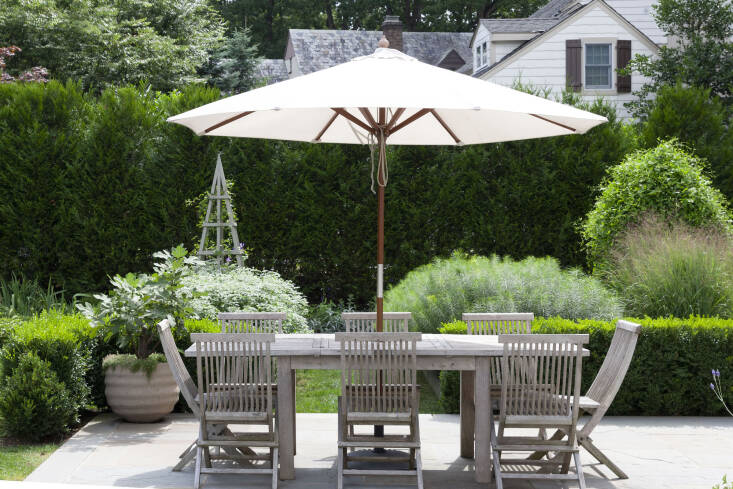 Peterson planted the more textural native plants against a backdrop of clipped boxwood hedges. "Just like house decor, I love a mix of styles," says Peterson. "To me, juxtaposing natives with formal garden elements creates a more interesting design." While boxwood is not native, she notes that it is evergreen, deer-resistant, and non-invasive.
5. Seek out native evergreens.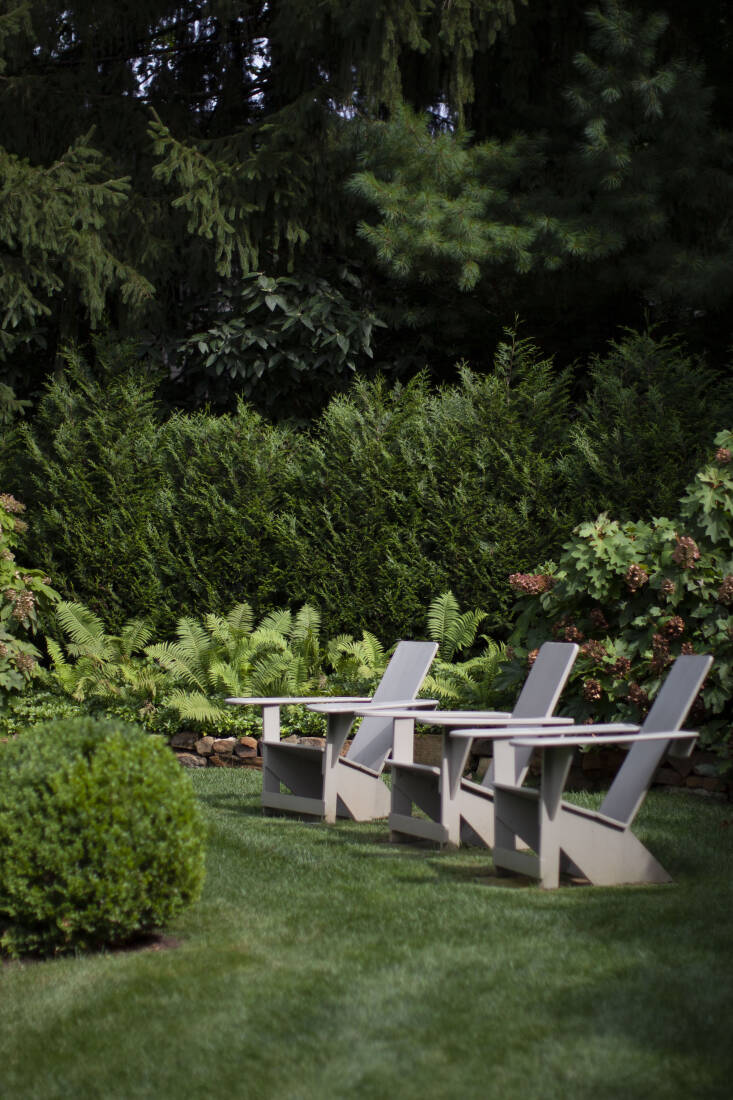 Peterson likes to have a strong evergreen presence in all her designs, so her clients aren't looking out at mulch all winter. A privacy screen of American arborvitae provides a continuous green backdrop to Peterson's yard. A common choice for suburban screening, arborvitae, also known as Eastern white cedar, is native to the Northeast and Western Great Lakes. Other evergreen natives include American holly and inkberry (though Peterson cautions that inkberry, which is often suggested as an alternative for boxwood, gets too leggy to have the lush clipped look of boxwood).
6. Add formal garden objects.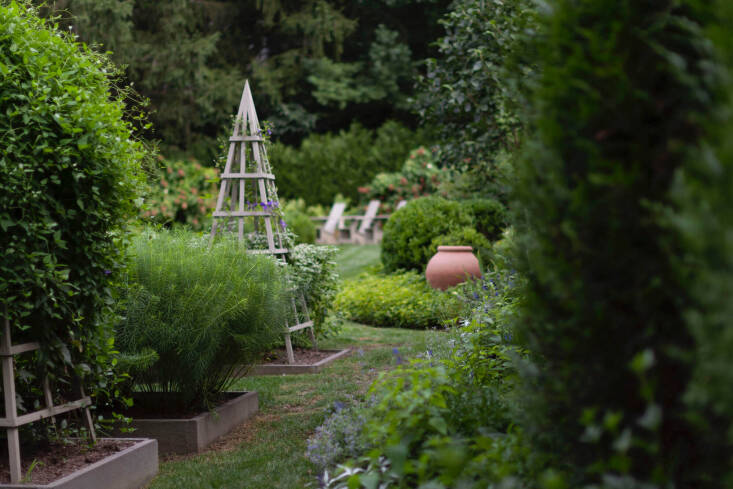 The quickest way to add formality to a wild-leaning mass of native plants is to insert a geometric or traditional garden decoration, like the sculptural tuteurs seen in Peterson's garden. "A tuteur with a traditional clematis climbing up it brings it back and gives it that formality," she says. Likewise, selecting more traditional outdoor furniture can formalize the overall effect.
7. Create contrast.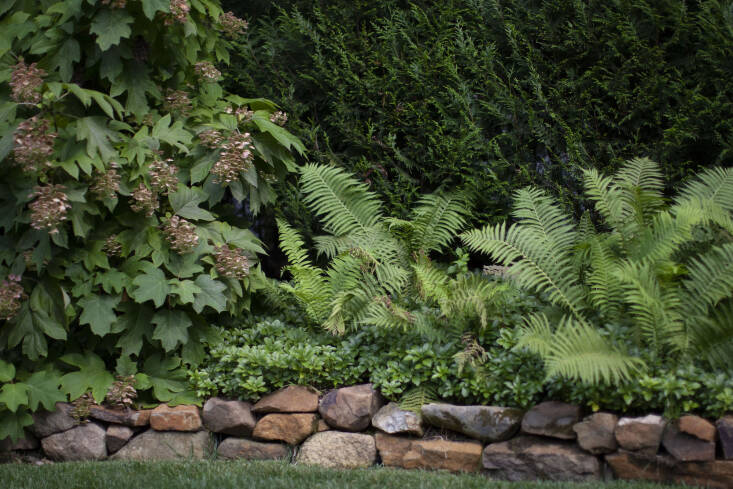 Along the perimeter, Peterson planted oak leaf hydrangea and ferns in front of the arborvitae privacy screen. The contrast of their textures elevates both plants. "The native plants soften the edges," she says. "The oak leaf and the ferns, they immediately make the arborvitae feel completely different."
8. Know your natives' weaknesses.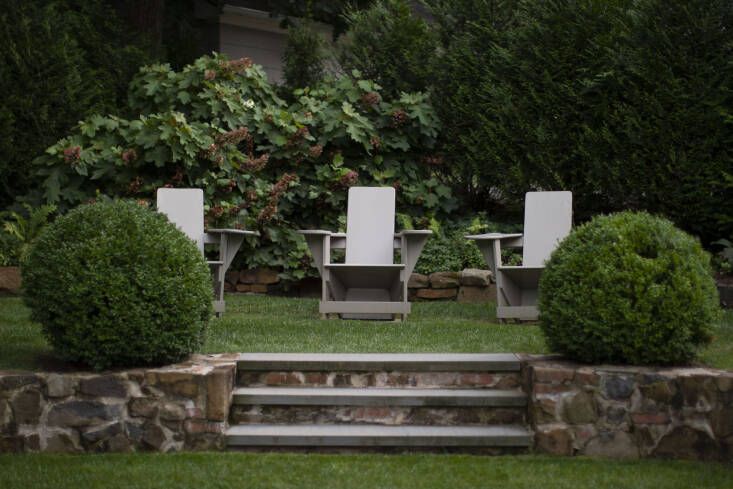 As with all plants, you need to be strategic with how and where you employ natives. For example, Peterson likes to put wispy natives behind a hedge, to hide the leggier base of the plants. Many natives that Peterson loves, like fothergilla for instance, have amazing multi-season interest, but will look bare come winter, so she'll place them near an evergreen shrub. The oak leaf hydrangea that sit behind her Adirondack chairs won't leave a bare view come winter thanks to the arborvitae behind and two balls of boxwood in the foreground.
See also:
(Visited 3,719 times, 36 visits today)
Frequently asked questions
What is a native plant?
A native plant is a species that occurs naturally in a particular region, ecosystem, or habitat without human intervention. It has evolved and adapted to the local soil, climate, and other environmental conditions over thousands of years.
Why should I use native plants in my formal landscape?
Using native plants in your formal landscape offers several benefits. They are well-suited to the local conditions, require less water and maintenance compared to non-native species, and provide habitat for local wildlife. Additionally, they can enhance the biodiversity, support pollinators, and contribute to the overall ecological health of the area.
Can native plants be used in formal gardens?
Yes, native plants can be used in formal gardens. While they may have a reputation for being more informal or wild-looking, many native plants can be pruned, shaped, and incorporated into formal designs. With careful selection and placement, they can complement the structured elements of a formal garden while adding unique textures, colors, and ecological benefits.
How do I choose the right native plants for my formal landscape?
When choosing native plants for a formal landscape, consider factors such as their growth habit, size, bloom time, color, and overall aesthetic appeal. Look for native species that have a more compact or upright growth habit, and can be easily shaped or trained. Consulting with a local native plant expert or landscape designer can also help you make suitable choices based on your specific design goals and site conditions.
What maintenance practices are involved with native plants in a formal landscape?
While native plants generally require less maintenance than non-native species, they still benefit from regular care in a formal landscape. This may include watering during dry periods, mulching to conserve moisture and suppress weeds, and occasional pruning or shaping to maintain the desired look. Understanding the specific needs and growth patterns of each plant species is important for effective maintenance.
Are native plants more expensive than non-native plants?
The cost of native plants can vary depending on availability, demand, and other factors. In some cases, native plants may be more expensive than non-native plants due to their limited commercial production or specialized propagation techniques. However, as awareness and interest in native plants increase, their availability and affordability are also improving.
Where can I find native plants for my formal landscape?
You can find native plants for your formal landscape at local nurseries, native plant sales, botanical gardens, and online retailers specializing in native species. Many cities and regions also have native plant societies or conservation organizations that offer plant sales or resources for sourcing native plants. Check with your local gardening community or extension service for recommendations.
Can I incorporate non-native plants in my formal landscape with native plants?
Yes, it is possible to incorporate non-native plants in your formal landscape along with native plants. However, it is important to choose non-native species that are not invasive or harmful to the local ecosystem. Consider their compatibility with the native plants in terms of water requirements, soil conditions, and overall design harmony. Strive for a balanced composition that respects the native flora and preserves the ecological integrity of the area.
Are there any specific design principles to follow when using native plants in a formal landscape?
When designing with native plants in a formal landscape, it is helpful to consider principles such as scale, proportion, balance, and repetition. Pay attention to the overall composition, balance between hardscape and plantings, and the relationship between different plant forms and textures. Using native plants in groupings or mass plantings can create visual impact while reinforcing the sense of natural beauty.
Can native plants attract wildlife to my formal landscape?
Yes, native plants are beneficial for attracting wildlife to your formal landscape. They provide food sources, shelter, and nesting sites for birds, butterflies, bees, and other beneficial insects. By incorporating a diverse range of native species, you can create a mini-habitat that supports biodiversity and contributes to the ecological health of the area.