No excuses. Ordering fresh flowers online gets easier and easier every Valentine's Day. Here's a roundup of our favorites, including both florists who deliver locally and nationwide:
Coast-to-Coast
Above: Offering more than 81 different Valentine's bouquets makes it hard to pick just one from The Bouqs. Or does it? The Venice, California-based florist cuts the flowers the same day they go out for delivery and traditionalists that we are, we're recommending the Depth Bouquet of red roses, at prices ranging from $40 to $70 depending on size.
We tested the Bouqs a couple of Valentine's Days ago; to see what our rigorous rose-loving reviewer thought, go to The Best $50 Valentine's Roses You Can Order Online.
Baltimore
Above: For delivery (within Baltimore) or pick up at the florists' studio, Local Color Flowers is making Valentine's bouquets at prices starting at $40.
Boston
Above: With several locations in the Boston area, Winston Flowers grows many of its flowers on small family farms. For 21 different Valentine's arrangements at prices ranging from $95 to $750 Winston Valentine's Day Preview.
To see how Winston Flowers prepares for Valentine's Day, see Shopper's Diary: Behind the Scenes at Winston Flowers in Boston.
Brooklyn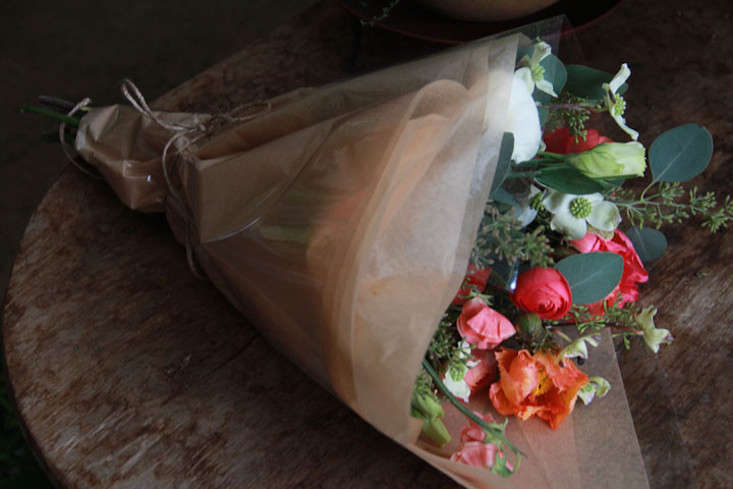 Above: From GRDN in Brooklyn, a Floral Arrangement Bouquet is $50. The shop also is offering two special Valentine's Day Arrangement of pink and red flowers for $150.
Above: Fox Fodder Farm is offering two Valentine's Day arrangements (available for pickup on Saturday or Sunday); the Noemie is $100.
Chicago
Above:  Sprout Home (with locations in both Brooklyn and Chicago) is taking Valentine's Day pre-orders in both locations at prices starting at $85. See at V-Day Chicago and V-Day Brooklyn for more information.
Manhattan
Above: "Get tangled on Valentine's Day" is the motto of florist Emily Thompson, who is offering a collection of six Valentine's arrangements, ranging from a Miniature Flower Box ($32) to a "grand showpiece" Ha Cha Cha! Arrangement of seasonal flowers and branches ("and sometimes fruits") for $425.
Above: Tribeca-based Élan flowers is offering a Valentine's Collection comprising five bouquets of rose and a potted orchid, at prices ranging from $100 to $350. Prices for a potted Miltonia Orchid (particularly adorable) start at $125 and go up from there, depending on size.
Specializing in bouquets for brides getting married nearby at City Hall, Lower East Side florist Flower Girl also offers a Classic Bouquet of red roses, hand-tied with a black ribbon. The bouquet is available in three sizes, at prices ranging from $165 for 12 stems to $265 for 36.
Portland, Oregon
Above: Order by end of day today, and the delivery is free from Emerald Petals, which sources flowers from local farmers when possible (off season, the florist relies on sustainably grown and fair-trade-certified flowers) . Fill out the Valentine's Order Form online; prices range from $40 for a Perfect Little Posy to $150 for a Lavish Lover arrangement.
San Francisco Bay Area
Above: Hand-tied, Lovely Loose Florals for Valentine's Day are wrapped in paper and tied with a bow; $75 apiece, the bouquets available for pickup from Lila B.'s Mission District studio or can be delivered for $35 throughout the San Francisco Bay area.
Above: FloraCultural Society delivers Bouquets at prices starting as low as $18 (for a Dahlia Bunch) to San Francisco, Berkeley, and Oakland.
Above: Farmgirl Flowers will deliver 10-stemmed burlap-wrapped US-grown Valentine's Bouquets—and throw in some dark chocolate and other candies to boot—for $89 to San Francisco Bay area customers.
Washington, D.C.
Above: Little Acre Flowers is offering a Hand-Tied Bouquet of locally sourced red, pink, and white flowers wrapped in a burlap coffee sack and available in three sizes at prices ranging from $55 to $105.
Washington State
Above: Located on Whidbey Island (and delivering anywhere on South Whidbey Island), Vases Wild is offering a half dozen special arrangements of Valentine's Day Flowers, including the Old-Fashioned Love arrangement (shown) with peonies, anemones, and sweetheart roses. Fill out an online order form at Vases Wild.