It all began with a pushcart. Since their first days wheeling flowers up and down Boston's fashionable Newbury Street in 1944, Robert Winston and his son, Maynard, cultivated a business based on rare and exquisite blooms as well as individualized customer service. Today, despite the company's overwhelming success, David and Ted Winston have never lost touch with their grandfather's vision. Their commitment to the entire process–from the small farmers who grow their plants and flowers to the customer who places them in their garden or home–is why Winston Flowers and Garden has always been one of my favorites.
This week, visiting Winston Flowers and Garden's flagship store in Chestnut Hill, MA, I was treated to an inside glimpse of how Boston's premier florist gets ready for Valentine's Day.
Photos by Michael Piazza for Gardenista.
Above: For me, entering any of the seven Winston locations around the Boston area is a bit like stepping into a fantasy world where radiant blooms and vibrant greens never cease to inspire. My favorite thing to do at Winston's is to browse the weekly selects, such as these green viburnum, plum calla lilies, petal pink hyacinths, and fuchsia anemones, which are available for Valentine's Day, and create my own arrangement. But if you prefer, the expert staff of designers is happy to help create your own custom bouquet. 
Above: It was Maynard Winston who established the practice of importing flowers directly from the markets in Holland, which ensures not only the flowers' freshness, but also grants the company access to some of the rarest European blooms, such as these violet-colored sweet peas.
Above: The textured concrete of the interiors, designed by architect Tim Techler and the Winston Flowers and Garden creative team, offsets the jewel tones of more Valentine offerings. 
Above: Just like in the early days, many of Winston's flowers, such as these rare anemones from San Remo, Italy, are grown on small family farms.
Above: Behind the counter lined with delicate sprays of quince, Theresa, one of Winston's design managers, brings a fresh Valentine's bouquet for a client.
Above: The designs at each location, such as this Valentine's arrangement from the flagship in Newton, MA, are exclusive to that store. Not in the Boston area? No worries, Winston's bouquets are also available online. 
Above: In addition to cut flowers, the Winston shops carry rare plants for the home and garden, many of which are cultivated in the greenhouse seen beyond these doors.
Above: For Valentine's Day, visitors to the Chestnut Hill store are greeted by luscious tubs of floating rose petals.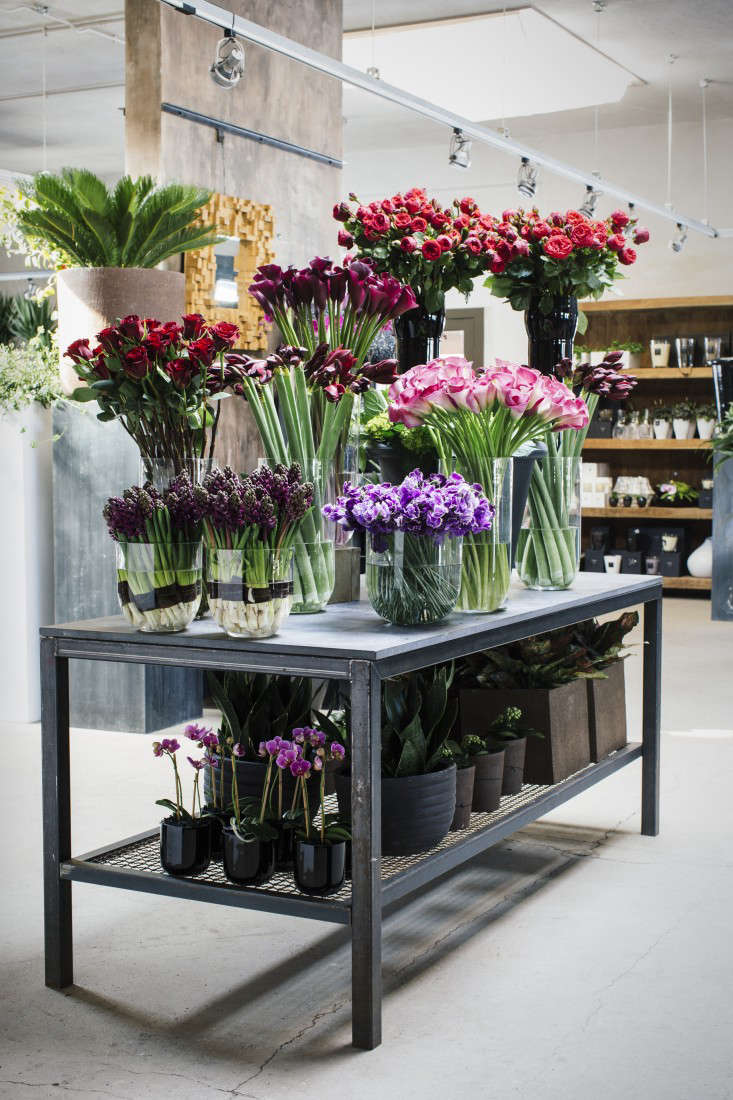 Above: More Valentine's selects above feature Winston roses, which are cultivated according to fair trade practices on "boutique" farms in Ecuador. The small size of these farms ensures that the roses are never over produced and thus maintain their exquisite fragrance.
Above: A complete composition: much like the flowers, Winston's vases are often handmade or small-batch productions fashioned by artisans.
Above: Dazzling raspberry ranuculus from Italy were among my Valentine's favorites.
Above: The plants and flowers available at Winston Flowers and Garden change on a weekly basis, so there is always something new in the store. Here I caught the last of the previous week's selects.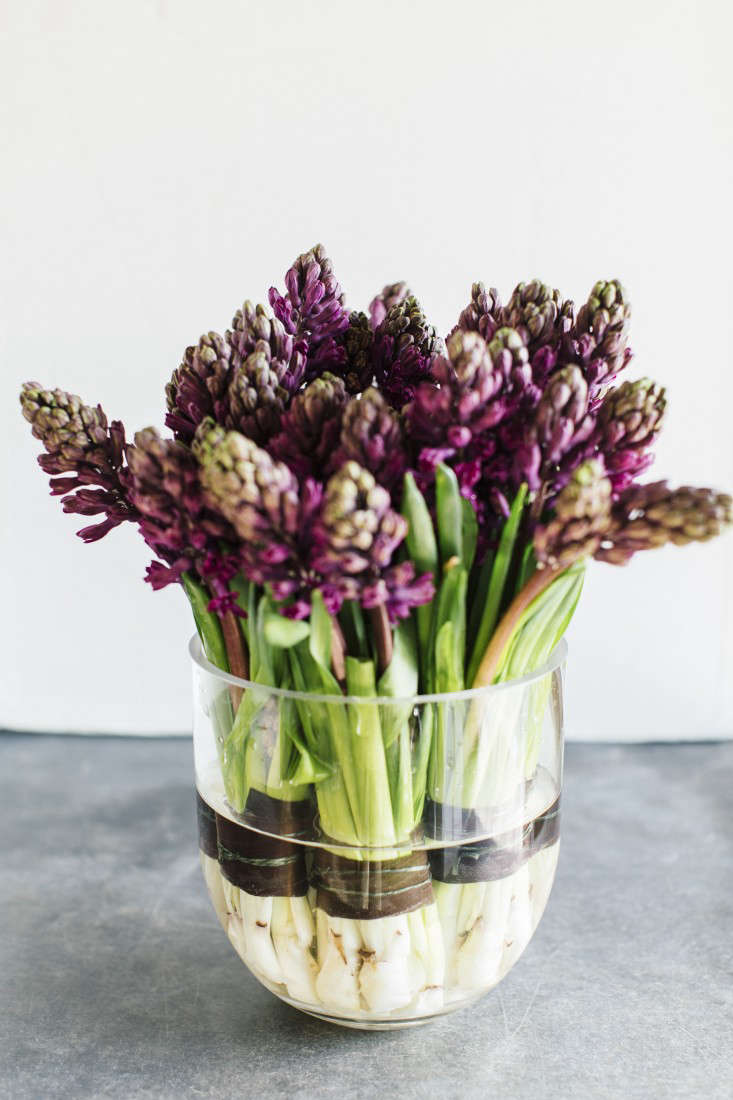 Above: Note the wrapping on the stems of these plum colored hyacinths from Italy. At Winston, no detail is too small.
The Winston Flowers and Garden Flagship is located at 11 Florence, Newton, MA. Open from 9 am to 6 pm, from Monday to Saturday and from 10 am to 5 pm on Sundays. For more information and additional locations, head to the Winston Website.
N.B. Want to see what else I've done with Winston Flowers? See my DIY Desktop Zen Garden or Winter Romance Bouquet with Silver Brunia.
(Visited 159 times, 1 visits today)