Over the course of a century, history can get lost. So can flowers. No one knew the names of the seven kinds of heirloom dahlias still blooming every summer in author Helena Rutherfurd Ely's Meadowburn Farm in New Jersey—until one recent day when head gardener Quill Teal-Sullivan turned detective.
"The tricky thing is that there were so many varieties being bred back in the day, so few managed to survive to today, and the old photographs are mostly color-tinted or black and white, so ID'ing to the exact historic variety is tough," says Teal-Sullivan.
The seven mysterious varieties all were old-fashioned flowers that might have been in bloom in 1903 when Ely published her popular first book, A Woman's Hardy Garden, a guide that prompted American gardeners to abandon their prim Victorian planting schemes for wilder, more naturalistic gardens.
Looking for clues, Teal-Sullivan shipped dahlia blooms overnight to Scott Kunst at Old House Gardens to see if he could help with the IDs. Kunst couldn't but gave her the name of a man who might be able to help. "That was Steve Nowotarski of the American Dahlia Society (he passed away 2 years ago now)," says Teal-Sullivan. "Steve came out to Meadowburn to look at the dahlias, and took the identification of the plants on as  a personal project."
Thanks to his help, this year Meadowburn Farm is selling a collection of special heirloom dahlias, each with a name that evokes its history:
Photography via Meadowburn Farm.
Above: Dahlias at Meadowburn Farm, circa 2015.
Studying the photos of Meadowburn's mystery dahlias, Scott Kunst of Old House Gardens in Michigan was intrigued.  "Since literally tens of thousands of dahlias have been introduced since Ely's time, I knew that identifying Meadowburn's relics would be a long shot at best," he said. He  guessed one variety might be 'Jane Cowl' and another 'Deuil du Roi Albert.
Clues from the Past

Above: Dahlias have been growing at Meadowburn Farm for more than a century. In 1880, Helena Rutherfurd Ely's mother gave her daughter, who loved to garden, the farmland as a wedding present.
It was the perfect gift. "My time as a little girl was spent out of doors in the company of an old gardener, so that while still very young, I knew more than many an older person of practical garden work, " Helena Rutherfurd Ely later wrote, adding: "The garden has been my joy."
Ely gardened in a tweed skirt and—in full sun—a straw hat, working beside her gardener, Albert Furman. They planted great sweeps of perennials, and box-edged paths, and dahlias: masses of blowsy, old-fashioned varieties with double yellow blossoms, or deep-pink flowers the size of dinner plates, or a delicate purple fringe of  petals. Every winter, they dug up the tubers for safekeeping in the cellar.
After she published A Woman's Hardy Garden in 1903, the book became a wild successs, selling 40,000 copies (a reprinted edition from 2008 is available on Amazon for $13.99).
After the author's death in 1920,  Furman continued to care for the gardens—and the dahlias. And after his death in 1948, his son inherited the job. Then Albert Furman Jr. died at the age of 89 in 200. And with him died the names of the old dahlias. The tubers were still in the cellar. But no one knew which was which, or how old they were, or which ones might have been growing in Helena Rutherfurd Ely's gardens a hundred years ago until gardener Teal-Sullivan started to look for answers.
'Jane Cowl'
Above: With the help of Nowotarski, Teal-Sullivan was able to confirm the identification of Dahlia 'Jane Cowl' (introduced in 1928, the variety was named after a famous actress).
"The only one we could ID to an existing cultivar was 'Jane Cowl', partly being as it is still in cultivation elsewhere (and sold by Old House Gardens) but also because I found an old dahlia stake in the basement that read 'Jane Carl'—which I interpreted to be the morphing of the name Jane Cowl over the decades—like a game of telephone," says Teal-Sullivan.
'Jane Cowl' has been blooming in Meadowburn's gardens since 1928, but currently tubers are sold out.
Since of the other six heirlooms could be identified, each got a new name that tells a story about the past.
"Steve helped me identify the heirloom characteristics of the other dahlias—like the peony flowered type, which is very old fashioned and was popular at the turn of the century. And the kooky nature of Old Tweet, the long twisting stems, etc. ," says Teal-Sullivan.
Together she and Nowotarski chose new names for the remaining varieties, names based on Meadowburn's history. "The idea was that they would hold these names until or if we could match them with a historic variety," says Teal-Sullivan.
 'Helena Rutherfurd Ely'
Above: Named for Meadowburn Farm's first gardener, Dahlia 'Helena Rutherfurd Ely' is "an exquisite informal decorative dahlia," says Meadowburn Farm. It's available for $25 per tuber.
'Byba Vincenza'
Above: Old flower with a new name: Dahlia 'Byba Vincenza' at Meadowburn Farm.
"Perhaps oldest of all—to judge by its 19th-century form and the way its flowers nod—is the one that's now called 'Meadowburn Byba Vincenza'," says Scott Kunst of Old House Gardens.
'Meadowburn Albert Furman'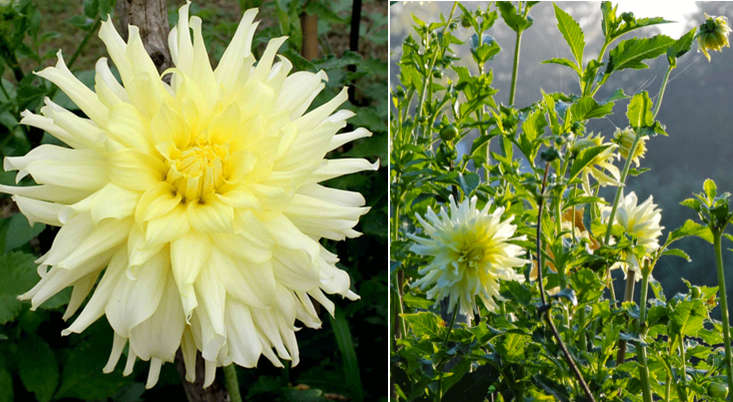 Above: Not available for sale this year, Dahlia 'Meadowburn Albert Furman' is a "butter yellow" cactus dahlia with glossy foliage. Butter yellow—one can only hope it will be in stock next year.
Above: Byba Vincenza nods under the weight of its petals.
To see the rest of the heirloom dahlias collection, visit Meadowburn Farm.
For more of our favorite dahlias, see Dahlia Days: Sam McKnight's Spectacular September Garden.
Finally, get more ideas on how to successfully plant, grow, and care for dahlia with our Dahlia: A Field Guide.
Interested in other bulbs and tubers for your garden or indoor space? Get more ideas on how to plant, grow, and care for various bulbs and tubers with our Bulbs & Tubers: A Field Guide.
(Visited 34 times, 1 visits today)