In the micro-climate of modern London, a minimal house needs a minimal garden. With every material and each plant highly considered, the trick is to allow a garden to relax and come alive. Here are 11 ideas to steal from the city:
Every Inch Counts
Above: Garden designer Anna Wardrop created a multi-tasking corner with built-in seating in A Small Town Garden in Stoke Newington. Photograph courtesy of Anna Wardrop Garden Design.
This north London garden has a clever mix of planes: horizontals provide seating and raised beds while vertical surfaces are criss-crossed with climbers. Built-in seating allows you to be among your plants, at eye level.
Tall Plant, Small Footprint
Above: Photograph by Jim Powell for Gardenista.
Shrubs lurking in dark corners are the first thing to go when planning a new town garden. A screen of Gaura lindheimeri with Veronicastrum virginicum 'Album' (Shown) bring in movement and light in Sam McKnight's London garden. For more, see Instagram Insider: An Intimate Look at the London Garden of Sam McKnight.
Blurred Boundaries
Above: Photograph courtesy of The Modern House.
A feature of larger country gardens is the outdoor room, away from the house: it helps to structure a space and to provide shelter. Here, shelter is a given, with frost almost unknown in London. Even when the back door is closed however, it makes sense to connect the indoor room with the very visible one outdoors, through hard materials and palette.
Trees as Sculpture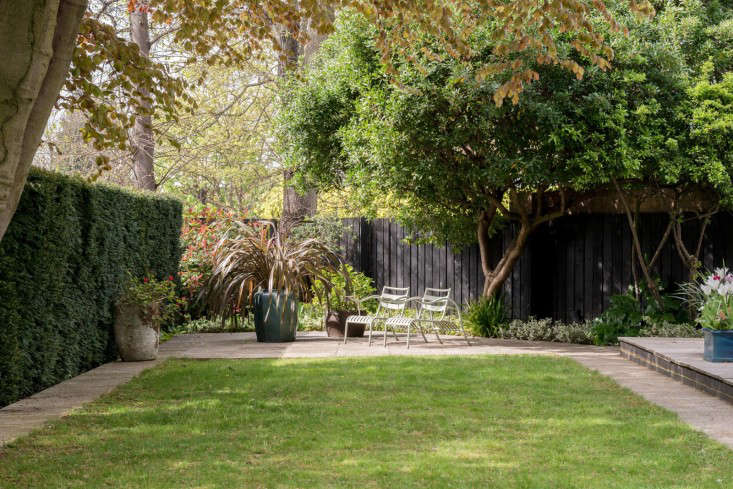 Above: Photograph courtesy of The Modern House.
Discipline is key in a town garden. Repeating plants, repeating trees; lots of green and if you really want to look at your plants (instead of letting them disappear into a sea of brown-gray brick) lots of black.
Ups and Downs
Above: Designer Chris Moss uses his own south London garden as a moodboard where design solutions occur at different elevations. For more, see The Black and Green Garden of Chris Moss.
For house-dwellers, a garden needs to be designed from above. (Standing in the basement of a London house can involve mainly looking at a brick wall, as the garden comes into its own up a flight of dark steps.) Designer Chris Moss created a lightwell by pushing back the area and building wide steps, for a more generous, livable feel.
Ornamental Edibles
Above: Photograph courtesy of Sam Tisdall. For more, see Garden Visit: The Little House at No. 24a Dorset Road.
Growing food in a constricted space is less daunting than the traditional sprawl of a vegetable garden. Raised beds are easier to cultivate while providing a controlled environment for plants. They look smarter than holes in the ground and are natural components of an urban design. Built to a reasonable height, they double as seating.
Jurassic Park Ferns
Above: Photograph by Matthew Williams for Gardenista.
Tree ferns need to be wrapped up in winter, north of London, but here they provide year-round light and shade.
Box Balls
Above: Photograph by Matthew Williams for Gardenista.
Evergreen shapes are a must in a town garden whether it is formal or informal. They provide structure, in any shape you care for. Despite the ongoing desire for box, the dread of blight means that many designers are using alternatives such as yew, which can be maintained at a diminutive size. For more on yew, see Renew with Yew: The Easiest and Hardiest Hedge.
With box, allow a certain distance between topiaries to allow good air circulation. For more on healthy shrubs, see How to Eliminate Boxwood Blight.
No-Lawn Zone
Above: Photograph courtesy of The Modern House.
Which is more important: a perfect lawn or privacy? A hedge here provides some cover and further dashes the hopes of a decent sward. Added to space constrictions, grass is a bit of a pipe dream in town gardens plus, it requires more care than it perhaps deserves. Ditch it.
Soft Hardscapes
Above: Photograph by Jim Powell for Gardenista.
The Garage Garden, or Senri-Sentei, whereMr. Kazuyuki Ishihara created a habitat of peaceful coexistence between human and car, whether the latter is a classic model or not. We can all relate to that.
For more of our favorite London gardens, see:
(Visited 1,764 times, 3 visits today)