For the so-called Vegetarian Cottage, London-based architects Cousins and Cousins designed a two-floor addition to a Victorian house in Hackney in East London to expand living space for a family bursting at the seams–and to erase the barrier between indoors and out.
The house owes its name to the Vegetarian Society, believed to have been founded on the same site in the early 19th century.
Photography by Jack Hobhouse, courtesy of Cousins and Cousins.
Above: An enormous frameless window replaces the brick walls on two sides of a dining addition that extends from the kitchen, making sunlight and seasonal backyard views the focus.
Above: Bricks were removed from the original facade during the renovation process and reused on the addition.
Above: The first floor plan. (On the second floor of the addition is a bedroom.)
Above: Stairs lead to a backyard patio and outdoor dining area.
Above: A side view.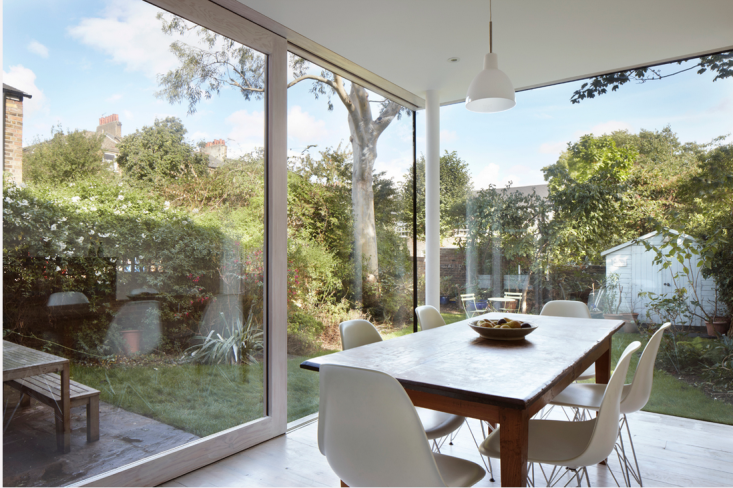 Above: A sliding door leads to the backyard.
Above: A single pillar (L) in the corner supports the second-floor of the addition. The second-floor bedroom's window (R) is original to the house. A former bathroom window, it was removed during construction and re-installed in the new bedroom during the remodel.
For more Victorian houses made modern, see Good Mews: 10 Charming Carriage Houses. And for another house that blends unobtrusively into the natural landscape, see Architect Visit: South London Mirror House.
(Visited 110 times, 1 visits today)