On the roof of London's legendary shop Fortnum and Mason live four colonies of bees. The flat, noisy space, with air vents and cooking odors, is lacking in glamor. Do the bees like it? The ornate entrance to each bee house faces the Royal Parks, the gardens of Mayfair, and the biggest private space in London: Buckingham Palace. The bees like it.
On the shop floor below, the exquisitely packaged loose-leaf tea and other goods from far flung places exude an air of high-sea adventure and 18th century trade. Amid the spices and pickles is an extensive range of honey, packaged as carefully as premier cru champagne. Jonathan Miller, the buyer at Fortnum's, felt that the shop should produce its own single estate honey, so he designed some lovely bee houses–painted in signature eau de nil–and called in the expert advice of urban beekeeper Steve Benbow.
Photographs by Kendra Wilson for Gardenista except where noted.
Above: The beemaster at Fortnum and Mason, Steve Benbow, is at the forefront of the urban beekeeping movement and keeps hives at other altitudinous places like Tate Modern and the National Portrait Gallery. Image via Fortnum and Mason.
Above: City honey is interesting and rich because of the diversity of flora. London has a surprising amount of potential for bees: about a quarter is given over to back gardens alone, with parks, balconies, and open spaces bringing the foraging space for bees up to around 70 percent. Because bees tend to keep within a three-mile radius, country honey can have a more one-dimensional taste.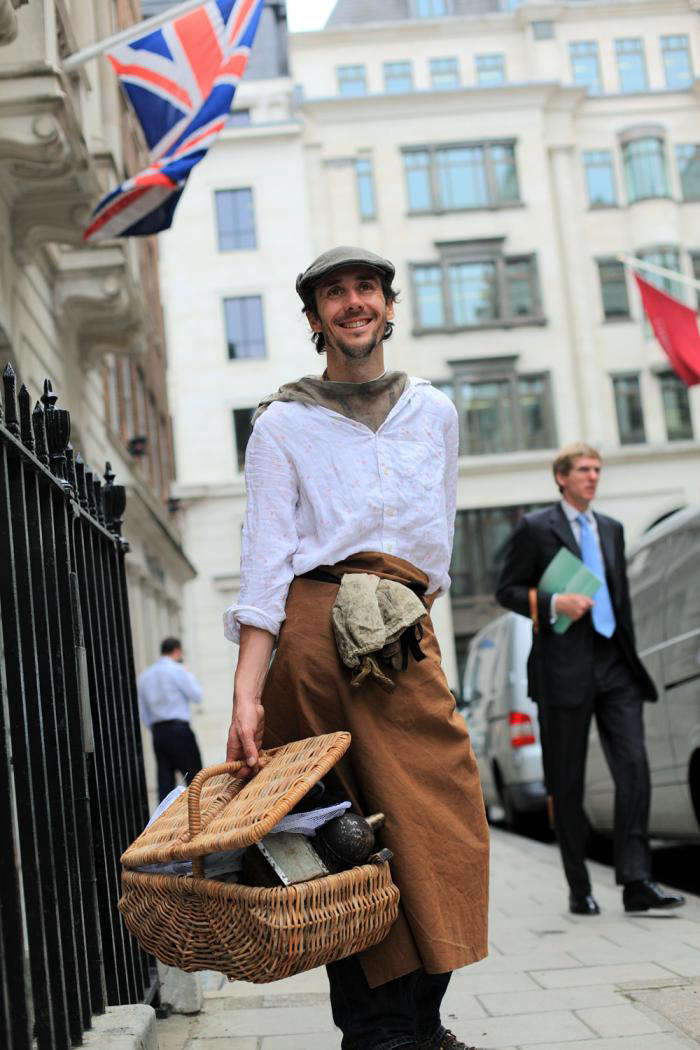 Above: Bringing a touch of the pastoral to London W1, the beemaster's equipment is jammed into a picnic basket. Image via Square Peg Publishing.
Above: Fortnum's Welsh Chunk Comb Honey is £21 a jar.
Above: Visitors are asked to keep a safe distance from the hives. The activity of the bees is more safely watched via the bee cam.
Above: The best kind of brush is a handful of goose feathers. Image via Fortnum and Mason.
Above: Checking on the well-being of the colony. Each bee house has a different style of door, which fits in with Georgian iconography: Roman, Mughal, Chinese and Gothick. Image via Fortnum and Mason.
Above: Honeycomb is harvested by the Thomas Hardy-esque beemaster. Image via Fortnum and Mason.
Above: Spare safety equipment is kept by the door of the roof.
Is beekeeping for you? See:
(Visited 185 times, 1 visits today)