When a large family of several siblings started having children of their own, they wanted to vacation together in their beloved Cap Ferret, France, while retaining some semblance of normalcy for their individual families. "Their desire was to have a good time together," say Paris architects Atelier du Pont, "and still have privacy and calm."
The architects designed a series of cabins—three structures in all—perched atop the Cap Ferret headland about a third of a mile from the ocean. The buildings have a combined area of about 3,500 square feet, linked via wood terraces, with distinct sleeping quarters for each family plus shared lounge and play spaces and a generous kitchen. The surrounding landscape, designed by local firm Ferret Vert, more than doubles the living space, with a lap pool with sandy "beach," a sprawling wood deck, and untamed stretches of pine forest. The homeowners wanted to have a limited impact on the land, so terraces step lightly on the sandy soil, and cabins were sited to minimize the removal of existing trees.
Photography by Philippe Garcia, Takuji Shimmura, and Bernard Touillon, courtesy of Atelier du Pont.
Though the adult siblings wanted the vacation home to have the feel of a cabin, they're fond of modern design; the designers obliged their inclinations with triangular windows and diagonal lines to frame views of the surrounding pine forest and ocean beyond.
Though the architecture of the vacation home is modern, its design was inspired mostly from the surrounding environment, say the architects: "We wanted to create a house and a garden in perfect harmony with the context and the nature."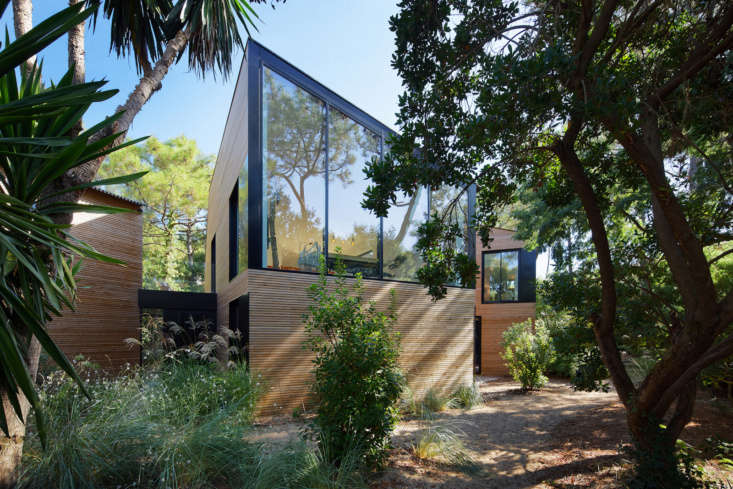 See more ideas in our guide to Swimming Pool Design 101, including Poolside Furniture, Underwater Lights, and Landscape Plants for Swimming Pools. For more in France, see:
(Visited 116 times, 1 visits today)