Susanna Grant's post on Instagram stopped us in our scroll. Here was a thriving garden in what looked an awful lot like the dark concrete well between this writer's apartment building and the one next door. Ferns, flowers, and shrubs, all planted in pots, filled the space between buildings. It was nothing short of enchanting. So, we asked Susanna to tell us more about her shady East London corridor garden.
Susanna started designing gardens part time in 2018 and, as she recalls, "I had just planted a friend's tiny backyard that got no direct light. Everything was in pots and flourishing. Pollinators were everywhere. We were amazed at the transformation, as it was such a tough site." Her friend lived near a Sunday flower market, so Susanna hatched a plot for a pop-up plant shop. "I figured, if we opened her back gate every Sunday, people could come in, see the wide variety of plants that can cope with minimal light and might be more inspired to plant up dark areas in their gardens." They named the temporary shop LINDA, on a whim after her friend's saluki dog, but the name and the business stuck. Today, Susanna is a full-time garden designer, and LINDA still pops up seasonally (though not on a fixed schedule); she is also the author of Shade, a part of the Bloom Gardener's Guide series.
Photography courtesy of Susanna Grant.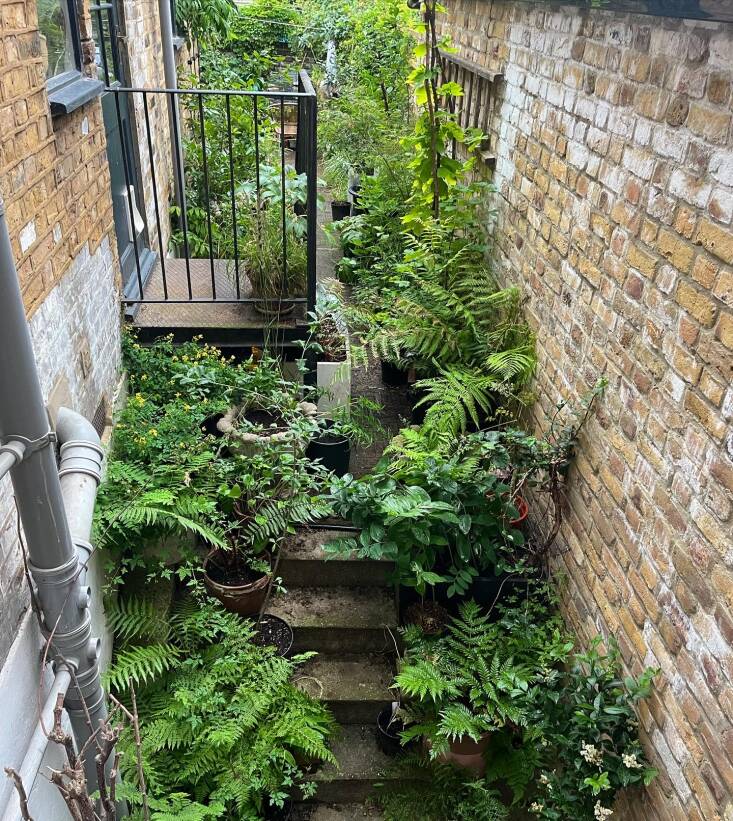 Susanna is well-acquainted with gardening in deep shade in the city. Her own garden is located in East London, just off a busy main street. "I'm surrounded by sirens and street noise but also have bats, dragonflies, and loads of sparrows swooping about. It's never quiet, but I can zone out the traffic by staring at hoverflies," she says.
Here, Susanna has made the most of the "side return," a common feature in Victorian houses that were originally the path from the back door to the garden (and the outdoor loo). "[Side returns] very easily become dumping grounds for bikes, toys, bins, and the like, so a lot of people fill them in by extending their kitchen, which is a shame," she says. "It's my favorite bit of the house and the garden. All the views out onto it make you feel like you are living in a mini woodland." 
When Susanna moved into her house, the space was filled with rubbish that the previous owners left. Once she cleared it, she put in a couple of big planters and left it at that for a couple of years, but over time, she kept adding pots to see what would grow. "It's a constant work in progress," she says. 
Here are Susanna's tips for creating your own potted forest garden in a shaded concrete space:
1. Don't be daunted by deep shade.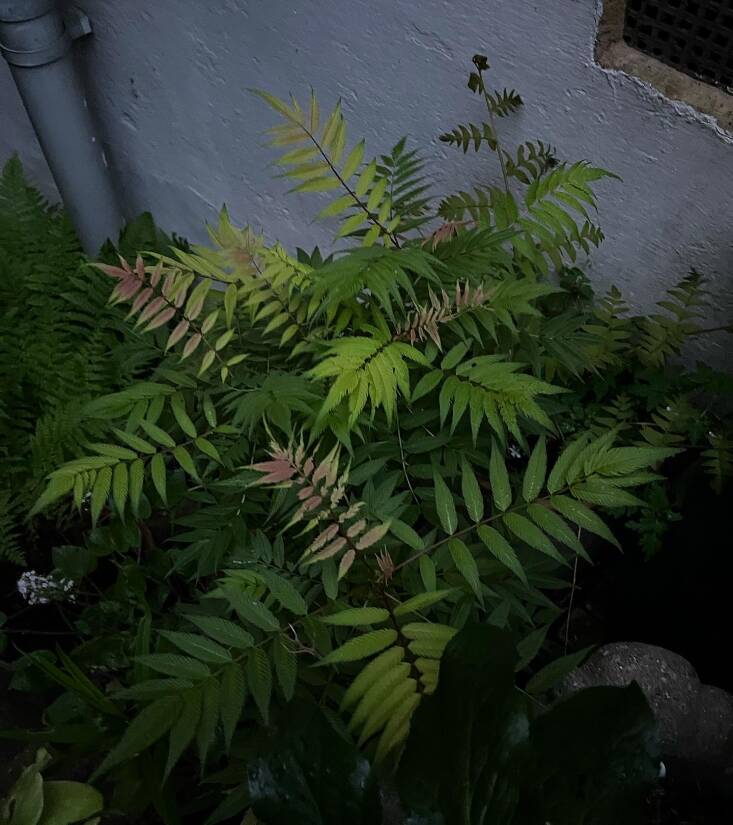 Susanna's side return only gets two to three hours of light per day, and she says the very bottom doesn't get any light at all. "If you have literally no direct light but the space is open to the sky, you can still plant lots of things," she says. "There are a lot of plants that grow in forests and woodlands under tree canopies." Measure how much light you get by just taking note of when the sun hits your space. (Morning or evening? Approximately how many hours?) Susanna says that less than 3 hours is full shade, open to the sky is "light shade," and between three to six hours in midsummer is part shade. 
2. Shop only for shade-loving plants.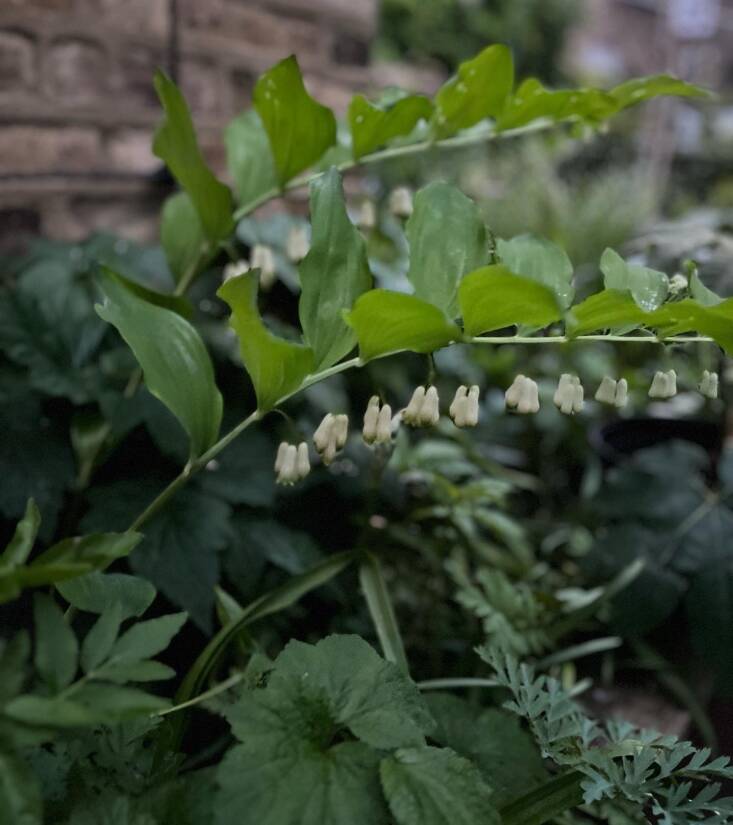 If a plant label states full sun, it will struggle, but if it states part shade, it's worth trying, says Susanna. In her London garden, Susanna's had success with evergreen ferns like Asplenium scolopendrium (Hart's-tongue fern), Dryopteris wallichiana (Wallach's wood fern), and Polystichums (shield fern), but almost any fern appropriate to your zone would be worth a try. Susanna has also found Euphorbia robbiaea to be a very useful evergreen "with a good lime green flower in early spring." Solomon's seal, Lamium maculatum (spotted dead nettle), Thalictrums (meadow rues) and Japanese anemones are "tough and good for pollinators." Luzula nivea is a very tough shade-tolerant grass, which is useful to "give movement and texture." 
2. Thing big pots—and lots of them.
Susanna estimates she has 50 to 60 pots in her side return. "Go for a few really big planters or pots; the bigger the better as you can plant big plants and make more of an impact," says Susanna, who has a couple that are around 1.2m long and 60cm high and 35cm wide (approximately 4' long and 2' high and  1' wide). "You can plant up miniature gardens in them using a mix of evergreens, perennials, and spring bulbs." Plus, she notes, lots of small pots look fussy and need lots of watering. 
3. Design with lots of layers.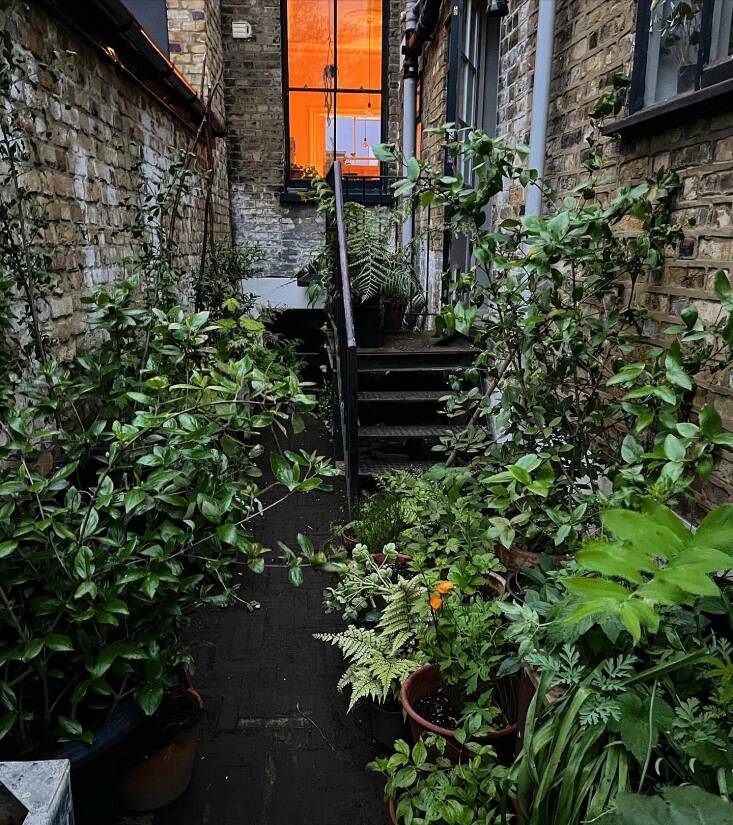 Susanna says you should use the same mix of bulbs, shrubs, climbers, perennials, and edibles that you'd find in any garden—even small trees. For example, a couple of years ago, Susanna decided to add some small bare-root spindle trees (Euonymus europaeus) to create a true forest garden. 
For climbers, Susanna employed golden hops, Clematis alpina, and a climbing hydrangea (Hydrangea petiolaris). Her shrubs include Rubus sanguineum (red flowering currant), Sorbaria sorbarifolia 'Sem' (Ural false spirea), and Ligustrum ovafolium (also known as Korean or California privet). There are mainly ferns (including those mentioned above) at the bottom of the steps where it's darkest. (There are also a variety of spring bulbs in the mix not seen here.) Susanna says her current favorite plants are the Persicaria orientalis, Korean celery (Dystaenia takesimana), and what she describes as "a really lovely" Valeriana jatamansi.
4. Make a plan for watering.
Susanna confesses that she's "slack at watering," but she does have a tap nearby. With this many pots, you'll definitely want a hose that can comfortably reach your alley or side return. "It doesn't get much better than a huge, fat, vintage terracotta pot, but they do dry out faster, and they can crack in winter." 
5. Aim for four-season interest.
"Think about winter, I don't have lots of evergreen but I do have enough that, along with the grasses and ferns means it still looks nice over that season," says Susanna, who has a couple of tree fern (Dicksonia antarctica), which she says "give a great canopy." 
6. Keep experimenting.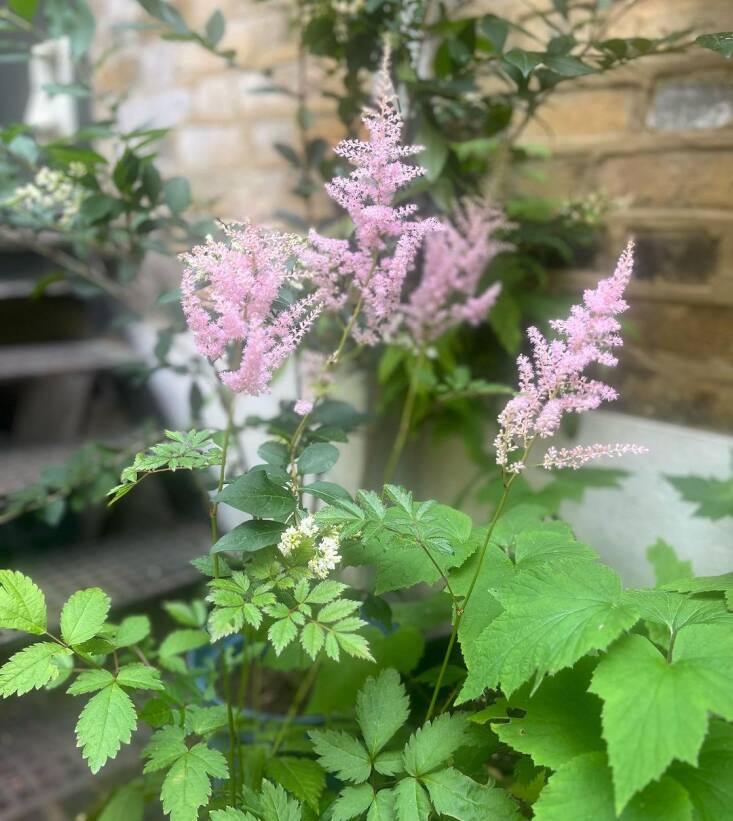 "Obviously you will struggle to plant a prairie style garden in a dark corridor but there is a lot that will grow in reduced light which you might not think would work," says Susanna. Move things around, go for different heights and textures, and don't get discouraged if a plant fails to thrive.
For more shady gardening inspiration, check out Susanna Grant's book Shade.
See also:
(Visited 11,040 times, 38 visits today)
Frequently asked questions
What is the article about?
The article is about Susanna Grant's shade plants in her side return garden in East London.
Where is Susanna Grant's garden located?
Susanna Grant's garden is located in East London.
What type of garden does Susanna Grant have?
Susanna Grant has a side return garden.
What kind of plants does Susanna Grant grow in her garden?
Susanna Grant grows shade plants in her garden.
Why does Susanna Grant choose to plant shade plants?
Susanna Grant chooses to plant shade plants because her garden doesn't receive much direct sunlight.
What are some recommended shade plants according to the article?
Some recommended shade plants mentioned in the article are ferns, hostas, ivy, and foxgloves.
What are the benefits of using shade plants in a garden?
Shade plants can add texture, depth, and interest to a garden, and they thrive in areas with less direct sunlight.
Are shade plants suitable for all types of gardens?
Shade plants are suitable for gardens that do not receive much direct sunlight, such as those with trees or buildings blocking the light.
Can shade plants be grown in containers?
Yes, shade plants can be grown in containers, allowing flexibility in garden design and placement.
What other gardening tips are mentioned in the article?
The article mentions other gardening tips such as using mirrors to reflect light into shady areas, creating layered planting schemes, and utilizing different plant textures to enhance the garden's visual appeal.