We urban dwellers know that the city can get to you–the ceaseless noise, the millions of things going on all at once, each demanding your immediate attention. It's enough to make someone feel frantic, scattered, and exhausted. When that happens to me, I find that the most reliable antidote is to head to the country.
And there is no better time to go than in those September days when the sky is a brilliant blue and you feel the first tiny hint of cool autumn. I recently found a restorative experience is Stonecrop Gardens, just outside the town of Cold Spring in upstate New York.
Photographs by Jeanne Rostaing.
When my friend Charlene and I, frazzled by city life and more than ready for fall, arrived there recently we immediately felt soothed and welcomed as we made our way into the gardens by way of a cool, shady boardwalk. Surrounded by the intense green leaves of a gigantic stand of Gunnara manicata, we passed a placid pond beside an elegant conservatory.  We went through the glass house and suddenly we were completely transported into a place its own founder dubbed the "most labor-intensive garden on the continent."
Just inside is the potting shed where visitors pay a $5 entrance fee and receive a map for a self-guided tour. The map lists an impressive 29 features in the 12-acre garden; just a hint of how many disparate areas the gardeners must care for.
The stone troughs and raised beds that surround the potting shed contain an impressive collection of tiny alpine plants which reflect the passion of Stonecrop's creator, Francis Cabot, a financier and self-taught horticulturist. Cabot and his wife Anne, who specialized in growing vegetables and flowers, began creating the garden in the 1950s on the grounds of what was then their home. They opened it to the public in 1992.
The Cabots also created Les Quatre Vents, a highly regarded private garden in Quebec along the St. Lawrence River. From 1973 to 1976 Cabot was the chairman of the New York Botanical Garden. But the couple is probably best known for their 1989 creation of the Garden Conservancy. It is a non-profit organization dedicated to preserving America's best privately owned gardens. Last year it presented more than 300 of them to the public on special visiting days.
Taking the map in hand, Charlene and I began to  explore. We lingered in the cool, lush "Fern Vista" and then happened upon a container garden of succulents in a courtyard tucked behind a garage. Through an archway we found ourselves in the midst of the glorious "Enclosed Flower Garden." This is a perennial garden to die for. Mature, bursting with color, this unique place is arranged in a series of square and rectangular beds where plants, organized by color and shape, seem to be competing to grow tallest, fullest and brightest.
A vegetable garden anchors the center of the space and is watched over by "Miss Gertrude Jekyll," a towering burlap scarecrow. The fence around the garden is nearly concealed by espaliered shrubs and a cacophony of vines: honeysuckle, climbing hydrangeas, and clematis.
We passed by the "Pit House," a sunken greenhouse where dwarf bulbs and cool weather perennials such as hellebores and cyclamens are grown during the winter. Beyond that is the "Rock Ledge," a naturally occurring ridge that has been supplemented with boulders and smaller rocks and planted with alpine plants and dwarf conifers.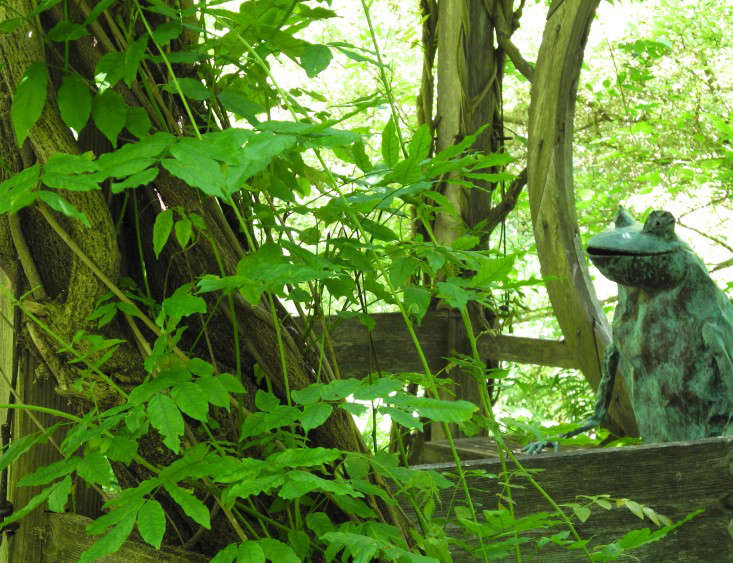 Charlene peeled off to explore the Hillside Garden with its shrubs carefully chosen to resist drought and wind. I scrambled down the rocky slope (love those sturdy walking shoes), pausing to take note of some lovely small pools filled with aquatic plants. I went on to the nearby "Wisteria Pavilion," where I joined a friendly looking metal frog seated on a bench.
Leaving the pavilion and the frog, I crossed a manmade lake on an amazing natural bridge. Charlene and I met in the "Systematic Order Beds" where 40 beds contain plants from more than 80 different families and are a source of seeds for the garden. We watched butterflies and an army of bees loudly buzz their approval of the nectar in enormous stands of sunflowers, bears breeches, and goatsbeard.
Stonecrop Gardens is amazing for the breadth of its collections on a relatively small site and for the impressive care and maintenance of its plants. To see Stonecrop in exuberant bloom in summer is to belie the fact that it is located in growing zone 5 where winter temperatures can fall to minus 20 degrees. At the end of October the garden will close until spring. The gardeners will move pots of non-hardy plants into the conservatory.
If you can, treat yourself to Stonecrop before it closes. Be sure to allow plenty of time.  We spent more than two hours there and didn't see everything on offer. You will also want to stop by the historic town of Cold Spring for lunch, a walk to the Hudson River and shopping in the boutiques and antique emporiums along Main street.
Metro North runs trains from Manhattan's Grand Central Station to Cold Spring every day. Stonecrop is open Monday through Saturday and is about a 20 minute cab ride from the Cold Spring train station.  We got good service from Alleys Way Car Service.
For further reading about other garden visits near New York City, see our posts on Caramoor, Wave Hill, Untemeyer Gardens, and Lyndhurst.
Finally, get more ideas on how to successfully plant, grow, and care for stonecrop with our Stonecrop: A Field Guide.
Finally, get more ideas on how to plant, grow, and care for various perennial plants with our Perennials: A Field Guide.
Interested in other succulents or cacti? Get more ideas on how to plant, grow, and care for various succulents and cacti with our Succulents & Cacti: A Field Guide.
(Visited 129 times, 1 visits today)