Earlier today we visited clothing designer Courtney Klein at home, in the edible backyard garden she and her husband created from scratch in San Francisco's Mission District (see Garden Visit: Fashion Designer Courtney Klein's Mission District Backyard). Courtney, whose Storq maternity clothing collection launches this week, shares tips for how to recreate the look:
Above: Photograph by Jamie Beck via Ann Street Studio.
Irrigation? "We water everything with a watering can, and we have a hose we bring out if it's been really warm," says Courtney.
Above: A 3-Gallon Galvanized Watering Can is $31.99 from A.M. Leonard.
Above: The backyard fence and house were painted chalkboard gray before Courtney moved in. The color? Benjamin Moore Day's End Paint; a gallon ranges in price from $36.99 to $67.99 depending on type and finish.
Above: Klein's potted plants include an Asparagus 'Meyeri' Foxtail Fern, a hardy low-maintenance houseplant; $4.99 for a plant in a 4-inch pot from Sandy's Nursery.
Above: A 12-inch-tall glass Cylinder Candle Vase is $12.99 from Candles for Less.
Above: A Small 8-Oz. Hummingbird Feeder is $17.99 from Kinsman Co. The 6.5-inch round red base has eight feeding holes.
Above: Courtney's winter edible garden has chard, kale, cabbages, and several varieties of lettuces, including: Tom Thumb ($1.50 for a packet of 100 seeds); Little Gem ($2.25 for 250 seeds), and Grandpa Admire's ($2.50 for 250 seeds). All are available from Baker Creek Seeds.
For more views of Courtney's garden, see Garden Visit: Fashion Designer Courtney Klein's Mission District Backyard.
Above: The garden's raised beds and cold frames are made from 10-foot-long redwood planks. A 2 x 4 x 10 Redwood Construction Plank is $8.18 from Lowe's.
Above: The cold frame panes are made of sheets of nonbreakable plastic; a similar sheet of 4-by-8-foot Clear Twin Wall is $61.75 from Gempler's.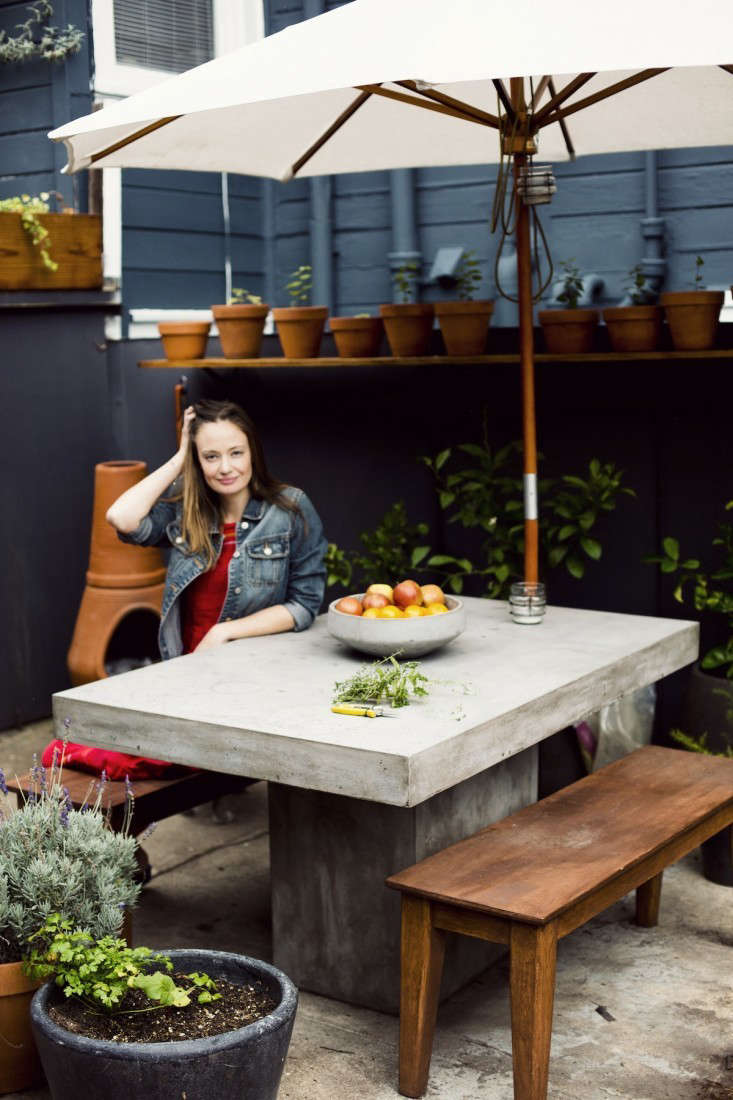 Above: A concrete dining table and a terra cotta fireplace.
Above: A cement block table with a non toxic wax finish, the Fuze Dining Table measures 57 inches long. It seats six and is $999 from CB2.
Above: A 52-inch-high Clay Chimenea that burns wood is $139 from Lowe's.
Addicted to Steal This Look? Us too. See 64 more Steal This Look posts.
Finally, learn how to successfully design and create an edible garden with our Hardscaping 101: Edible Gardens guide.
(Visited 181 times, 1 visits today)