Imagine a blank canvas: a large garden in a southeastern suburb of London, with one more than one-third of an acre of land (measuring about 1,500 square meters). There was nothing to incorporate into a new design except for two mature maple trees, an existing swimming pool, and a small summer house.
Enter garden designers Farlam & Chandler. Their plan?  "To create a family garden, offering an outdoor living experience for both day and night use, throughout the year," said creative director Harriet Farlam. "Flexible areas for the whole family were to be created, providing outdoor 'rooms' softened with lots of planting, with year-round interest."
With the judicial use of perennial grasses, the garden looks particularly lovely in late autumn and early winter when foliage turns golden and the landscape takes on a burnished bronze tint.
Read on to see the "Before" photos:
Photography courtesy of Farlam & Chandler.
Behind the grasses and beyond the pleached trees is the swimming pool.
"The architecture of the house has been transferred directly to the outdoor space, informing the structure of the garden." said Farlam. "Two generous terraces flow from the inside out to create separate spaces for both dining and relaxing close to the house."
Visible on the far patio in the background is a sofa from Expormim's Livit collection, which includes sofas and chaises in several sizes and can be configured as a sectional, as well.
"The client was keen to dress the terraces in a similar way to how the internal rooms were decorated and we carefully selected suitable furniture and cushions," said Farlam.  "Each piece has its own character, for each area of the garden. These finishing elements make the garden feel soft, welcoming, and are left outside all year round to give an extended sense of outdoor living."
Made of peeled and tinted natural rattan, a Nautica Swing Chair from Expormim has an aluminum tube base.
"Planters as sculpture" is how Remodelista editor Julie Carlson describes Atelier Vierkant's handmade clay vessels. Read more in Artful Planters from Belgium.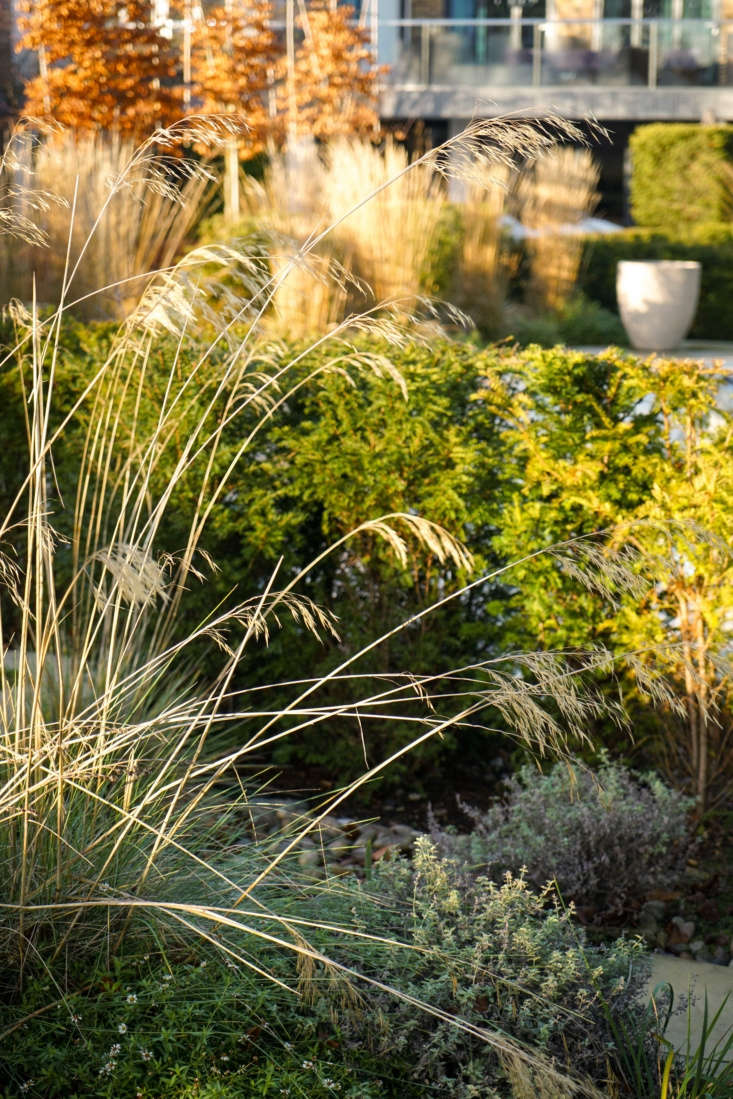 Before
After
See another favorite landscape rehab in Before & After: A Seaside English Garden by Farlam & Chandler. For more inspiration about how to incorporate pleached trees and perennial grasses into a garden, see: