The bathtub that launched a homegrown apothecary business? It's not as far-fetched as it sounds.
For Briar Winters, the woman behind the lower Manhattan-based online apothecary shop Marble & Milkweed, a soak in an East Village masseuse's claw foot tub inspired a search for an apartment with a tub of her own. Briar placed an ad on Craigslist, and in a twist of fate that seems reserved for life in New York City, she got a message about a tenement-style walkup–with a tub in the kitchen.
Little did she know, this tub would become the inspiration for a career change and a homegrown business. A pastry chef by training–Briar worked at the Swedish restaurant Aquavit for years–she got in the habit of taking a nightly bath to relieve muscles sore after a long shift.
Influenced by her background in Scandanavian pastry, Briar blended her favorite flavors from the kitchen–rose and cardamom and vanilla–into botanical-based remedies to sooth achy shoulders. What began as experiments in her own wellness led to sharing her concoctions with others. Sugar scrubs were some of her earliest products (See: Marble & Milkweed: Rose & Chamomile Facial Scrub), followed by a line of blended teas, nourishing body oils, serums and perfumes for sale today in her online shop.
Photography by Erin Boyle.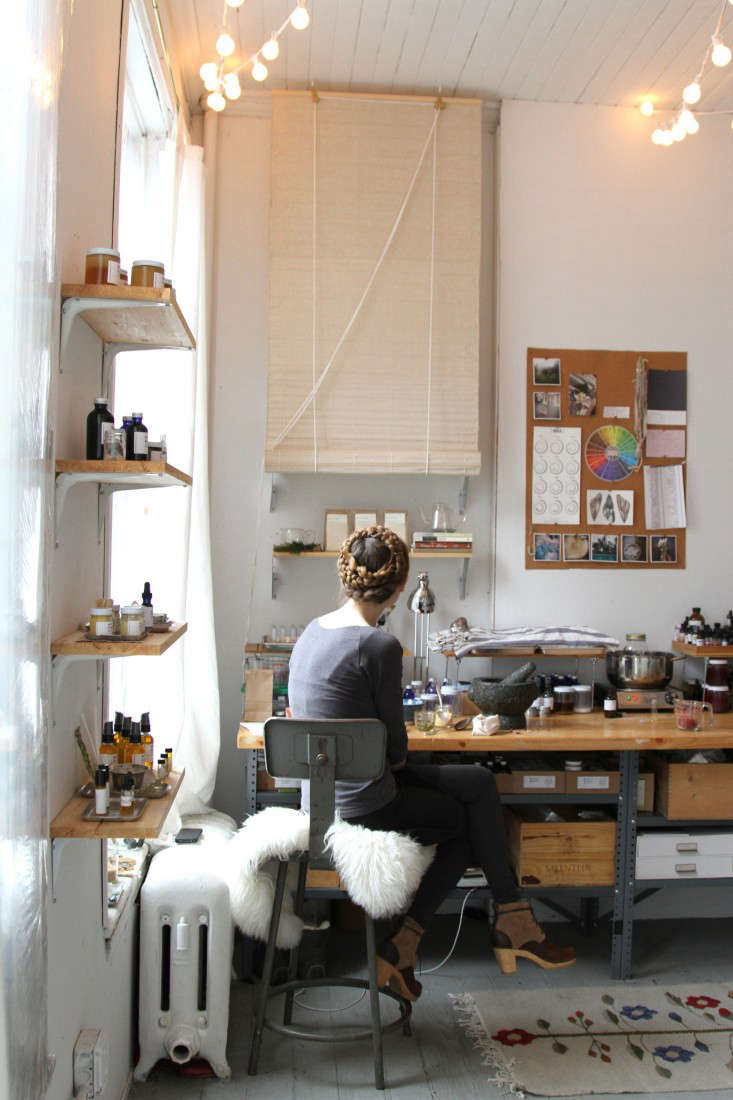 Above: Briar in her studio.
Briar's ingredients are certified organic and fair trade and heavily inspired by the garden. Briar's been in New York City for 13 years but grew up in Washington state with an apple orchard and family garden. In New York, she and her boyfriend maintain an 8-by-5-foot garden plot in the East Village where Briar's currently working on a native plants project with one of the garden's founders.
In March of 2013, Briar moved her home operation into a studio space where she concocts and packages her line of Marble & Milkweed products. On the day I visited, the air itsmelled like the ginger and mint tea. And later? The ginger, rose, and cardamom Briar mixed for a specially blended bath salt. Make your own version with our DIY: Rose, Cardomom, and Ginger Soak.
Above: Briar Winters at work with her mortar and pestle.
Above: Bottles await sterilization.
Above: Samples from the Marble & Milkweed collection.
Above: Amber bottles of Nourishing Body Oil ($28 for a 2-ounce bottle).
Above: A shade for protecting light-sensitive concoctions.
Above: Marble & Milkweed's hand-blended Teas. For the indecisive, consider a Tea Sampler with four blends of your choice for $8.
Above: Every studio needs a proper tea cart. We're especially fond of the seeded eucalyptus and succulents keeping the teapot company.
Above: Briar in the studio, braids tucked elegantly out of her way.
Above: An inspiration board of sorts with printed Instagram photos, including a shot of the bathtub that started it all (second from Left).
Above: String lights and sheer curtains warm up Briar's industrial workspace.
Everybody needs pampering in winter. Here are a few of our favorite scented remedies:
In the mood for a virtual tour? See all of our Shopper's Diary posts. 
(Visited 441 times, 1 visits today)