I am fussy about what I put on my face. If I can't pronounce the ingredients on the back of a bottle, I get nervous in the pharmacy aisle. So I took matters into my own hands with a do-it-yourself face mask based on Rosemary Gladstar's recipe for Miracle Grains in her must-have book, Family Herbal. I think of this concoction, using just five basic ingredients, as food for my face. It's gentle enough to be a daily cleanser and pretty enough to give as a gift:
Photographs by Erin Boyle.
Here's what I used:
2 cups Bentonite Clay, $4.50 per half pound from Bulk Herb Store.
1 cup ground oats.
1/4 cup ground almonds.
1/8 cup dried lavender, ground; a 16-ounce bag of Whole Lavender Flowers is $33.60 from iHerb.
1/3 cup dried Rose Petals, ground; a 1-pound bag of petals is $13 from Layla via Etsy.
Above: I chose to work with five simple ingredients, but the real beauty of the recipe is that you can amend it to suit your particular skin needs. You can supplement the mixture with dried seaweed, poppy seeds, or ground blue corn for some additional texture. Instead of mixing your grains with water, you might try apple cider vinegar for its moisturizing properties. If you want a mixture with a stronger scent, you can even add a few drops of essential oil to the mix.
Above: Bentonite clay is the main ingredient in this recipe. Powdery soft and filled with minerals, this clay is often used to make poultices and face masks. (You could also substitute another mineral-rich clay like French green clay.)
Above: You can use a mortar and pestle or an electric coffee or nut grinder to grind your oatmeal and almonds. I found that measuring the dry ingredients to be just a hair more than the recipe called for gave me just the right amount of ground material. Though you might be tempted to go superfine with your grinding, leaving your grains just a little bit course is what adds an exfoliating element to your routine.
Above: I let electricity do the hard work on the oatmeal and almonds, but I preferred to use a mortar and pestle to grind my delicate lavender and rose petals. This Porcelain Mortar and Pestle ($49.95 from Williams-Sonoma) is my favorite.
Above: I purchased my dried flowers at The Herb Shoppe, home to my favorite allergy tea.
Above: After grinding all the ingredients, I mixed them in a stainless steel bowl.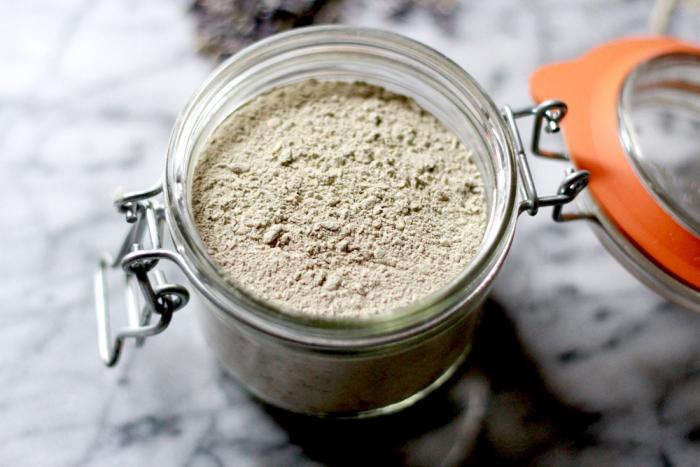 Above: The fine bentonite clay coats all of the ingredients, so you won't actually be able to see the pops of purple and pink until you wet the clay to use. I sprinkled some extra dried flowers on top of my mixture, just to make it look pretty.
Above: If you make the full recipe, you'll have enough of the mixture to apportion among small jars to give as gifts. I tied a tiny luggage tag to my grains with instructions for their use: Mix 1 teaspoon grains with water to make a paste. Massage the paste into your face. (I let my clay mask dry completely.) Rinse with warm water.
Suffering from allergies? See DIY Miracle Cure: Gentle Nettle Tea.
N.B.: This is an update of a post published April 15, 2013 as part of our Africana week.
(Visited 13 times, 2 visits today)